Fitbit Versa review
We road test this well-priced fitness watch that should appeal to Android smartphone owners.
The smart-looking fitness watch
---
The Fitbit Ionic (included in our latest fitness band reviews) is a powerfully featured fitness smartwatch, but its bulky design and $400 asking price probably means it's not for people with small wrists and a limited budget.
Enter the Fitbit Versa – a smaller, cheaper, more stylish sibling of the Ionic that looks a lot like the Apple Watch. Fans of the Kickstarter crowdfunded start-up Pebble may also recognise strong design similarities between the Fitbit Versa and the popular Pebble Time smartwatch (Fitbit bought the company last year).
While you don't get everything on the Versa that the more expensive and larger Ionic has to offer, most notably on-board GPS, you do get a fitness watch with battery life measured in days rather than hours.
CHOICE verdict
If you're an Android smartphone owner looking for a reasonably priced fitness watch that looks like an Apple Watch, then look no further. The Versa is a true fitness device with great battery life, stylish design and just enough smarts to be useful without being complicated. If you own an iPhone, then the Apple Watch Series One is still your best option for around the same price and better integration with Apple apps and notifications.
Price: $299 - 349
Buy now from Amazon
About shopping links on the CHOICE website
Contact: fitbit.com/au
* The standard Versa has a silicon band while the Special Edition includes an additional woven material band.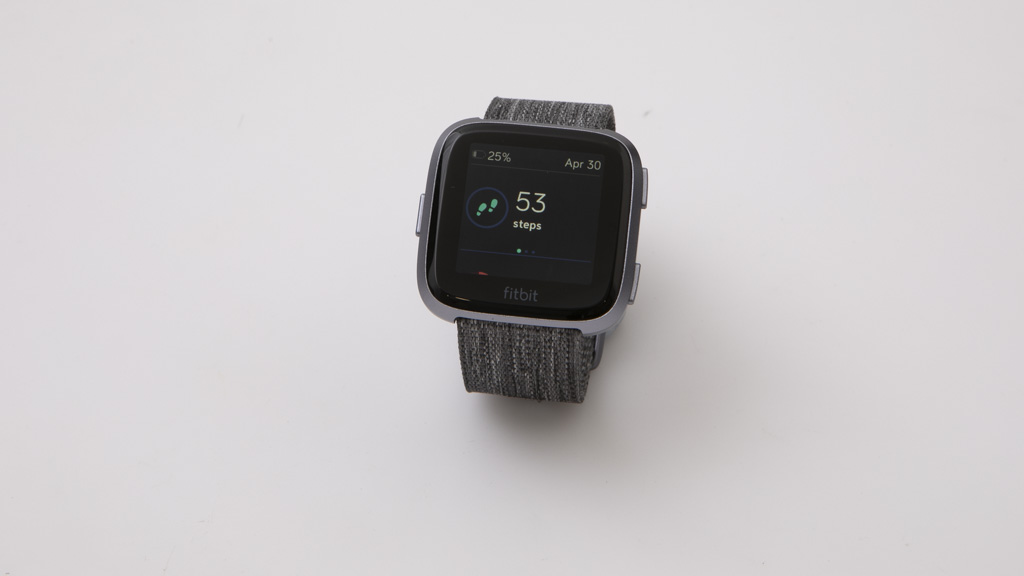 Step-tracking screen.
Lifestyle and leisure
Features that would be considered more lifestyle than fitness include:
a weather app
tap and pay, which lets you buy stuff without using your phone or wallet, and instead by tapping your watch to a terminal that uses NFC (near field communication) technology
support for text, email and calendar notifications.
If you're using an Android smartphone, you'll soon be able to also reply to texts and emails by selecting from of a series of canned responses or creating a custom reply. Support for this feature is due this month and we'll update this review when it becomes available. Unfortunately, there are no plans for this feature to be introduced for iPhone users, who can only see notifications, not reply to them, with Fitbit blaming Apple's closed ecosystem for the omission.
While notifications are the most requested feature in a smartwatch, app support for things like transport, maps and social networks will add further to the appeal of the Versa.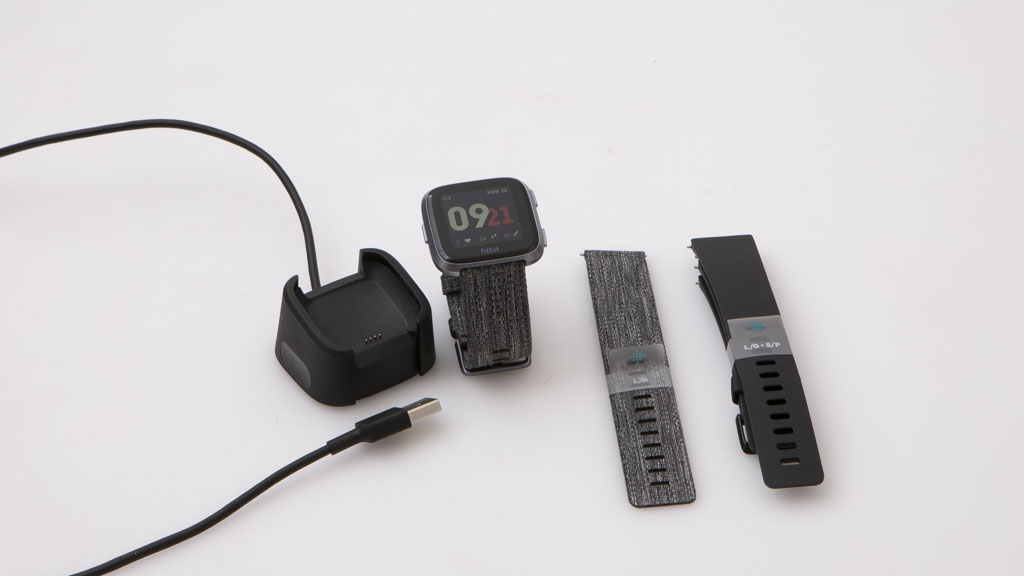 Fitbit Versa with charging dock. The special edition pictured here, includes a second woven band.
The Versa is somewhat lacking in entertainment options for Australian users. This model doesn't support Spotify, and while it does provide access to Deezer and Pandora, this isn't very useful for Australians, as these services are either no longer available or not particularly popular. However, it's easy to move your favourite songs or playlists to the watch using the Fitbit media app on your PC or Mac. You can also download and listen to podcasts as long as they're not copyright protected.
Serious fitness
Fitness and health features include:
a heart rate monitor with continuous tracking
water resistance to 50 metres for swim training
wireless syncing to Bluetooth headphones so you can listen to your music (300+ songs with 2.5GB storage) on your watch while on a run
sleep tracking.
While sleep tracking is a very useful feature, the claimed battery life of more than four days is going to take a hit if you leave the watch on your wrist at night, use the continuous heart rate tracking and listen to lots of music.
The latest OS update also includes women's health tracking, which lets you log menstrual periods, track your cycle and gauge ovulation.
Various exercise modes will let you track your session when you're connected to your smartphone, and the subscription-based Coaching app (with in-app purchases) is available for some serious curated workouts.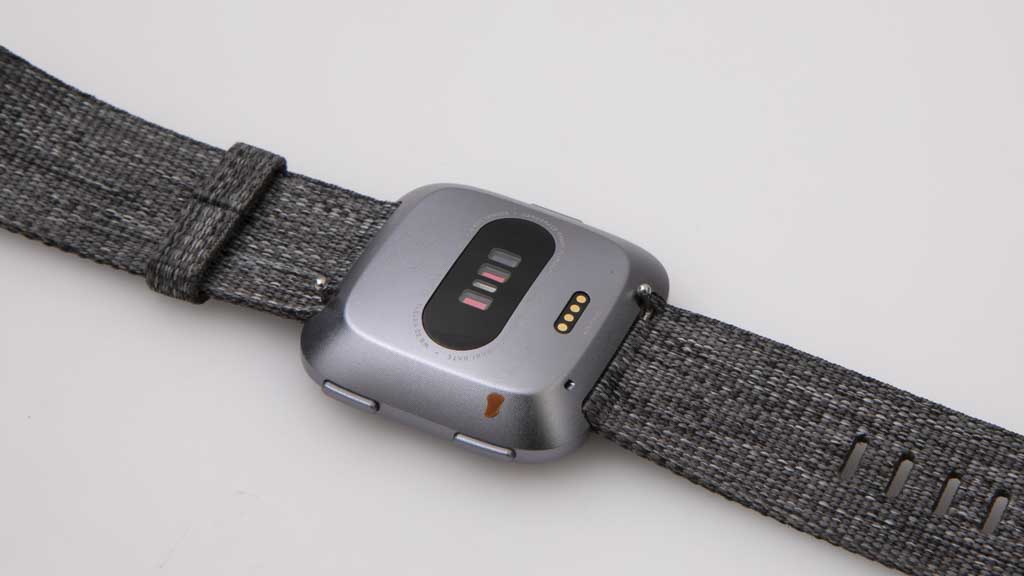 The Versa's heart rate monitor.
Shopping links on the CHOICE website
CHOICE is an independent, non-profit organisation dedicated to helping consumers. Clicking a link will take you to a retailer's website to shop. While we make money if you buy through some retailer links, this doesn't influence any of our rankings. 100% of the money we make goes straight back into our non profit mission. We're currently testing this service and will consider providing more shopping links in the future. Tell us what you think.
---
Join the conversation

To share your thoughts or ask a question, visit the CHOICE Community forum.