Sports bra reviews
The only bounce will be in your step after reading our sports bra test results and buying tips.
Busting to get active?
---
There's more to a good sports bra than just bounce reduction. We tested nine sports bras, from the cheap brands through to high end, to find which ones are the most comfortable, the easiest to put on and take off, and the most supportive during exercise – particularly for large-breasted women.
Why you need a good sports bra
Breasts are getting bigger
Western women are getting bustier. While statistics differ, experts agree that these days a significant proportion of Australian women – probably more than half – are a D cup bra size or larger. Opinions vary on why this is, though increasing levels of obesity are part of it.
Women with larger breasts can find exercise painful or embarrassing. Excessive movement from inadequate support can leave breasts sore after exercising, and over time can permanently affect supporting ligaments and skin. Many women, especially younger women and adolescents, are self-conscious about their breasts attracting unwanted attention and remarks from others, which can turn them off exercise, often for good.
In fact a recent study of barriers to exercise among women found breasts rated fourth after lack of time or energy and poor health – and ranked ahead of cost and lack of access to exercise facilities, among other things.
A good bra can bust barriers to exercise
Experts argue a well-fitting, supportive sports bra can go a long way to reducing physical and psychological discomfort. Reducing bounce, and for larger breasts reducing the apparent size, without feeling overly constrictive, may be the booster needed to get busty women exercising – and to prevent the weight gain that can make them even bustier.
But with so many sports bras on the market – including many of dubious worth – how do you choose a good one? We put bras from nine different brands to the test.
Our test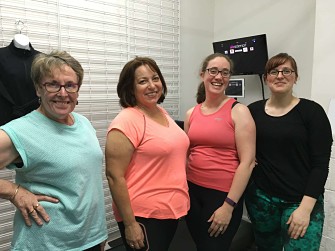 Test volunteers Chris, Connie, Elise and Elizabeth
We had four volunteers and a CHOICE staffer, all of whom generally wear D cup or bigger, put a variety of sports bras to the test. We deliberately targeted the larger cup sizes, not only because they're increasingly common, but because they're more difficult to fit and support – so it was a tough test.
All bras – except the Target bra – were fitted professionally in stores, and included sizes ranging from 10DD to 16F and ranging in price from $30 to $120. The bras were rated 'high' or 'maximum' intensity, and considered suitable for at least jogging.
The triallists and bras were put through their paces on treadmills in a purpose-designed setup at Melbourne specialist sports bra shop, She Science. The women were videoed while jogging, with markers in place to allow breast movement to be assessed. The assessors then used motion analysis software as well as a visual examination to determine the amount and direction of breast movement. Bras were also rated for comfort, ease of putting on and taking off, coverage and shape. Models of bras that weren't suitable for a particular woman due to poor fit weren't tested.
Results
Recommended
Berlei Ultimate Performance Crop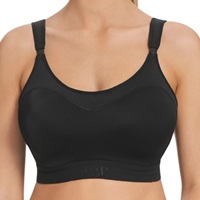 $99.95
Underwire, encapsulating and compressive, straps can be conventional, crossed over or hooked together on the back.
Sizes available: 10C-16E, 18DD
Sizes tested: 12D, 12DD, 14E
With top marks for support, this bra also rated well for comfort and coverage. The versatile straps offer different arrangements to suit different activities (or the top you're wearing over it). It was easy to put on and take off. The construction provides some degree of separation, though one triallist noted "uniboob".
Freya Active Epic Moulded Sports Bra Crop Top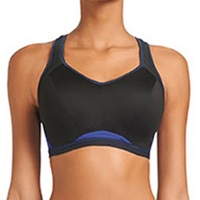 $95
Underwire, encapsulation, conventional straps convert to racer with hook.
Sizes available: 6D-GG to 18D-G
Sizes tested: 10DD, 12DD, 14E, 16F
Scoring very well for support for most trialists, there was good separation with underwire and moulded cups, and reduced projection with a light compression outer layer. It scored well for comfort and coverage, and was easy to get on and off. The sliding clip for converting the shoulder straps to racer back allows you to change the angles to suit.
Worth trying
Moving Comfort Juno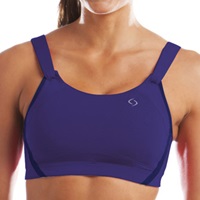 $100
Wireless soft cup, compressive and encapsulating, fixed racer-back.
Sizes available*: 12C-16E, 18DD
Sizes tested: 12DD x 2
This bra scored full marks for support, and rated well for comfort and coverage, and there was some breast separation. It wasn't easy to put on or take off, though compared with other fixed racer backs, the lack of wire helped. Shoulder straps can be attached or released (and adjusted for length) from the front, which may help with getting it on and off. This feature also makes it maternity friendly.
Moving Comfort Jubralee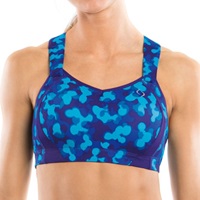 $100
Wireless soft cup, compressive, conventional strap alignment.
Sizes available: 8B-22DD, up to F cup in some band sizes.
Sizes tested: 14E, 16F
While it rated well for support with both our larger ladies, this compressive bra didn't rate so well for comfort and shape: "uniboob". It was relatively easy to get and off, and has front adjusting straps like the Juno, and is maternity-friendly.
Panache Sports Bra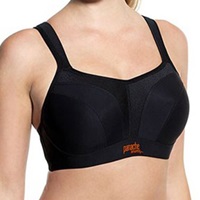 $100
Underwire, encapsulation, conventional straps convert to racer back with clip.
Sizes available: 6DD-18GG
Sizes tested: 10E, 14E, 16FF
With less coverage at the sides and under arms than other bras, the shape of this bra makes its performance highly variable and dependent on the shape of the wearer – better for breasts with fullness at the front rather than sides, according to the assessors. The support was very good for our largest triallist (16F), who chose to buy it, and good or OK for the others. It was rated good for comfort and separation.
Shock Absorber Ultimate Run Bra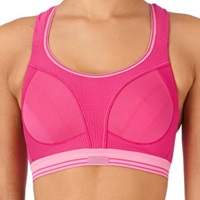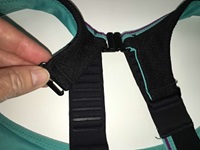 $110
Wireless soft cup, compression, racer back (with top buckle).
Sizes available*: 8A-16F
Sizes tested*: 12D, 14C, 14B
This bra scored quite well for support, comfort, coverage and separation, though one triallist noted "uniboob". Thanks to a buckle placed high at the top of the racer back (see towards the top of the photo, right), it's easier to get on and off than the usual fixed racer back. The shoulder straps are attached with hook and loop (see photo, right) rather than slide buckle, meaning they can't slip. It's sized small, and you may need to go up a band size from your usual size, though with a smaller cup size.
Triumph Triaction Endurance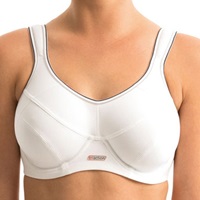 $60
Underwire, encapsulating, straps conventional or crossed over.
Sizes available: 10B-18E
Sizes tested: 10DD, 12D x 2, 14DD, 16E
Despite being classed as a 'high impact' bra, this was one of the least supportive bras we tested, with little containment at the top. It was considered suitable for low to medium impact activity such as walking. It rated highly for comfort, shape and separation, and was easy to get on and off. Two of our larger triallists have reported back that they love this model as an 'everyday' bra and wore it often after testing.
Anita Momentum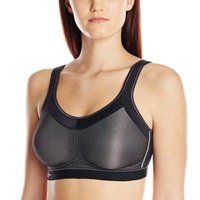 $120
Wireless soft cup, encapsulation, conventional straps.
Sizes available: 8D-24E (up to H cup in smaller band sizes)
Sizes tested*: 12D, 12DD, 14F, 16F
The support from this bra was very individual, and scored higher (good to very good) on the smaller breasts and firmer bust tissue. Despite being rated 'high impact', it's better for medium impact activity, and two of our trialists bought it for everyday wear. It was very comfortable and had good coverage, though separation was only OK. It's easy to get on and off, and shoulder straps had a non-slip adjustment buckle.
Target High Impact Sports Bra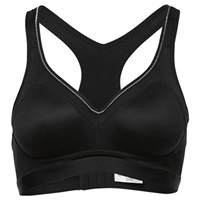 $30
Underwire, encapsulating with fixed racer-back.
Sizes available: 10B-16DD
Sizes tested: 12DD x 2, 14D
This bra rated very well for support on one of our triallists, and OK for the others – there was some movement of breast tissue around the top of the bra for both. However, it was difficult to get on and off, and there was no way to adjust shoulder straps – when they start to stretch through use, they can't be tightened.
Enell Sports Bra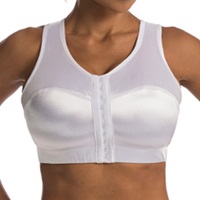 $110
Soft cup, compression, fixed shoulder straps.
Sizes available*: Approximately 10C-30F
Sizes tested: 4 (equivalent to 18E-22D)
This high coverage, front-fastening sports bra achieved fame as Oprah's favourite sports bra. Its unusual design and non-adjustable shoulder straps mean it won't suit everyone – only one of our trialists was able to be fitted for one and even then, the assessor from She Science said she wouldn't sell it to her because it wasn't quite right. It scored OK to good for support when running, separation wasn't great, but it was rated good for comfort despite being firm and compressive. Its high elasticity means it can withstand size fluctuations better than most bras, reflected in its sizing regime.
* Australian equivalent sizes
Bottom line: there's no 'best' sports bra for everyone
While some of the sports bras we tested performed well on more trialists than others, there's no such thing as the 'best' sports bra. It all comes down to how well it fits.
Another complicating factor is shape: the shape of your breasts and where they sit can affect whether a particular style of bra will suit. You may find none in a particular model will fit you, no matter what size you try. And your age and weight also come into it – younger skin and a lean body are a lot more forgiving than older skin or looser flesh.
Because fit is so important, we recommend you go into a store to try the bra on – preferably a shop with a qualified fitter, or see our fitting guide.
If shopping online is your only realistic option, look for a good returns policy. Staff at specialist lingerie and sportswear shops can discuss your needs and your measurements over the phone, and suggest a good size to start with.
What to look for
Materials and design
Sports bras are typically more rigid than other bras with stiffer, less yielding materials and higher strength elasticity, though there are some softer styles. Good sports bras cover the top of the breast tissue and sometimes higher to prevent tissue from bouncing up. The underband is also wider on sports bras than regular bras, providing a stronger base for support.
Shoulder straps
The shoulder straps tend to be wider, and may be padded or have non-slip features. Conventional bras have shoulder straps that go vertically over the shoulder from the cup to the back. Sports bras may come like this, with the option to swap the straps over to make a cross-back, or clip them together to make a racer back. A fixed racer back is another option, though more difficult to get into.
Support level
The level of support provided varies among sports bras, and they're usually tailored to different types of sport. A bra designed for running will provide more support than one for cycling, which will in turn provide more support than one for yoga.
Compression vs encapsulation
Compressive sports bras and crop tops provide support by squashing the breasts close to the chest wall, reducing projection and movement. Bras with cups that encapsulate each breast provide support of each breast independently. Studies suggest encapsulation bras provide better support, and may be more comfortable with better separation.
Some sports bras (for example the Freya Active Crop Top Sports Bra and Berlei Ultimate) comprise cups that encapsulate with an additional crop top-like cover, so you get the best of both worlds. A DIY option, common with many women, is an encapsulation sports bra with a crop top over it.
Wireless or underwire
Providing they're well designed, wireless bras can be just as supportive as underwire bras, and may be more comfortable for some activities. Underwire bras provide better separation and shape than wireless bras, especially for larger sizes.
Fit and support
Fit is everything – get professionally fitted, or follow our fitting guidelines. Jump up and down, wave your arms around, run on the spot in front of the change room mirror – front on and side on. Check for bounce, including movement of flesh above and at the sides of the bra. Movement should at least be minimised, and breasts should move with your torso, not by themselves.
Difficulties getting it on and off?
For people with shoulder pain, rotator cuff issues, limited range of arm movement and/or reduced strength, sports bras can pose a challenge. Two of our trialists had these sorts of problems, and couldn't have put some bras on without help. If this is you, it's important to try putting the bra on and taking it off without the help of a shop assistant when you buy it – realising you can't do it after you've taken it home may be too late.
Shoulder straps Getting a fixed racer back bra on can involve contortions beyond many people, and getting it off would have even the great Houdini struggling. So conventional (vertical) straps may be your best bet.
Strong elasticity Also an issue is the high elasticity of sports bras used to get a good firm fit – it can be difficult to pull against the stretch to do the bra up.
Easy-access bras to consider
Our trialists reported no difficulty putting the Freya Active Epic Moulded Crop Top Sports Bra on, and it offered very good support.
The Moving Comfort Jubralee had good support, though was very compressive. It takes some effort to close, so it may suit people with flexibility rather than strength issues. The shoulder straps can be attached and adjusted from the front – good for people who want to put the bra on backwards then rotate it (the "hook and spin" method).
The Triumph Triaction Endurance was the easiest to put on, though lacked high impact support.
The Enell does up the front, which may seem easier and suit people with flexibility rather than strength issues, but the pull is so strong that it does take some effort to close.
Bra care
Ideally bras should be handwashed. The washing machine cycle is too long, it tosses the bra around, stretching the material, and even mangling or dislodging the wires. In the real world, using a delicates bag in a gentle machine cycle is a good compromise – and do the hooks up first. Find our more in our guide to washing bras.
Minimising washing can help prolong a bra's life, and some sports bras claim to have odour management fabric so you can wear them more than once between washing. Rinsing in the shower can get rid of salts from sweat. After being worn, bras will stretch, but washing them (properly) will help them regain their original shape. If you wear them too often between washings, they'll stretch beyond recovery.
Thank you
CHOICE would like to thank Tish and Angela from She Science in Melbourne for their expertise and use of equipment in carrying out this test.
---
Join the conversation

To share your thoughts or ask a question, visit the CHOICE Community forum.