Need to know
Portable units are more convenient and cheaper than permanent split systems, but they're also noisier, less effective and less efficient 
We test models for noise on their highest setting – results vary dramatically 
Unfortunately the quietest portable air conditioners in our review are also some of the worst performing
Clank, whoosh, beep, shudder! Portable air-conditioning units can be quite loud and distracting, especially if they're on full blast while you're working from home, watching TV or on the phone.
They also aren't hugely energy efficient, but the reality is they're a good cooling option if:
you can't install air-conditioning because you rent or you're in a strata complex that requires approval
you need an immediate cooling fix and can't wait for installation
you don't have the budget for a fixed option.
But if the thought of a whooshing unit that keeps you up at night gives you nightmares and you're looking for the best model that's also quiet, we can help.
Read on to find out how we test portable air conditioners for noise. Plus, we reveal the models that were the quietest in our latest tests.
Quietest portable air cons – the good and bad news
Let's start with the positives. In their comprehensive lab tests, our experts found a number of units that rated in the 'quieter' category, with noise registering at 57–59dBa, so they're a good option if you're looking for a model that'll keep the peace in your home.
The catch? They didn't score that well for actual cooling performance (the one thing you're buying them to do), and none are recommended by our experts.
"Most portable air conditioners tend to be fairly noisy, regardless of their efficiency and performance," says CHOICE air conditioning expert Chris Barnes.
"Unfortunately the comparatively quiet models named here happen to be fairly mediocre performers.
"Quietness is clearly no guarantee of good performance or efficiency for portable air conditioners."
Most portable air conditioners tend to be fairly noisy, regardless of their efficiency and performance

Chris Barnes, CHOICE air conditioning expert
The current models we've tested range from 57dBa (quieter) up to 70dBa (very noisy) on high speed. For comparison, a typical conversation reaches about 60dB, a very noisy dishwasher might sit at around 50dB, and a running shower might clock in at about 70dB.
Keep in mind that an air con's noisiness can vary notably depending on the room it's in. Carpets and soft furnishings will absorb some noise; hard floors and tiles can amplify it.
Still, if noise is a key factor for your choice (you might have a sleeping baby or do lots of video conferences, for instance), we've listed the quieter models to look out for.
Polocool PQ10C
Noise description: Quieter (57dBa)
Cooling score: 54%
Price: $829
Summer running costs*: $144
This 2.7kW unit was notably the quietest one we reviewed in our laboratory tests.

Unfortunately, it also seriously under-delivers on actually cooling, managing a lowly mark of just 54%. So you'll hear it less, but probably be sweating more.

Having said that, it did receive the highest cooling score of the models rated as 'quieter', so if you absolutely must have the quietest unit possible, this one is the way to go – but just bear in mind that you'll be sacrificing performance.
Read our full review of the Polocool PQ10C.
*Summer running costs are the approximate cost of operating the unit at maximum capacity for four hours per day for three months in hot weather, based on an energy cost of 40c/kWh.
Yokohama YOKP7000
Noise description: Quieter (59dBa)
Cooling score: 47%
Price: $549
Summer running costs: $114
Another portable air conditioner from the lower end of the market, this unit lacks several features of the other quiet operators, such as castors and a sleep timer. It's also lightweight, clocking in at just 21kg, which is just as well given its lack of wheels.
Its relatively low running costs don't really make up for its poor performance – and in fact, it's probably only cheap to run because it doesn't do much in the way of cooling. It may be quiet but it certainly isn't cool.
Read the full Yokohama YOKP7000 review.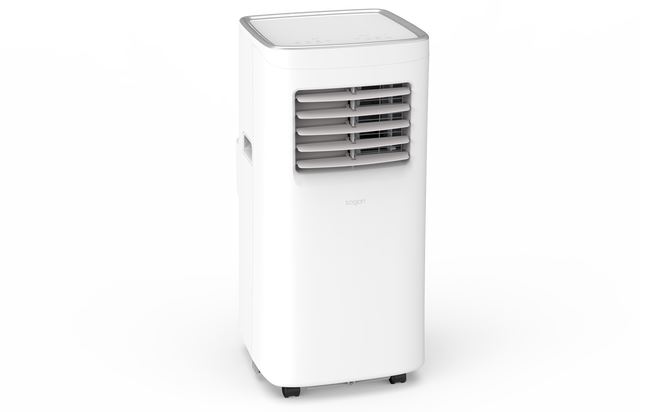 Kogan KAWFPAC07JA
Noise description: Quieter (59dBa)
Cooling score: 47%
Price: $400
Summer running costs: $114
With an overall score that barely scrapes into the 'OK' category, this Kogan unit's cooling performance leaves much to be desired.
On the upside, it only weighs 20kg and costs around $114 to run for a summer. But you also might not notice it's there since it does little to lower the temperature.
There's a long list of Kogan products we suggest you avoid, and this one well and truly earns its place on the list. In fact, none of the Kogan portable air conditioners we tested performed well – this was actually the highest scoring of the lot, which is a solid indication of how poor they are.
Read the full Kogan KAWFPAC07JA review.
Join the conversation

To share your thoughts or ask a question, visit the CHOICE Community forum.