How to buy the best bike for your needs
We show you what to look for before taking off on two wheels.
Want the snazziest bike on the lot?
---
There's no doubt about it – biking's definitely having a moment. If you're thinking about joining the ever-increasing ranks of commuter cyclists, finding the right bicycle can be an overwhelming task. With so many models on the market and plenty of hype and technical jargon from salespeople, it's easy to get lost.
We'll tell you what you need to know to get a good quality bike, without the unnecessary extras:
Style matters
First up, choose a bike that's a good fit for the kind of riding you'll usually do. So for example, if you're going to be riding in the predominantly in the city you won't want to get a mountain bike. A common mistake people make when buying a bike is getting one that tries to do everything.
For cycling newbies, we recommend an upright bike style. It's more comfortable and gives you more awareness on the road. While it's common to see riders with speedy drop-handlebar road bikes on the commute, they're not designed for stopping and starting. Their low riding position also makes it much harder to keep an eye on the traffic.
But that doesn't mean you're stuck with just one style. The upright commuter bike range has a few types to choose from.
City or commuter bikes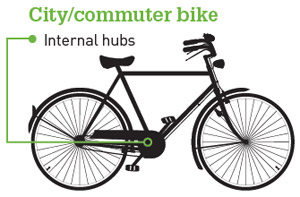 Often come with accessories such as a rack, mud guards and lights. They're a wallet-friendly option – bike accessories can add about $200 to the total if you purchase them individually.
Upright and comfortable
Often have internal hubs
Flat bar road bikes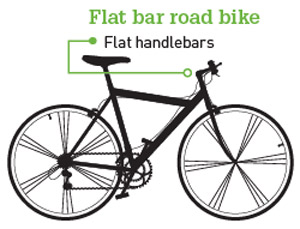 Similar to a drop-handlebar road bikes, but with flat handlebars, these are suited to a longer, speedier commute.
Least upright commuter bike
Faster than many similar bikes
Sit-up-and-beg/step-through bikes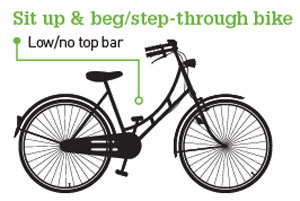 Good if you're only commuting about five kilometres and want a relaxed ride.
Low or no top bar, so you can "step through"
Very upright
Slower than other commuter bikes
Comfortable
Folding bikes
These are good if you're commuting by train and only want to ride part of the way. See more in our folding bikes buying guide.
Electric bikes
These are either pedal assist (helps the rider pedal) or throttle-powered (no pedalling required). If you're likely to be slogging up hills or travelling longer distances this may be the option for you. See our electric bikes test. You can also buy conversion kits to turn your current bike into an electric bike.
Bike fit basics
Getting the correct frame size is essential to a good ride. One that's too big or small will compromise on feel and comfort. There are plenty of specialist fitting services on the market, but if you're just looking for a basic city bike, look for a model where most of the weight's carried by your feet and bottom, not your hands.
Height: Most bike size measurements are based on the seat tube length (the vertical bar from the pedal cranks to the saddle). Make sure you can stand over the bike with some clearance. For the best saddle height, place your heel on the pedal. When it's at the bottom of the stroke, your leg should be straight.
Stretch: The length of the top tube (seat to handlebars) is also important. It determines how far you'll have to stretch while riding. There's no simple guide here, but comfort is crucial. Make sure you're not stretched out or too bunched up on the bike.
Materials
What the frame is made out of will also impact your ride.
Steel
Common on classic bikes such as the Dutch step-through.
Pros: absorbs bumps; strong
Cons: rusts easily; can be heavy
Aluminium
Common on city-style bikes
Pros: lighter than steel; doesn't rust
Cons: doesn't absorb bumps
Carbon fibre
Not common on city-style bikes
Pros: light; absorbs bumps
Cons: expensive
Getting into gears
How many?
Many modern bikes come with 27 gears - much more than you'll need for commuter riding. In the city, five to eight gears is plenty, although more may be useful if you're riding in a hilly area. Additional gears will cost more, add weight, and increase maintenance issues.
Quality
Gears come as part of a groupset. This includes everything making up the gears (front and rear derailleurs, cassette, chain, cranks and shifters) as well as the brakes. Each groupset manufacturer makes different grades (from entry-level to pro) for both mountain and road bikes (commuter bikes can fall into both categories).
As the grades improve, groupsets get lighter, have more gears, are more durable and perform more efficiently. But if you're in the everyday commuter group, you probably won't notice much difference between low-end and high-end groupsets. As long as the gears are kept clean and looked after properly, a lower-end groupset is fine.
Internal hubs
Internal hubs – where the gear system is inside a covered chamber – are a good option for everyday cyclists. They're low maintenance, and gears can be shifted while you're stopped. On the downside, they make it fiddly to remove the wheel if you have a flat tyre, and can be pretty bulky.
Wheels on the road
There are a few things to consider to get the right wheels for commuting.
Durability
Double-walled rims are stronger than single-walled ones.
Spoke count
A higher spoke count is better if you ride on bumpy paths.
Ease of removal
Quick-release wheels make life easier if you have a flat or want to throw your bike in the boot. On the downside, they also make it easier for someone to steal your wheel.
Tyres
Width
Choose a slightly wider wheel over a slick road bike tyre for commuting. They're less likely to puncture and will give you more traction.
Tread
If you're riding on the road, avoid knobbly mountain bike tread - it's meant for off-road biking, not city commutes.
Punctures
Quality might not be noticeable at first, but low-end tyres (that often come on new bikes) are more likely to puncture and wear out faster. Look for tyres that are marketed as being 'puncture resistant' - they'll reduce your risk of a flat. The same goes for riding with the correct tyre pressure.
Accessorise right
Some bike accessories are essential for your ride, but which ones exactly? We believe the following are worth the cash:
Grips, pedals and saddle
The comfort of these three things can have a big impact on your ride. For city riding, avoid pedals that clip in, because you need to be able to stop regularly.
Rack to attach a bag or panniers
If the bike doesn't come with a rack, check you're still able to attach one.
Luggage
Various companies make luggage for cyclists designed for use either on or off your bike.
Mud guards
Even if it isn't raining, water on the road can splash up from your tyres and onto your clothes.
Helmet and bell
This almost goes without saying, but in case you need a reminder, you must wear a helmet with an Australian Standards sticker. You'll also need to have a bell fitted to the bike.
Lights and reflector
If you'll be riding at night or in low light, you'll need a front white and rear red light that are visible for 200 metres. Some lights can be charged by USB, others have batteries. If you're into green power, some bikes come with dynamo hubs, which are pedal-powered lights. See our bike lights buying guide for more information.
High-visibility vest
Construction sites aren't the only place for fluoro vests – they're also important for safe cyclists.
Lock and pump
If you're leaving the bike out in public, we recommend buying a D-lock, You'll also need a floor pump for home use (easier to get tyre pressure right) and a hand pump for the road.
Tyre levers and a puncture kit
Levers make it easier to change tyre inner tubes - and repairing tubes costs less than buying new ones.
City cycling tips
Insurance
If you cycle regularly, insurance is worth considering. Sign up as a member with your state cycling body and they'll usually provide personal injury and public liability insurance, plus income protection in case of an accident.
This insurance generally won't cover your bike, though, so if it's a pricey ride there are a range of ways to insure your bike for theft or an accident. Find out more in our bike insurance buying guide.
Maintenance
Depending on how much you ride, you should get a bike serviced every six to 12 months.
Cleaning your chain regularly will reduce wear and tear, and ultimately repair costs. It's worth signing up to a bicycle maintenance course to learn the basics.
Finding the best route
If you've made the decision to start riding to work, or even part of the way, it pays to plan your route. The most direct route isn't always the safest or the quickest. Consider hills - it's often easier to ride further on a flatter ride. While main roads can be the most direct, unless they have bike paths, using backstreets often means a safer and more pleasant journey.
There are various digital route planners that can help you find safter routes and bike paths. Two we've tried are:
Ride the City - it's available as an app to help when you're out and about.
Google Maps - offers bike directions on its desktop format. The bike function isn't available in the mobile app versions of Google Maps.
Checklist
Before you shop
Consider these bike-buying questions:
How far and how fast will you ride?
What type of terrain will you be riding on? Is it bumpy or smooth? Flat or hilly?
Will you regularly need to carry the bike up lots of stairs? If so, a lighter bike may be a priority.
Once you're at the bike shop:
Does it fit you?
What's the frame made out of?
How many gears does it have?
What type of pedals does it have?
Are the grips and saddle comfortable?
What groupset does it have (brand and grade)?
Does it have quick-release wheels?
Does it have puncture-resistant tyres?
Double- or single-walled rims?
Does it take a rack and mudguards?
What accessories are included?
How long is the frame warranty?
Does the price include any services?
Price
Expect to pay around $400–500 for a good quality city-style bike. Paying more than $1000–1500 for this style of bike isn't worth the cost.