Convertible tricycle strollers are a fun way of transporting your child. They start off as a stroller ("parent" or "carer" mode) with the pedals locked (or removed) and the child steering deactivated. This lets you push them around as you would with a regular pram. Once they're toddlers, you progress the stroller to a trike mode by making a few conversions. They're then ready to start riding around independently (under adult supervision, of course).
On this page:
Can a convertible tricycle stroller replace my regular stroller?
No. While a tricycle stroller might be OK for short trips to the park, dedicated strollers are better, safer long term options. They tend to have superior steering, have tyres designed for bumpy terrain, have features like deep storage pockets and comfy seating, larger brakes, and foldability (although some tricycle models are foldable). Many of the convertible tricycle strollers we've tested say that they are not for use on roads, which is difficult if you're trying to cross one.
Are convertible tricycle strollers safe?
It depends on the model and where you're buying it from. Convertible tricycle strollers must comply with the mandatory Australian safety standard for prams and strollers (AS/NZS 2088:2000 Consumer Protection 8 of 2007 to be precise). You may, however, see them being sold as "toys", with warning signs saying that "this is not a stroller". But this is not an excuse. If you're using it to transport your child and it has one or more of the characteristics of being a stroller then it must comply with several key requirements. Our reviews reveal which ones stick to the standards.
So what "stroller" features are on a tricycle stroller?
According to the Australian Competition and Consumer Commission (ACCC), tricycle stroller features can include:
a high backrest
harness (at least with waist and crotch straps)
ability to disengage child steering
ability to disengage/remove pedals
ability to recline the seat
If the tricycle has one of more of these features, then chances are it's a convertible tricycle stroller.
Buying a safe convertible tricycle stroller
Since the definition of a stroller was clarified in February 2019 to include convertible tricycle strollers, the ACCC has fined retailers for selling non-compliant models without key safety features. While mainstream manufacturers and retailers have generally improved their products as a result, shockingly many of the models sold via online marketplaces such as Amazon, catch.com.au and eBay still don't meet these basic requirements. (We know, because we've bought and tested a number of dubious models and can see countless others listed for sale which clearly don't show key safety features in the photos).
When we alerted one eBay seller with 200,000+ feedback to the failures we found, they told us they were "sorry for the inconvenience" and "we do not sell this product anymore" (they sell thousands of products from bed rails to acoustic sound panels).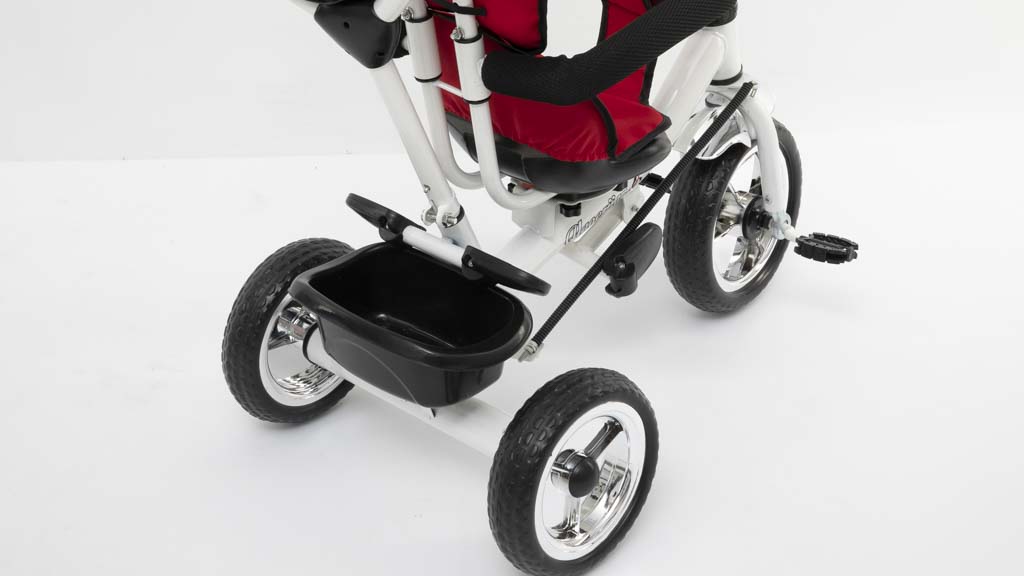 This convertible tricycle stroller was not sold with a key safety feature: parking brakes.
What safety features do I need to look out for?
Convertible tricycle strollers must have these essential features to comply with standards:
Parking brakes to prevent it from rolling away (these need to be red for visibility)
Permanently-fixed harness with waist and crotch straps to secure your child
A tether strap on the handle as added security against rolling
Clear warning notices for safe use
How old does my child need to be to use a convertible tricycle stroller?
It varies depending on the design; you'll need to check the manufacturer's instructions. In stroller mode, some models are suitable from six months, while others are only suitable from 18 months. In tricycle mode, capacity may be based on weight (eg 25kg).
What other important features do convertible tricycle strollers have?
Convertible tricycle strollers are feature-rich but the quality may vary. Some things to consider:
Lockable or removable front handlebars
The ability to disengage the steering mechanism until your child is old enough.
Large parking brakes
If brake pedals are too small they may not be as easy to access quickly.
Lockable pedals
It's less awkward if the pedals don't rotate while the parent/carer is pushing a tired toddler along. Some models may detect if a child's feet are resting on them and the pedals will stop while the wheels keep moving.
Foot rest
For kids who aren't pedalling yet, many models have the option of a folding or retractable footrest to use instead of the pedals.
Canopy/sun shade
Sometimes the canopy can be retractable.
Basket
A large and deep basket to carry supplies is handy but make sure it does not get in the way when using the parking brakes.
Rotating seat
Some models let you reverse the seat in stroller mode so you can see them as you push them along.
Clear instructions
Many of the instructions we received from strollers purchased via online marketplaces were poorly translated with small pictures; some were in Chinese, and in one case the instructions were missing altogether. Ones purchased from mainstream retailers tended to be more comprehensive, with diagrams.
Parent handle
Height adjustable ones are handy if carers of different heights are using the tricycle stroller. They are often linked to the front wheel so you can easily steer it around. Keep it in place when in trike mode so that you can take over and push your child along if they have had enough of pedalling!
5-point safety harness
At the very least, the stroller mode must have waist and crotch straps. Additional shoulder straps for added protection are preferable.
Foldable
Some models fold up so you can take it along on public transport or in your car.
Bell and rear view mirror
These can add some amusement for your child's journey, but make sure they are not flimsy or have small pieces which could break into small parts.
Stable and secure
The convertible tricycle stroller needs to be secure and well-balanced. Check it before each use to make sure any clamps, nuts, bolts and screws are tight enough.
Removable pedals
Most of the convertible tricycle strollers make it difficult to easily remove and replace the pedals without dismantling the unit. If you won't be using them until your baby is older, keep them in a safe place until you're ready.
Stock images: Getty, unless otherwise stated.
Join the conversation

To share your thoughts or ask a question, visit the CHOICE Community forum.