Are smoothies and frappes healthy?
You might be surprised by the sugary punch packed by some fruit-based drinks.
A healthier option?
---
Fruits and vegetables are generally low-kilojoule foods, rich in fibre, vitamins and minerals, making them perfect for a snack between meals. So, given how healthy fruit and veggies are, surely drinks made with fruit are also a healthy option?
CHOICE analysed the nutritional content of 95 smoothies and frappes from popular outlets such as Boost Juice, Donut King and Wendys. If you're drinking smoothies or frappes as a healthy alternative, you may be surprised to learn just how much sugar and kilojoules some of these fruity beverages contain.
So what's wrong with fruit-based drinks?
When fruit is juiced, the sugars, fluids and flavours are extracted from the fruit fibre; however, the kilojoule content remains much the same. And in addition to the fruit concentrate that is already high in natural sugars, some drinks also contain added sugar. All up, a large number of kilojoules can be packed into a small amount of liquid.
While smoothies and frappes seem good in theory, the inclusion of fruit concentrate and added sugar – along with serving sizes that can be larger than an average plate of food – poses serious health issues for people consuming these drinks as between-meal "snacks".
Scientific studies, including those recorded in the Australian Dietary Guidelines, show people whose diet is high in fruits, vegetables and legumes have a lower risk of heart disease, stroke, cancer and type-2 diabetes. On the other hand, diets high in added sugars are associated with obesity and dental health issues, which means the "hidden" sugar in these products isn't likely to do your health – or teeth, or waistline – any favours.
Dietitian Dr Rosemary Stanton says although it's known the body doesn't recognise feelings of satiety after drinking soft drinks, whether this also applies to juice is not known. However, any excess of kilojoules is a problem and consuming large amounts of fruit sugars without fibre on a regular basis isn't ideal. "Most people would be unlikely to get through four apples, but could easily manage the equivalent in juice," she says.
What we found
Sugar high
Of the 95 drinks we looked at, 81 had sugar levels we would classify as high in sugar (7.5g/100mL or above). The use of juice concentrate or added sugar means you could be consuming far more sugar than you expect – up to the equivalent of 31 teaspoons in just one regular drink (with a teaspoon of sugar weighing about 4g).
Meal in a drink
Another key issue we found was the difference in "regular" or "medium" serving sizes – from 280mL (at Donut King) to 650mL (at New Zealand Natural).
Stanton says that the "regular" serving sizes at some popular juice bars go far beyond what can be considered a reasonable snack, except for those who are very physically active. Given a regular flat white coffee provides about 500kJ of energy, packing up to 2600kJ into one smoothie is simply encouraging people to overeat, she says. Even the kids' serving size at Boost (350mL) provides up to 1500kJ.
The Australian Dietary Guidelines recommend limiting food and drinks containing added sugars – particularly sugar-sweetened drinks. It also suggests a single serving of fruit juice shouldn't be bigger than 125mL, while a serving of yoghurt (a common ingredient in smoothies) is capped at 200g.
Australia's best and worst smoothies
In an October 2012 investigation, CHOICE analysed the nutritional content (energy/kilojoules, sugars and saturated fats) of 95 smoothies and frappes from businesses with more than 50 stores nationally.
The analysis was based on a medium or regular serve (or small where these weren't available), and assessed the entire serve rather than per 100g. That's because we believe you're likely to consume the entire cup in one serve.
We reviewed beverages from:
Baskin Robbins
Boost Juice
Donut King
Gloria Jeans
KFC
Michel's Patisserie
Muffin Break
New Zealand Natural
Subway
Wendys
Of those analysed, here's a selection of the best and worst.
Better buys
Donut King Fruit Freezes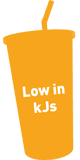 425mLs
141–148 kJs
Saturated fat: 0.6g
Sugar: 8g
With less than 150kJ, these ice-based frappés come out best thanks to their favourable nutritional profile. Although sugars are added to flavour the ice, these are the lowest-sugar option, with the equivalent of just two teaspoons in the 425mL regular drink. But while we commend them for their low sugar content, we aren't so sure about the inclusion of "nature identical mango flavour" instead of fresh mango.
Michel's Patisserie Dairy Free Fruit Smoothies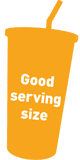 305mLs
460–498 kJs
Saturated fat: <0.1g
Sugar: 24-27g
At the smaller end of the serving size scale, Michel's regular dairy-free smoothies are 305mL and relatively low in kilojoules, which is good news for consumers looking for a cool drink between meals. There is a catch, though – the "fruit" used is not fresh, but in a "smoothie base" consisting of 50–60% fruit, sugar, thickener, preservative and flavours.
Boost Skinny Minnie Melon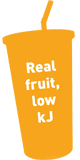 450mLs
549 kJs
Saturated fat: 0.45g
Sugar: 26g
Although the medium Boost serving size of 450mL is more than three times the size of a recommended fruit juice serving, or double the size of a single yoghurt serving, the Skinny Smoothies are the best Boosts in terms of kilojoules and sugars per serving. Boost also uses fresh fruit as opposed to juice concentrate.
Steer clear
Baskin Robbins Yoghurt Smoothies
473mLs
2380–2685 kJs
Saturated fat: 4–5g
Sugar: 115–123g
Regular size smoothies from Baskin Robbins have the equivalent of up to 31 teaspoons of sugar – more than 2600kJ (a decent meal's worth). With an ingredients list that includes concentrated fruit purée, added sugar, artificial flavouring, colour and high-fructose glucose syrup, we recommend these drinks only as a "sometimes" snack, as they aren't really a healthy fruit-and-yoghurt smoothie as their name suggests.
Muffin Break Smoothies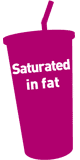 429–418 mLs
1980–1990 kJs
Saturated fat: 11.4g
Sugar: 59–67g
Of all the smoothies and frappés we reviewed, the five Muffin Break smoothies are the only products that are high in saturated fat content, with each drink containing more than 11g of saturated fat per serving. This is most likely because they're made with ice-cream.
Boost Super Smoothies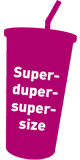 450mLs
1948–1962 kJs
Saturated fat: 4g
Sugar: 57–58g
While, commendably, these smoothies are made with real fruit, their energy per serve (just shy of 2000kJ in the medium size) is a worry. To put the massive energy content into perspective, a regular meal has about the same number of kilojoules.
---
Join the conversation

To share your thoughts or ask a question, visit the CHOICE Community forum.