Where does your frozen fruit and veg come from?
We review country of origin statements on frozen fruit and veg to see if it's easier to identify Australian produce.
Where does it come from?
---
New mandatory country of origin laws came into effect on 1 July following a transition period which gave manufacturers two years to comply. To see if the new standard makes it easier to find out where your food comes from, we checked the labels on a range of frozen fruit and veg in supermarket freezers.
We found that while it's now much easier to identify the Australian ingredients in products, some companies still aren't using the new system.
In this article:
Easier to identify origin, particularly if it's Australian
In 2015 we found it impossible to determine the country of origin of nearly half the frozen mixed fruit and vegetables available in Australian supermarkets which, in the wake of numerous hepatitis A cases linked to imported frozen berries, was cause for concern. Our campaign for better country of origin labelling achieved new labels, and our label check confirms that the situation has improved.
We revisited the labelling on the frozen mixed fruit and vegie products we surveyed in 2015. Of the 37 products still available today:
30 enable you to identify the origin of the ingredients, or at least the percentage of Australian ingredients (compared with just 23 in 2015).
8 still use variations of much less transparent statements (compared with 14 in 2015).
29 carried the new labelling.
See the table for full details.
Labelling updates lagging in some products
A number of the products we looked at have yet to update their labelling to comply with the new labelling standard. Birds Eye Steam Fresh Carrot, Broccoli & Corn Mix is labelled 'Made in Australia' with no kangaroo icon or bar chart, for example. And Heinz Steam Fresh Beans, Broccoli & Sugar Snap Peas is labelled 'Made in New Zealand from imported and local ingredients' but the statement isn't in a clearly defined box. If you want to know where the vegies were grown, these labels are useless. Country of origin labelling now and then has more detail.
There has been a two-year transition period leading up to 1 July when the new laws came into effect. So while the ACCC has said that food products that were packaged and labelled according to the Food Code on or before 30 June 2018 can still be sold without the new labels after that date, we're disappointed to see that some companies still haven't moved to the new system.
Continued improvements necessary
Imported frozen pomegranate was linked to hepatitis A cases earlier this year prompting a nationwide recall, again highlighting the importance of clear and accurate country of origin labelling that allows consumers to make an informed choice about what they buy.
Some consumers are also willing to pay extra for products grown, produced, or made in Australia, and the new labelling gives companies the opportunity to promote how 'Australian' their products are. The origin statement on Birds Eye Country Harvest Snap Frozen Carrot, Cauliflower & Broccoli is 'Packed in Australia from at least 40% Australian ingredients', for example. But we think more transparency is necessary and would like to see manufacturers voluntarily provide information about the origin of all ingredients, not just those that are Australian.
The ACCC has plans to conduct market surveillance checks on 10,000 food products to ensure businesses are correctly displaying the new labels, and concerns will be raised with any businesses identified as not complying with the new laws. We look forward to hearing the outcome of these inspections.
Country of origin labelling: NOW
There are different labelling requirements depending on whether an item is classified as a priority or non-priority food. Priority foods are all foods except those that belong to one of seven non-priority categories – seasonings, confectionery, biscuits and snack foods, soft drinks and sports drinks, alcoholic drinks, tea and coffee, bottled water.
The biggest label changes are for products made, grown or produced in Australia. These now need to display a triangle logo with a kangaroo icon, a bar chart indicating the percentage of Australian ingredients and explanatory text to explain if the product was made, produced or grown in Australia. A product that is packed in Australia just needs to display a bar chart indicating the percentage of Australian ingredients.
Imported priority food must, at a minimum, carry a country of origin text statement (e.g. 'Made in China' or 'Product of Brazil') in a clearly defined box.
The following are examples of labels you should see on all priority foods that contain Australian ingredients: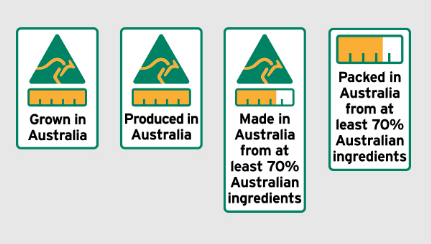 Country of origin labelling examples
Country of origin labels: THEN
| Approved statement | Definition | What it doesn't tell us |
| --- | --- | --- |
| 'Product of [country name]' | Each significant ingredient or part of the product originated in the country claimed and almost all of the production processes occurred in that country. | This is arguably the most helpful of the current approved statements, but it doesn't guarantee that 100% of that product came from or was processed in that country. |
| 'Made in [country]' | The product was made (not just packed) in the country claimed and at least 50% of the cost to produce the product was incurred in that country. | Where the ingredients were grown or sourced. |
| 'from local and imported ingredients' | The ingredients come from at least one other country in addition to the one claimed. | What other countries ingredients may have come from, or in what proportion. |
How have the labels changed?
Frozen mixed fruit labelling
Product name
Label statement
THEN (Feb 2015)
Label statement
NOW (July 2018)
Coles Mixed Berries
Product of Chile (All fruit from Chile/processed/packed in Chile)*
Product of Chile (C)*
Creative Gourmet Mixed Berries
(Strawberries, Blackberries, Blueberries, Raspberries)
(previously Raspberries, Blueberries, Blackberries, Black Currants, Red Currants)
Packed in Australia using imported fruit
Product of Chile (B)
Oob Organic Mixed Berries
(Strawberries, Blueberries, Blackberries, Raspberries)
(previously Blueberries, Raspberries, Strawberries)
Packed in New Zealand. Please see 'Best Before' for origin.**
Product of Chile (C)
Woolworths Frozen Fresh Mixed Berries
(previously Woolworths Select Mixed Berries)
(Strawberries, Raspberries, Blackberries, Blueberries)
Product of Chile
Produced in Chile (B)
Woolworths Frozen Fresh Tropical Fruits
(previously Woolworths Select Tropical Fruits)
(Pineapple, Mango, Strawberry, Honeydew melon)
Packed in Chile from imported and local ingredients
Packed in Chile from multiple origins (C)*

Frozen mixed vegetables labelling
Product name
Label statement
THEN (Feb 2015)
Label statement
NOW (July 2018)
Birds Eye Australian Country Harvest
Baby Beans, Carrot, Corn & Broccoli
Product of Australia
Australian Grown (A)
Birds Eye Country Harvest Snap Frozen
Carrot, Cauliflower & Broccoli
Product of Australia
Packed in Australia from at least 40% Australian ingredients (A)
Birds Eye Australian Country Harvest
Carrot, Cauliflower & Peas
Product of Australia
Australian Grown (A)**
Birds Eye Australian Country Harvest
Carrot, Cauliflower, Beans & Broccoli
Product of Australia
Australian Grown (A)
Birds Eye Australian Country Harvest
Carrot, Peas & Corn
Product of Australia
Australian Grown (A)
Birds Eye Australian Country Harvest
Corn, Peas, Carrot & Broccoli
Product of Australia
Australian Grown (A)**
Birds Eye Australian Country Harvest
Garden Mix (Carrot, Broccoli, Cauliflower, Green Beans, Red Capsicum)
Product of Australia
Australian Grown (A)**
Birds Eye Australian Country Harvest
Peas & Supersweet Corn
Product of Australia*
Australian Grown (A)
Birds Eye Australian Country Harvest
Peas, Corn & Capsicum
Product of Australia
Australian Grown (A)
Birds Eye Australian Country Harvest
Spring Greens Mix
Product of Australia
Australian Grown (A)
Birds Eye Steam Fresh
Carrot, Broccoli & Corn Mix
Made in Australia
Made in Australia (C)
Birds Eye Steam Fresh
Carrot, Peas & Corn Mix
Made in Australia
Australian Grown (A)*
Birds Eye Steam Fresh
Peas, Beans, Corn & Broccoli Mix
Made in Australia from imported and local ingredients
Made in Australia from imported and local ingredients (C)
Birds Eye Stir Fry Malaysian
(Broccoli, Yellow Beans, Water Chestnuts, Sugar Snap Peas, Capsicum)
Made in Australia from imported and local ingredients*
Packed in Australia from at least 60% Australian ingredients (A)*
Birds Eye Stir Fry Oriental
(Broccoli, Yellow Beans, Carrot, Sugar Snap Peas, Water Chestnuts, Red Capsicum)
Made in Australia from imported and local ingredients*
Packed in Australia from at least 60% Australian ingredients (A)
Birds Eye Stir Fry Shanghai
(Carrot, Broccoli, Sugar Snap Peas, Capsicum, Water Chestnuts)
Made in Australia from imported and local ingredients*
Packed in Australia from at least 50% Australian ingredients (A)*
Birds Eye Stir Fry Thai Style
(Carrot, Green Beans, Broccoli, Baby Corn, Bamboo Shoots)
Made in Australia from imported and local ingredients*
Packed in Australia from at least 60% Australian ingredients (A)
Coles Australian Carrots, Peas & Corn
Product of Australia*
Product of Australia (A)*
Coles Australian Cauliflower & Broccoli
Product of Australia*
Product of Australia (A)*
Coles Australian Vegetable Mix
(previously Coles Australian Mixed Vegetables)
Product of Australia*
Product of Australia (A)*
Coles Australian Peas & Corn
Product of Australia*
Product of Australia (A)*
Heinz Mixed Veg
with Carrots, Peas, Green Beans & Corn Kernels
Product of New Zealand
Grown in New Zealand (B)
Heinz Steam Fresh
Beans, Broccoli & Sugar Snap Peas
Made in New Zealand from imported and local ingredients
Made in New Zealand from imported and local ingredients (C)
Heinz Steam Fresh
Broccoli, Carrots & Cauliflower
Made in New Zealand from imported and local ingredients
Packed in New Zealand from local and imported ingredients (B)
Heinz Steam Fresh
Broccoli, Carrots & Sugar Snap Peas
Made in New Zealand from imported and local ingredients
Made in New Zealand from imported and local ingredients (C)
Heinz Steam Fresh
Carrots, Corn & Broccoli
Made in New Zealand from local and imported ingredients
Packed in New Zealand from local and imported ingredients (B)
McCain Mixed Vegetables
(Peas, Corn and Carrots)
Product of New Zealand*
Grown in New Zealand (B)
McCain Peas & Super Juicy Corn
Product of New Zealand*
Product of New Zealand (C)
Woolworths Australian Carrots, Peas & Corn
(previously Woolworths Select Australian Grown Carrots, Peas & Corn)
Product of Australia
Grown in Australia (A)
Woolworths Australian Broccoli & Cauliflower
(previously Woolworths Select Australian Grown Cauliflower & Broccoli Florets)
Product of Australia
Grown in Australia (A)
Woolworths Australian Peas & Corn
(previously Woolworths Select Australian Grown Peas & Corn)
Product of Australia
Grown in Australia (A)
Woolworths Australian Winter Veg Mix
(previously Woolworths Select Australian Grown Winter Vegetable Mix)
Product of Australia
Grown in Australia (A)
*Country of origin information sourced from shop.coles.com.au or woolworths.com.au
**Country of origin information sourced from manufacturer website where available
(A) Standard mark – text and graphic label
(B) Text statement in a defined box
(C) Text statement (previous labelling)
---