How to buy the best Greek yoghurt
We taste test the major brands.
Which supermarket Greek yoghurt tastes best?
---
We eat it with our muesli, bake cakes with it, dollop it on pavlovas, use it to dress potato salad, create savoury sauces with it and devour it on its own. There's no denying the versatility of Greek yoghurt, but with so many brands on the market which one should you choose? Our review show how supermarket Greek yoghurts compare for taste.
In this guide:
Best tasting Greek yoghurt
There were many delicious Greek yoghurts on test, but the following three products came out on top, achieving overall scores of more than 80%.
Coles Greek Style Natural Yoghurt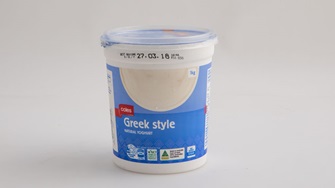 Overall score: 86%
Price per kg: $3.90

Experts say: "Smooth and glossy appearance. Clean flavour, good body. Very smooth, indulgent and creamy. Pleasant upfront acid balanced with creamy profile. Really clean finish. Nice!"
Farmers Union Greek Style All Natural Yogurt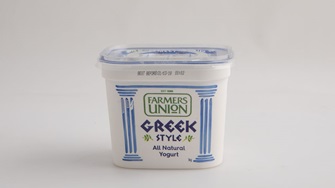 Overall score: 83%
Price per kg: $5.00

Experts say: "Good, clean flavour. Smooth and glossy appearance. Thick, creamy texture and mouthfeel. Really creamy taste with a nice balance of acidity and citrusy aftertaste. Very good product."
Tamar Valley Greek Style All Natural Yoghurt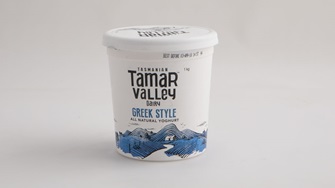 Overall score: 82%
Price per kg: $6.30

Experts say: "Glossy, shiny appearance and a nice, clean aroma. Good, full body with smooth, thick texture. Moderate to high acid which is pleasant and stands up against the fat."
Best tasting low fat
Trying to limit your fat intake? The following product is low fat, but still tasty.
Coles Light Greek Style Natural Yoghurt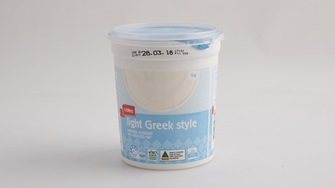 Overall score: 78%
Price per kg: $3.90

Experts say: "Smooth appearance with soft body. Sour, citrusy, clean flavour. Good, sharp, persistent acid. Excellent example of high protein Greek."
Best tasting high protein
Looking for high protein? The following product is a good source, and rates well for taste too.
Chobani Greek Yogurt Plain Whole Milk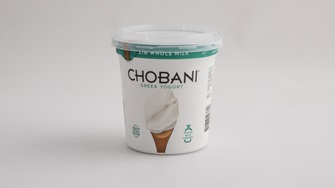 Overall score: 78%
Price per kg: $6.30

Experts say: "A good sheen, clean aroma and mildly acidic flavour. Nice thick spoonable texture, with a clean mouthfeel and dry finish."
For full product details and to find out how each yoghurt scored in our taste test, see our yoghurt comparison table.
Is Greek yoghurt good for you?
Greek yoghurt is generally considered to be highly nutritious, helped in part by its association with the heart-healthy Mediterranean diet. But the amounts of beneficial (and less desirable) nutrients varied widely across the spread of Greek yoghurt products in our review.
Protein is probably the defining nutrient of Greek yoghurt, as traditionally it was strained which concentrated its protein (and therefore its overall nutrient) content.
The top five products on test for protein are Chobani Greek Yogurt Plain (9.7% protein), Evia Greek Strained Yoghurt Natural No Added Sugar (9.4%), Black Swan Low Fat Greek Style Yoghurt (8.9%), Chobani Greek Yogurt Plain Whole Milk (8.7%) and Black Swan Greek Style Yoghurt (8.3%). Each contains 10g or more protein per serve so are considered a 'good source of protein' according to the Food Standards Code.
The products on test that are lowest in protein contain less than half as much.
Fat helps make yoghurt appealingly thick and creamy, so it's not surprising that the three highest scoring Greek yoghurts in our test are among those highest in fat, hovering around 9–10g per 100g. But while they may be tasty, they're not necessarily healthy. Higher fat yoghurts are also high in saturated fat, which we should be trying to eat less of. And Australian dietary guidelines recommend that we enjoy mostly reduced-fat varieties of yoghurt and other dairy products.
Five products in our test – all made with skim or reduced-fat milk – have no more than 3g fat per 100g (3% fat), so are low fat by definition – Jalna Pot Set Greek Yoghurt Low Fat (3% fat), Black Swan Low Fat Greek Style Yoghurt (2.3%), Coles Light Greek Style Natural Yoghurt (2%), Chobani Greek Yogurt Plain (0.2%) and Woolworths 99% Fat Free Pot Set Greek Style Yoghurt (<1%).
Several more claim to be 'reduced fat', 'light' or 'lite' meaning the yoghurt contains at least 25% less fat than in the same amount of reference food. Still, others with a similar or lower fat content are claim free. If you're trying to limit your fat intake it's best to ignore the label claims, check the nutrition information panel, and as a guide look for yoghurt with less than 5g saturated fat per 100g.
See How to choose a healthy yoghurt for more details.
Sugar in unsweetened yoghurt comes from the lactose that's intrinsic to – or naturally present in – milk, the composition of which can vary depending on the source and as a result of regional and seasonal factors. Intrinsic sugar in the yoghurts on test ranged from 2.7g to 8.6g per 100g.
We came across a number of natural Greek yoghurts that are sweetened – typically with sugar, but also honey, fruit juice concentrate and artificial sweetener sucralose – and it's not always obvious. It's easy to miss the italicised words 'touch of cane sugar' on the side of the Danone Ultimate Greek Style Yoghurt tub and the word 'sweetened' in smaller font on the Barambah Organics Greek Yoghurt label. And Tamar Valley No Added Sugar Low Fat Greek Style Yoghurt's product name belies the fact that it's artificially sweetened.
Not only are these products usually higher in sugar – some contain as much as 12.5g per 100g – but it could be particularly unpleasant if you inadvertently used one in a savoury dish.
Calcium naturally occurs in milk, and yoghurt can be a decent source of this essential nutrient. In order to make a 'good source of calcium' claim on the label, a serving of yoghurt needs to contain at least 200mg – 25% of the recommended dietary intake (RDI).
More than half the products we tested meet this requirement. Interestingly, low-fat yoghurts contain more calcium, on average, than those with a higher fat content.
Nutrients in yoghurt
Key nutrients in different types of natural yoghurt*
Protein – average protein content (g/100g)
Regular yoghurt: 6.3
Greek yoghurt: 6.1
Coconut yoghurt: 1.4
Lactose free yoghurt: 6
Fat – average fat content (g/100g)
Regular yoghurt: 2.8
Greek yoghurt: 5.9
Coconut yoghurt: 15.1
Lactose free yoghurt: 3.7
Saturated fat – average saturated fat content (g/100g)
Regular yoghurt: 1.9
Greek yoghurt: 3.9
Coconut yoghurt: 13.8
Lactose free yoghurt: 2.6
Sugars – average sugar content (g/100g)
Regular yoghurt: 5.2
Greek yoghurt: 5.3
Coconut yoghurt: 3.0
Lactose free yoghurt: 4.9
Calcium – average calcium content (mg/100g)
Regular yoghurt: 177.4
Greek yoghurt: 173.0
Coconut yoghurt: 0
Lactose free yoghurt: 189.3
Regular yoghurt (n=25), Greek yoghurt (n=26), Coconut yoghurt (n=6), Lactose free yoghurt (n=4) *Based on data collected for 61 natural (unflavoured/unsweetened) yoghurts in March 2018. Includes products labelled as reduced fat/light/lite and low fat.
What's in my Greek yoghurt?
The core ingredients needed for making yoghurt are just milk and live starter cultures (bacteria). Streptococcus thermophilus and Lactobacillus bulgaricus are the typical fermenting cultures for Greek yoghurt, and are what gives a yoghurt its unique flavour.
Probiotics may also be added to yoghurt, often for the purpose of marketing differentiation. But while some products specify the genus and/or species (Lactobacillus acidophilus, Bifidus and Lactobacillus casei, for example), most don't list how much, so you have no idea how much – or how little – bacteria is in the yoghurt.
More than half the products on test also contain cream (which improves texture and mouthfeel), and most contain additional milk solids (which produces a firmer yoghurt and improves stability and nutritional value).
A couple also contain additives. Black Swan Low Fat Greek Style Yoghurt contains prebiotic dietary fibre inulin which creates a creamy mouthfeel and cornstarch which acts as a thickener. The thickener 1442 (from tapioca and maize) in Coles Light Greek Style Natural Yoghurt does a similar job.
Yoghurt production processes
There's a certain expectation that Greek-style yoghurts will be sour, creamy and highly nutritious. But in fact there's no requirement in Australia for Greek-style yoghurt to be made in a certain way or contain particular ingredients. A yoghurt labelled Greek style isn't always high in protein and fat, for example. And similar to regular yoghurt, one labelled Greek style may also be:
Stirred. A standard process for yoghurt in which it ferments and sets in a vat, is stirred prior to cooling and then pumped into the end container.
Strained. This is the method traditionally associated with Greek yoghurt. In this process the liquid whey is strained out after it sets, which concentrates the protein and results in a thick and creamy end product.
Pot set yoghurt is the result of milk and live cultures being added straight into the final package and is often characterised by a firm, jelly-like texture.
Our experts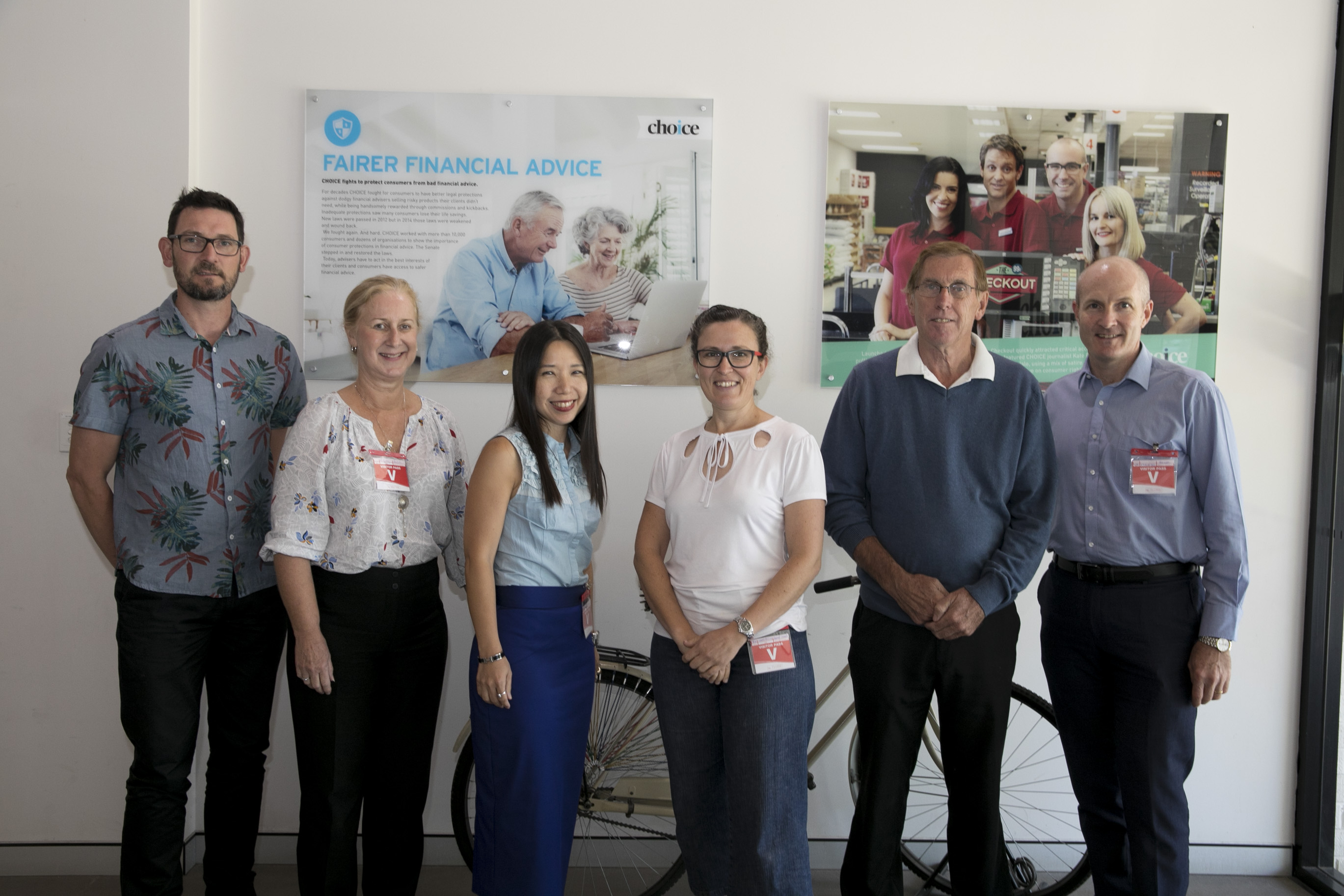 (Left to right) Carlo Mason, Robyn Gray, Petra Sugiarto, Sonia Cousins, Peter Commins, Andre Sandison.
Petra Sugiarto has an academic background in food technology and microbiology and has been working in the dairy industry for 20 years. For the last 13 years she has been on the judging panels for Dairy Industry Association of Australia (DIAA) and Sydney Royal Cheese & Dairy Produce competitions and for Dairy Australia's annual Australian Grand Dairy Awards (AGDA).
Sonia Cousins has worked as a cheesemonger for more than 12 years. As well as judging regularly at the AGDA and other dairy produce shows in Australia (and occasionally overseas), she runs a cheese education and consulting business called Cheese The Day, which presents cheese appreciation classes for the public, and workshops covering cheese sensory evaluation for industry professionals.
Carlo Mason brings with him 25 years' experience in the dairy industry ranging from cheese making/production and starter culture and cheese research (with DIAL – Dairy Innovation Aust Limited) to technical and commercial supply of starter cultures to the industry (with global bioscience company Chr. Hansen). Carlo's dairy produce judging credits include the AGDA (for nine years), Sydney Royal and DIAA competitions.
Andre Sandison is a head teacher at Le Cordon Bleu Sydney Culinary Arts Institute. As a qualified pastry chef, dairy is one of the cornerstones of his craft. He loves sharing both his passion for the profession and the simple pleasures that come from quality ingredients. In Andre's words: "Teaching students about pastry enables the next generation to put their own signature on the profession. Dairy, including yogurt, provides a classic foundation that a pastry chef respects and appreciates for the distinct textures and flavours it brings to our craft."
Peter Commins recently retired from NSW Food Authority after 44 years, during which time his main line of work was auditing Food Safety Programs – mainly with the dairy industry – for compliance to the Food Standards Code and Food Act. Peter has judged dairy produce for the DIAA and Sydney Royal competitions for more than three decades.
Robyn Gray has worked in the food and flavour industry over 30 years, with a technical background focused in ice cream and general dairy textures, and more recently flavour delivery systems. Robyn currently works in the flavour industry and regularly exercises her expertise on judging panels for Australian food competitions, including the AGDA.
How we test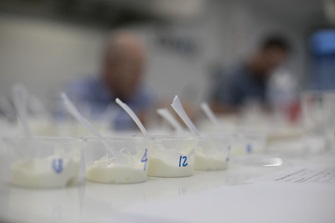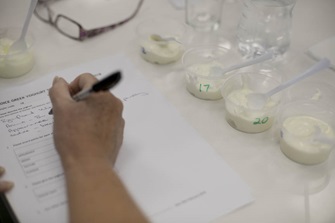 Products We included yoghurts labelled as 'Greek' or 'Greek style' available through at least one of the major supermarket chains. We excluded flavoured, sweetened and lactose-free products, as well as those not made from cow's milk.
Tasting The experts tasted the yoghurt samples blind (without knowing the brands) in a randomised order, which was different for each expert.
Scores Experts independently judged all 22 yoghurts, giving a score out of 10 for each of the following criteria: appearance, aroma, taste and texture. The overall score is the weighted average of these scores (taste 45%, texture 40%, appearance 10%, aroma 5%).