How to buy the best mattress for you
A good mattress can go a long way to ensuring you get a good night's sleep.
How do you find a mattress that's 'just right'?
---
Finding a mattress that suits your shape, size and budget can be tricky – our shopping experience revealed the vague and confusing tactics used by mattress manufacturers and salespeople to push this essential product. That's why we've done the research you can't do instore.
Five minutes of feeling things out on a bustling show floor won't help you figure out which brands and models are comfortable and long lasting. This guide can help you understand what you're buying, how it will help you sleep, and the ways you can save 50% or more on your next purchase.
How do I find a comfortable mattress?
Comfort is subjective, and there's little to be learned in the short space of time you have to try before you buy. Going in with some knowledge of mattress firmness can point you towards a model that's nice and cosy.
Your sleeping position is best suited to a particular firmness:
Firm: If you sleep on your stomach, a firm mattress will keep your spine aligned.
Medium: If you sleep on your back, it'll provide support for your spine, back and neck while keeping you comfortable.
Soft: Great for sleeping on your side because it'll support and contour your body's curves.
Our test results and investigation into spring mattresses found that most retailer firmness claims do not match the bed being sold. This is where our body support and stability tests are useful. Take manufacturer information with a grain of salt.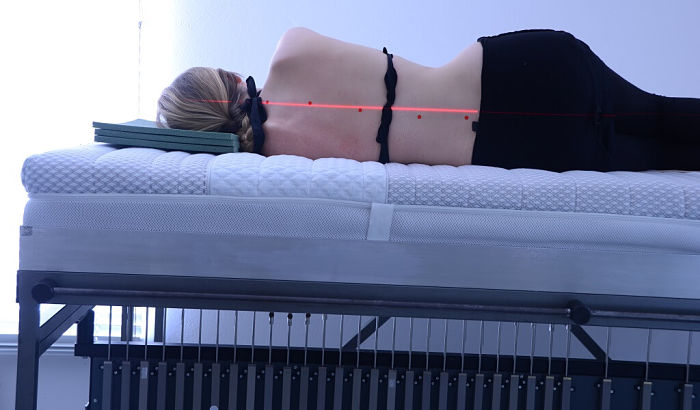 Part of our comfort and support tests.
Simulate your sleeping style
You can get a better grasp on comfort by replicating how you sleep, instore:
Take your time: Most people need seven to nine hours sleep a night. A couple of minutes on your back won't come close to replicating this experience. Lie down for as long as you need – though you probably shouldn't spend the night.
Move about: Roll over, sit up, get in and out of the bed. Ease of movement contributes to comfort. It will take more effort if the mattress is too soft, and will feel uncomfortable on your hips and shoulders if it's too firm.
Sleep on slats (or a base): Make sure the bed base in the shop is similar to the one you have at home. If you have fixed slats or a hard surface, a soft mattress will feel very different on top of that, rather than the ensemble base it's resting on in the shop.
Bring your partner: If you share a bed with someone regularly or every night, bring them along and ask them to lie in the bed and move around. Be aware of how the bed moves on your side when your partner moves.
Don't shop tired: All the mattresses will feel great when you're already sleepy!
Ask the salesperson to leave: While they may be friendly and helpful, few of us are able to really relax when someone is hovering around.
Ask questions about the display model: The mattress you test in store could have been on display for two days, two weeks or even two months, with hundreds of customers potentially trying them out over that period. This will affect sag, firmness, support and so on.
Most manufacturers don't offer a guarantee on comfort, so you probably can't return it if it doesn't feel right. That said, there are a few brands with a comfort guarantee, so it always pays to ask.
Buying online
Buying a mattress online has become increasingly popular in recent years, but this means you can't try before you buy. Most offer free trial periods that let you return the mattress if it doesn't feel right. This means you can try the mattress for a number of nights (rather than a few minutes instore).
What are the different types of mattresses?
Type, as well as firmness, can also determine comfort. You may find a spring mattress supports your spine while a foam finish feels a bit too solid, for example. Knowing the different designs can also point you in the right direction:
Coil mattress
There are two types; 1) continuous coil mattresses are made from a single piece of wire looped into springs, 2) open-coil mattresses are made of single springs fixed together by one wire.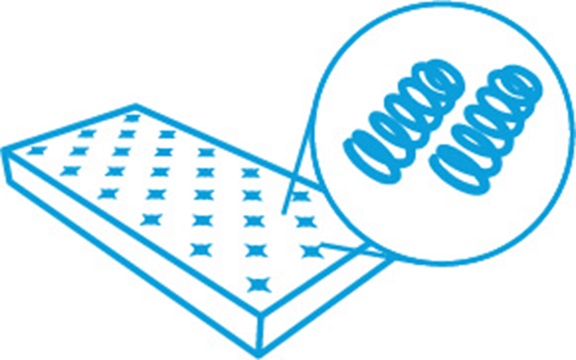 Memory foam mattress
Topped with a layer of temperature-sensitive viscoelastic material, aka memory foam.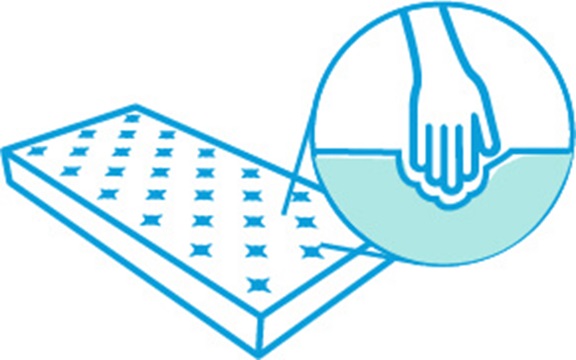 Latex foam mattress
A blend of natural and synthetic latex that moulds to body shape.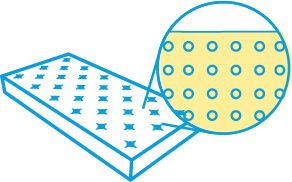 Hybrid mattresses
These combine elements of memory foam and spring mattresses. They have the same pros and cons.
Pocket-spring mattress
Has up to 3000 springs sewn into individual fabric pockets.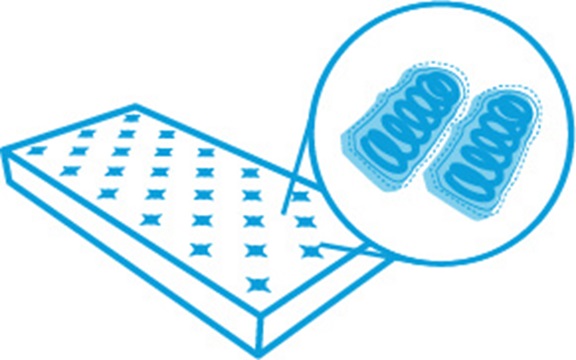 * Typical retail for a queen-sized mattress.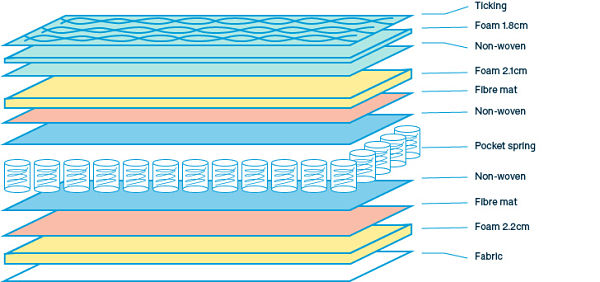 A cross-sectional example of the parts in a spring mattress.
Sizes
Retailers and manufacturers recommend buying the largest bed your room can accommodate, and the length of the mattress should be at least 10–15 centimetres longer than the tallest person sleeping on it.
| Size | Measurements (W x L) |
| --- | --- |
| Single | 92 x 187cm |
| Single extra long | 92 x 203cm |
| King single | 106 x 203cm |
| Double | 137 x 187cm |
| Queen | 153 x 203cm |
| King | 183 x 203cm |
How do I get the best deal on a mattress?
Retailers and manufacturers leave a significant amount of wiggle room in the price, to the point where you're getting ripped off if you settle for RRP. We shaved at least half and even two-thirds off the asking price while shopping for most of the mattresses in our recent tests by using the following tricks:
Wait for a sale: They take place regularly and can bring the price down by as much as 50%.
Head in store: Deals are generally better here than online.
Haggle: We rarely encountered a salesperson that wasn't willing to shave a few hundred dollars off the asking price, even during a sale.
Buy in bulk: Our discounts improved when we bought at least two beds at once, which may be handy if you're refurnishing a house.
Consider exclusive ranges: Retailers such as Snooze, Forty Winks and Fantastic stock exclusive brands. We found that salespeople are much more inclined to sell these over third-party brands. Snooze, for example, offered us a much better discount on their exclusive Madison range when we expressed interest in buying a Sealy.
How to haggle
Haggling can be tricky, particularly if you're not overly confident. We found that you don't need to be a smooth-talking, wheeling and dealing sort to take advantage of potential savings. After a little back-and-forward with salespeople, we asked these questions:
"What's the best you can do?"
That's it – or some sort of variant. Remember, you're there to buy, they're there to sell. You're not establishing a lifelong friendship, and they're not going to throw you out for asking. Mattress mark-ups are so high, you don't need to do much when it comes to saving money, which is why this question works.
Should I buy a mattress instore or online?
Bricks and mortar shops aren't the only mattress retailers in the market nowadays. Online stores such as Avatar, Koala and Onebed provide a "bed-in-a-box" alternative, which is essentially a mattress that's delivered to your door. But are they better?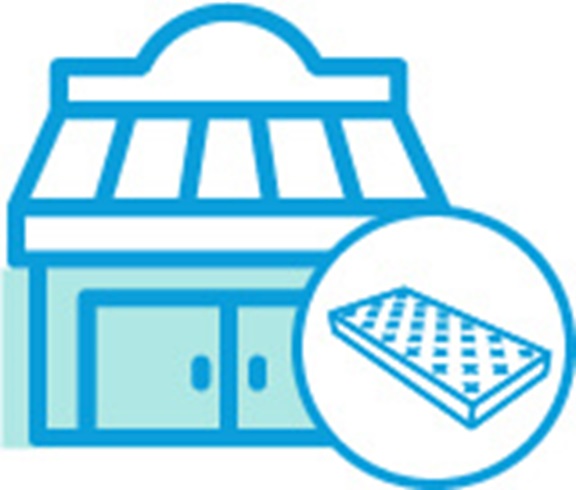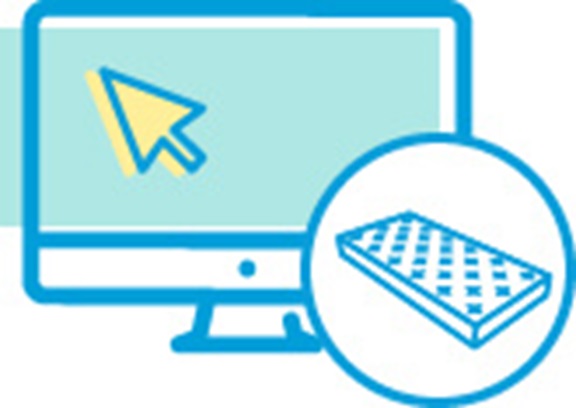 Can I return a mattress?
Making a warranty claim on your mattress can be a very tricky process. Why? Because arguments regarding comfort, faults and so on can easily be considered subjective, or part of 'normal wear and tear'. Though most mattresses have a 10-year warranty period, the small print is often overflowing with restrictions and conditions.
Take SleepMaker for example. Though their warranty covers manufacturing faults, they won't protect against:
A reasonable level of dipping (25-35mm)
Comfort concern as a result of product selection.
Heat issues
These are just some of the terms, but they illustrate the grey areas consumers can find themselves in. As our investigation found, advertised and tested firmness rarely match up, and it's likely that your purchase may not be as comfortable as you expect. However, this would not fall under a warranty claim in SleepMaker's case.
These terms aren't exclusive to SleepMaker. In fact, they're one of the more upfront brands when it comes to outlining their claims procedure.
Returning your mattress
The unfortunate fact of the matter is the onus largely falls on you, the buyer, to make the right purchase, even when the industry practices are questionable. Because these products are used in the same manner as clothes, headphones etc., getting a refund under general consumer protections can be difficult. These generally cover unfit for purpose, which is unlikely to include:
Comfort.
Size (mattress not fitting your base).
Reasonable sagging after extensive use.
Damage due to misuse or mishandling.
Smell and general wear and tear (i.e. stains).
So while industry practices can be misleading and even dodgy at times, you also need to take time to make sure the bed feels right and fits with your existing furniture.
Confirm the returns policy with the salesperson as well. Returning a mattress because it doesn't feel right can be difficult, but some manufacturers and retailers such as Koala and Forty Winks allow returns within a few months on some of their range.
If you truly feel that you've been sold a faulty product, be persistent. You can get a return. In these instances, it's worth citing the ACCC Repair, replace and refund consumer guarantees.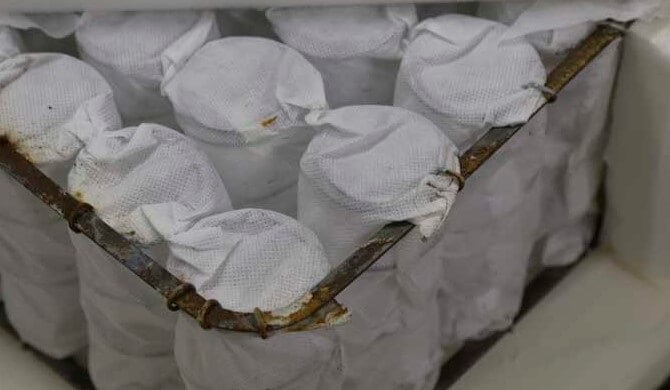 One of the mattresses we purchased from our test arrived with rust around the frame. This is reasonable grounds for a return.
Free trial period
The free trial period offered by most bed-in-a-box brands comes with a couple of caveats. Notably, Koala customers outside metropolitan areas must arrange freight to the closest warehouse at their own expense. As with models bought in store, always read the terms and conditions before purchasing a mattress online.
How our test results can help
This buying guide provides general information based on our purchase experiences during our test. However, you can learn more about the industry, it's shady practices and brands we recommend at the following: