How we test mattresses
Testing mattresses is back-breaking work.
The hard work of lying down on the job
---
Despite the obvious assumption, we don't test mattresses by taking naps on the job. There are plenty of standards to determine how firm they are, and how that firmness changes over time. These are the two major elements we test at CHOICE, but we also look into how much moisture is retained by each mattress, whether the 'out-of-the-box' smell improves, and how much (if any) damage is sustained over time.
We test:
spring mattresses in conjunction with independent labs in Europe.
bed in a box mattresses with the help of testing labs in Australia.
We also ask our members how satisfied they are with their mattress brand. See our mattress brand satisfaction survey results.
Video: See how we test mattresses
How we choose what we test
Our priority is to test what you'll see in the shops. This means sometimes we might not cover that one brand with one model that's sold 100 samples in Australia, and instead focus on the big brand models that sell thousands and that you'll most likely see in your local retailer. How do we know what's in retailers? We check current market figures to see what's selling well. We also include models that you've requested; if a lot of members want it, we're going to test it.
Spring mattresses: We selected 22 models from major brands such as Sealy, SleepMaker and A.H. Beard based on feedback from member surveys. We also selected one exclusive model from third-party retailers such as Snooze, Forty Winks and Ikea, so you can consider alternatives to the big names. Our decision to focus on firm models was also directed by member feedback from our CHOICE.Community forum.
Bed in a box mattresses: We bought the five most popular bed in a box mattresses – all composites of memory foam and latex – and compared them to a traditional store-bought innerspring mattress, a Sealy Posturepedic Aspire. These were tested separately. In both cases, our reviews focuses on how these mattresses change in comfort over a lifetime of use, and whether it's worth spending a lot of money on a mattress.
When we know what you want, our buyers go out and use member funds to buy the products from a variety of retailers – this means we get what you'd get, so we can be sure the results are what you'd find.
Opinions on mattresses are subjective. What one person might consider comfortable, another might find punishing. For this reason, manufacturers make mattresses with varying degrees of firmness. A good mattress will retain its properties over a lifetime, not getting any less or more firm over years of use.
Our mattress test primarily addresses firmness. We aim to identify if the mattress will change in firmness over time, or if you can rely on it to deliver the same standard of comfort that convinced you to buy it in the first place.
Spring mattresses
We bought mattresses from Domayne, Fantastic Furniture, Forty Winks, Freedom, Harvey Norman, Ikea and Snooze. We conducted body support tests with people chosen to comply with the 5th percentile female (1.55m/54kg) and the 95th percentile male (1.91m/104kg). This range of heights and weights covers 90% of the general population.
Our tests cover:
Fatigue: We roll a cask-shaped roller over each mattress for 30,000 cycles to simulate around eight years' use. Visible damage such as cracking, broken springs or pilling contributes to fatigue score. A higher score means less damage.

Simulating human use.

Body support: Dorsal (on back) – we use 36 measuring points to register the test subject's body sinking into the surface of mattress. Lateral (on side) – we mark five aligned spots on the spine of a standing test subject. We take photos of the test subject lying on the mattress to analyse the distance and angles between the spots. Results for both positions are compared to an index of optimum support examples.

Dorsal assessment.




Lateral assessment.

Change in body support: We run the body support test a second time under the same conditions after the fatigue test.
Stabilisation: We measure the movement of the mattress after a standard impact (17.5kg), simulating a sleeping person turning over. We also count the number of bounces up and down before the mattress is calm again.
Change in height and firmness: We measure height and firmness straight out of the box, then again after the fatigue test.
Permeability (human): The test subject lies on the mattress without moving for two hours in an environment with an ambient climate of 23°C. We measure the relative humidity between the body and the mattress beneath the waist of the subject.
Permeability (technical): We perform this test in a climate chamber at 37°C for 10 hours. We place a measuring vessel under the mattress so that moisture can only escape through it. The vessel is weighed before and after testing to determine permeability and water intake.
Smell: Odour is assessed out of the box and two weeks after opening.
After testing, we open up each model to note spring types, spring count, the number of layers and types of material used. Each product profile includes a cross section that breaks down the contents of each mattress.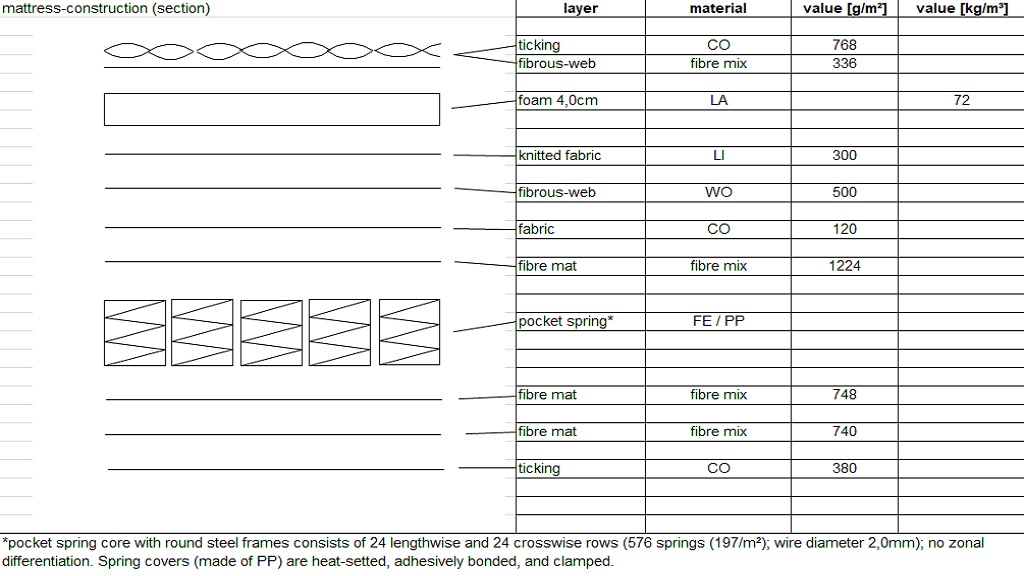 A mattress cross-section example. Higher resolution images are available in our review.
Bed in a box mattresses
We use a specialised testing rig to simulate the wear these mattresses can expect to endure with normal use. It consists of a 140kg roller that traverses back and forth 30,000 times over each mattress. A secondary prop with a weight of 100kg is pressed along the edging of the mattress 5000 times, recreating the conditions of someone sitting on the edge of the bed.
CHOICE cuts each mattress open and photographs the interior. Knowing what's inside determines whether two mattresses are identical or based on different technologies.
Warranties, the number of trial nights offered and other critical after-sales data is captured. Claims made by manufacturers are checked: even those suggesting you can jump on the mattress without spilling a glass of wine.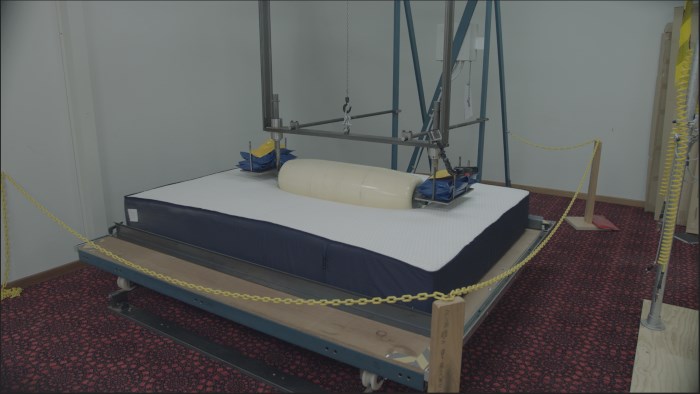 Bed in a box roller assessment.
Spring mattresses
The overall s
core is made up of:
Out-of-the-box body support – male and female average (30%)
Change in body support over time – male and female average (25%)
Stabilisation (15%)
Change in height and firmness (10%)
Permeability (10%)
Fatigue (5%)
Smell – new and after a fortnight average (5%)
We also note the advertised firmness, then test the mattress to see if these claims stack up.
Bed in a box mattresses
Overall score: The overall score is a result of the drop in firmness after our testing. We expect a mattress to retain its firmness over time. After we've run the roller over it 30,000 times we measure the loss of firmness and score based on this.
Firmness (edge): We also measure the drop in firmness of the mattress edge based on the above test, but we've found the change is so marginal across all mattresses that we don't include this score in our results. None of our scoring is based on pricing, warranty or return options.
Ready to buy?
See our latest spring mattress reviews and bed in a box mattress reviews.
Think about becoming a CHOICE member if you aren't already. For a small price you can get peace of mind with access to hundreds of test results from rigorous testing that simply isn't done anywhere else.
---