Investigating the shady mattress industry
Manufacturers and retailers make buying a mattress the stuff of nightmares.
---
Mattress companies stifle competition by selling retailers the same model mattress, but with a look exclusive to each

Shoppers can't draw comparisons between them because they're then sold under different names

Removing competition from the sales experience lets retailers charge mark-ups as high as 200%
Unfair sales tactics are being used to make customers pay thousands of dollars more than they need to for a mattress. A CHOICE investigation has found manufacturers work with retailers to make buying a mattress confusing, even anti-competitive, by using practices designed to take bargaining power away from shoppers to fatten their profit margins. The industry – secretive, controlled and organised, as our investigation shows – is not unlike a cartel.
This article reveals how mattress companies take away your bargaining power, how negotiating could save you an average of 43% and why after-sales support can be a nightmare.
Plus, we take a closer look at bed-in-a-box mattresses and reveal how to save money when buying a mattress.
Padded profits
Consumers know the same Apple iPhone will be sold by Telstra, Optus and Vodafone. This frees them up to compare other parts of each carrier's offer: Is anyone offering more data? Who's throwing in free accessories? And, perhaps most commonly: which plan is the best value? It's this competition that gives customers the bargaining power to walk away with a better deal.
The benefits of competition translate across industries, whether you're buying a phone, a car, a fridge or clothing. Unless you are buying a mattress, where manufacturers and retailers team up to make it almost impossible for customers to price compare.
Sealy, Sleepmaker and co will stifle competition by selling retailers the same model mattress, but with a look exclusive to each. There might be some minor differences, such as the fibres used in the padding, but otherwise the technology inside will be identical. And shoppers won't be able to draw comparisons between them because they'll be sold under different names.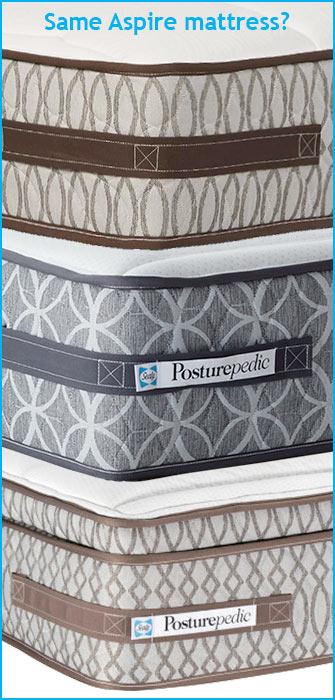 Sealy's Aspire mattress as sold by Snooze, Harvey Norman and David Jones
Under Sealy's Posturepedic mattress range is the Aspire model. The Aspire mattresses sold by Snooze, Harvey Norman and Domayne will all look different. Snooze sells it as the 'Sealy Posturepedic Swan', Harvey Norman as the 'Sealy Posturepedic Aspire Vogue Deluxe Queen Mattress' and David Jones as the 'Sealy Aberdeen Firm Plush Mattress'. Unsuspecting customers wouldn't be able to tell these mattresses are effectively the same, and this robs them of their power to bargain.
Removing competition from the sales experience lets retailers price gouge shoppers. They're able to charge mark-ups as high as 200% – and this is before they receive a 'rebate' from the mattress maker.
"I would say if we bought a bed for $1000, it would probably sell between $2400 and $3000," Roger Wilson, who put in 21 years at Forty Winks before retiring as the general manager, told Fairfax Media last year.
Manufacturers have a similar profit margin. Industry insiders claim the same mattress may cost just a few hundred to make.
Sealy, the most popular mattress manufacturer in Australia, denies the practices are anti-competitive.
"Each range is set up to meet the needs of our customer's customer," says Sealy marketing manager Wade Ganzer. "We only have a small range available."
Manufacturers allegedly kick back a rebate of 12% to the retailer after each sale. Ganzer would not confirm or deny the rebate.
"Sealy doesn't set pricing," he says. "Pricing is at the discretion of the retailer."
Rubbery figures
Sales and discounts are commonplace in the mattress industry, but they're no substitute for the savings shoppers would make if there was healthy competition. A discount of 20% will leave a shopper feeling like they've snapped up a deal, and yet still allow manufacturers and retailers to enjoy a juicy profit.
"There's always promotions. We could be selling floor stock or discounting mattresses," one salesperson told us during a shadow shop. "Sales are available any time of the year."
At the time of writing, all 56 queen-sized mattresses available at David Jones are discounted; 29 queen mattresses and ensembles are discounted at Myer; and Snooze is offering 45% off select Sealy and Slumberland mattresses.
Salespeople are often incentivised by commission payments. And their commission shrinks when they give out larger discounts, motivating them to make more expensive sales.
Average savings of 43%
CHOICE bought 22 queen-sized mattresses for its first inner-spring mattress review in three decades. The mattresses were purchased by a professional shopper – who posed as an ordinary customer renovating their home – from a mix of seven big-brand retailers.
The shopper managed to negotiate discounts of 43% on average, illustrating just how heavily manufacturers and retailers pad their profit margins.
Eleven of the mattresses we tested were bought for at least half price.
A Sealy Metro Series Loft advertised for $1399 was bought for $450 – that's 68% less than the recommended retail price.
A SleepMaker Miracoil Armadale priced at $2099 was negotiated down to $850, while a Sealy Posturepedic Aspire Revive priced at $2799 was bought for $1149.
We even bought a $6000 Tempur Lucerne Hybrid for $3399 – that's 43% less than advertised.
Mattress discounts

| Mattress brand | RRP ($) | Paid ($) | Padding (%) | Savings ($) |
| --- | --- | --- | --- | --- |
| Sealy Metro series Loft | 1399 | 450 | 68 | 949 |
| SleepMaker Miracoil Armadale | 2099 | 850 | 60 | 1249 |
| Sealy Posturepedic Aspire Revive | 2799 | 1149 | 59 | 1650 |
| Whitehaven Bondi | 2399 | 999 | 58 | 1400 |
| SleepMaker Miracoil Bright | 1399 | 599 | 57 | 800 |
| A.H. Beard King Koil Alair | 4000 | 1750 | 56 | 2250 |
| Sealy Posturepedic Aspire Belmonte | 2199 | 999 | 55 | 1200 |
| SleepMaker Miracoil Advanced Comfort | 2499 | 1150 | 54 | 1349 |
| A.H. Beard King Koil Conforma Essence | 1299 | 614 | 53 | 685 |
| A.H. Beard King Koil Chiro Entice | 2099 | 1006 | 52 | 1093 |
| SleepMaker Support Comfort | 1999 | 999 | 50 | 1000 |
| Sealy Active + | 1899 | 999 | 47 | 900 |
| SleepMaker Miracoil Maple | 1599 | 899 | 44 | 700 |
| Tempur Lucerne Hybrid | 6000 | 3399 | 43 | 2601 |
| Sealy Posturepedic Aspire Swan | 1999 | 1170 | 41 | 829 |
| Silent Partner Cosmopolitan | 1899 | 1150 | 39 | 749 |
| Sealy Posturepedic Exquisite St Moritz | 4399 | 2750 | 37 | 1649 |
| Snooze Madison Grosvenor | 2599 | 1720 | 34 | 879 |
| Slumberland Ascot | 1149 | 800 | 30 | 349 |
| Slumberland Fulham | 1499 | 1062 | 29 | 437 |
| Fantastic Serenity | 799 | 749 | 6 | 50 |
| Ikea Hesseng | 799 | 799 | 0 | 0 |
The mattresses were bought between May and June 2017 from a variety of stores in NSW, including Domayne, Fantastic Furniture, Forty Winks, Freedom, Harvey Norman, Ikea and Snooze.
After-sales nightmares
Lying on a mattress in a store, shoes on and under the hungry gaze of a salesperson, is far from the ideal way to find The Right One. Unfortunately there's little recourse available if you find the mattress isn't comfortable once you get it home.
We've heard from a number of people who bought a mattress and found the after-sales support wanting. Some customers were charged a percentage of the sales price for a replacement, even though they hadn't yet taken delivery.
Effie Matsas visited a Domayne store in Auburn, NSW, on 5 December 2016, in search of a particular Tempur mattress. Domayne didn't stock the model she wanted, but the salesperson claimed the model available was the same if she just added a mattress protector.
"Each retailer has a different name for each product so there's a lot of confusion about which one is which," Matsas says. "You have to trust the salesperson."
The salesperson insisted they couldn't take a deposit, so she paid the full amount, $2999, placing her trust in their 'expertise'.
"Half an hour later I was still quite confused and so I rang Tempur direct. They indicated [the two mattresses were] not the same and that there's quite a different feel."
She called to cancel the order three hours after leaving the store, but the salesperson said it was too late.
"If I wanted a refund, he would take 20% – this equates to $600," she says. "And I don't want to purchase other bedding from Domayne. Domayne don't carry the mattress I want."
Matsas continued to fight Domayne and was not given her refund until weeks later, following pressure from her credit card provider and CHOICE Help, our free consumer help service for members.
"The [mattress industry] needs someone to regulate it," Matsas says. "If you buy a TV, you're able to go to different retailers and compare the pricing. And you spend a third of your life on a mattress, so it's very important to get the right one."
Bed in a box
Demand for a simple mattress range coupled with better after-sales support has seen a whole new category take off.
Koala, Ecosa and Avatar are among the brands offering just one model of mattress, trial periods of at least a hundred days, and warranties up to 15 years. They're part of a category making it easy to buy beds over the internet.
"We knew it was a massive opportunity to sell something at a lower price and to be an honest brand," says Dany Milham, founder and director of Koala, perhaps the best known brand in the category.
"Each range has 20 types of different mattresses and it's hard to price-compare, so we wanted to do one type of product.
"We made our first million in sales in 79 days. For the year, we made more than $13 million."
The internet has been relatively slow to disrupt the mattress industry due to logistical challenges in shipping them. These mattresses are deoxygenated during transportation – enclosed in vacuum-sealed packaging – making it possible to be transported in a box, earning them the nickname 'bed in a box'.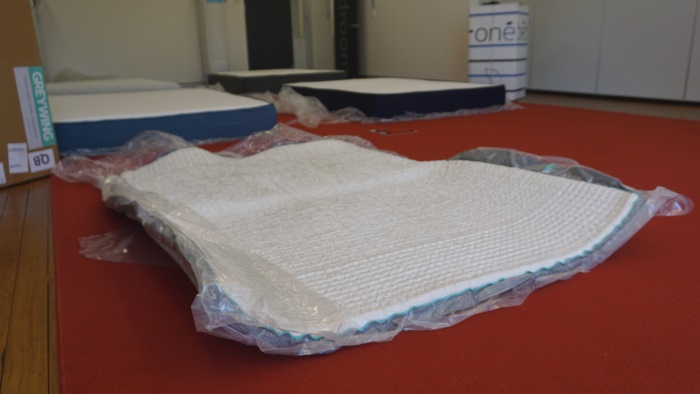 Pricing for these mattresses in a queen size hovers at around a thousand dollars.
"We looked at the industry and we saw there were these ridiculous mark-ups," Milham says.
"The mattresses were being made for $200 to $300 and selling for $3000 to $4000. We were scratching our heads [trying] to see why."
The introduction of trial periods has helped unsure customers decide if a Koala mattress offers them the comfort they need. Customers who don't like the mattress can have it returned within the trial period at Koala's expense.
"We'll come collect it and give you a full refund," he says. "We donate all of our [returned] mattresses to charity, where possible. We just bear the cost."
Koala offers a 100-night trial period – an offer conventional mattress makers would match if they were confident in their product, says Milham.
Our reviews
CHOICE reviews both inner-spring and bed-in-a-box mattresses. The reviews focus on how mattresses change in comfort over a prolonged period of time and determine if it's worthwhile spending a lot of money on a mattress.
A 140kg cylindrical roller traverses back and forth 30,000 times over each mattress, recreating the wear they're expected to endure over a lifetime of use. A further 5000 impressions are made using a 100kg prop along the edges to simulate conditioning caused when sitting down on them, as you might when putting on shoes, for example.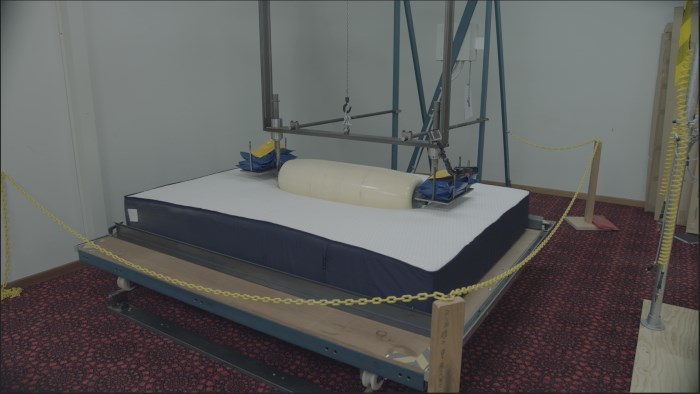 A body support test measures where and by how much they dip when someone lays on them. Other tests asses their breathability and their odour.
Buying a mattress would be easier if customers could see inside of them. This is why we cut each mattress open and photographs the innards. Knowing what's inside determines if two mattresses are identical or based on different technologies.
Warranties, trial nights and other critical after-sales data is captured. Claims made by manufacturers are checked, even those suggesting a glass of wine placed on a mattress won't spill if you jump on it.
What we found
You don't need to spend a lot of money to get a good night's sleep. A $1000 mattress can be just as comfortable over its lifetime as one priced at $6000.
But beds are incredibly subjective. What one person might consider comfortable, another might find punishing.
Our testing proves bed-in-a-box mattresses – a category where brands offer one type of mattress, no-cost trial periods and warranties up to 15 years – are good value for money at $1000, but these mattresses won't satisfy everyone.
Fans of innerspring mattresses should still buy them. Look up a manufacturer's model range beforehand, head into a few stores and ask for quotes. Take off your shoes, spend time laying on them, get comfortable. And then, once you've found the model for you, negotiate an aggressive discount.
How to save money when buying a mattress
---