Aldi left red-faced by repackaged Coles deodorant
18 Jan 2017 | Removes product from store shelves
---
Budget supermarket chain Aldi has been left red-faced when its shoe deodoriser was found to be repackaged antiperspirant from Coles.
A photo of the packaging gaffe gained popularity on reddit earning 32000 votes and 1700 comments, at the time of publication.
"My shoe deodoriser from ALDI is actually just a Coles women's antiperspirant with a plastic label," the post was labelled.
The shoe deodoriser had been on sale since 11 January.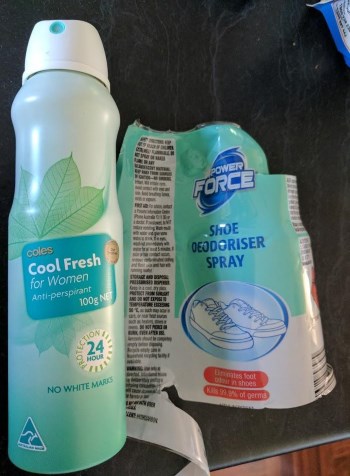 Image credit: Reddit user cl3ft
Shoppers took to
Facebook
in search of answers from Aldi Australia.
"Why is your shoe deodorising spray a Coles woman's deodorant?," one customer asked.
"My label peeled off and [I] was not happy"
Aldi responded to the post with a statement.
"ALDI Australia is working with our supplier following customer reports of a packaging fault with our Powerforce Shoe Deodoriser 100g Special Buy.
"We have withdrawn the product from sale and are investigating the error, however we can confirm the product is a shoe deodoriser and the content is true to the ALDI packaging."
The supermarket chain said the product can still be used as a shoe deodoriser, but will offer unsatisfied shoppers a refund.
"We apologise for any inconvenience caused."
---