Hands on with Windows 10
Buying a new PC? Our guide will bring you up to speed with the latest operating system, Windows 10
Upgrades aplenty
---
The first lot of laptops, tablets and smartphones running Windows 10 has arrived, and if you recently picked up a new device (lucky you!), odds are you're running Microsoft's new operating system (OS). Even though it's been out for a few months, Windows 10 has undergone a few changes since we looked at the pre-release build, so we spent some time with the full consumer version to help you get around the new OS without any hassle.
Start menu meets Start screen
Windows 10 combines a Start menu reminiscent of the Windows 7 design, with the tile-based Start screen introduced in Windows 8. This combination is a step up from the tiled screen in Windows 8: Microsoft has retained the best features of their classic design, and added some new ideas, to help ease you in to a different approach to desktop navigation.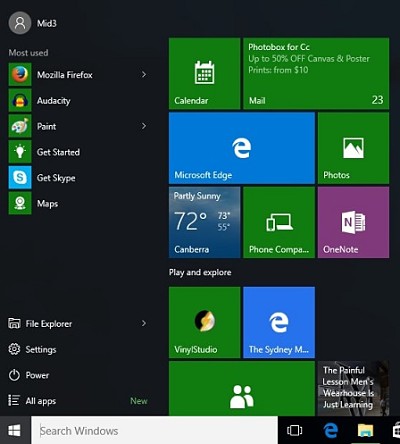 For example, the tiled segment works well as a quick access menu, as you can pin programs, apps and websites, then organise them into customisable categories. Some website links, known as live tiles, even update to display the latest news, weather, finance and so on.
Pinned tiles aren't invasive either, however you may find that the overall larger start menu takes up a bit too much space on smaller screens. You can't remove this section altogether, but you can limit it to a handful of tiles if you'd prefer to stick with the traditional Start menu.
Some new features don't offer as much choice but are marked improvements over their predecessors, such as the Start menu which neatly arranges programs into alphabetical order. This is much easier to use than the grid-based 'All apps' screen in Windows 8.1, which mirrored a chaotic, overloaded desktop when many programs were installed.
A universal operating system
With Windows 8, Microsoft wanted to make a one-size-fits-all OS that worked across desktops, tablets and smartphones – but they didn't quite pull it off. The problem was that some tablet features didn't translate to desktop and vice versa. This has been rectified in Windows 10 with Continuum, which automatically optimises the OS to best suit the device you're using.
Say you're working away on a 2-in-1 (tablet with detachable keyboard) with the keyboard attached. Here, Windows 10 will turn on laptop mode, with certain mouse and key-friendly features such as the combined Start menu mentioned above. When you detach the screen, the OS will activate a touch-friendly version of the Start menu, which magnifies the tiled segment and limits access to the desktop. Windows 10 includes an override button for those who prefer to permanently work in keyboard or tablet mode, which is also a useful workaround if the OS doesn't auto-optimise (which happens from time to time).
Microsoft has created some universal design features which make transitioning between devices much smoother as well. For example, while Windows 10 is quite different on a smartphone compared to a desktop, icons and categories in the settings menu are identical, save for a few device-specific features. So if you want to change a few privacy features, for example, you should have no trouble finding them, whether you're on a desktop, tablet or smartphone,
Simplified settings
This cross-platform accessibility is possible because Microsoft has reorganised the Settings menu, which now strikes a nice balance for users who want to customise their system without having to dig through the Control Panel. Settings are organised into clear categories and subcategories, and most can be altered using simple on/off switches. However, you don't have to stick with simple settings if you don't want to – Microsoft has kept the traditional Control Panel and Registry intact.
Desktop/laptop settings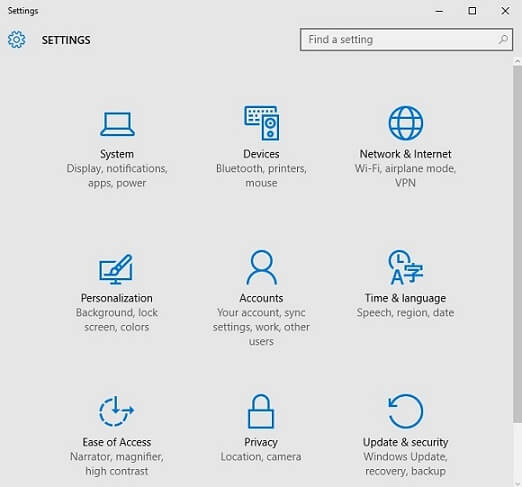 Mobile settings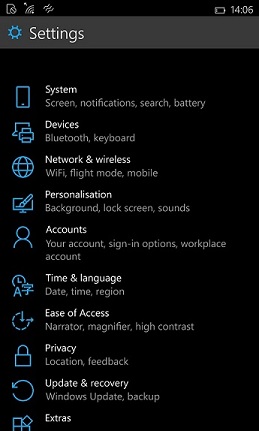 Cortana
After months of anticipation, the Australian version of Cortana is finally available to everybody using Windows 10. The new digital assistant, which works similarly to Apple's Siri, is available for free on desktops, laptops, tablets and Windows phones with the latest system update (mid-November).
When you log in to multiple devices using the same Microsoft account, Cortana can share your information, calendar, interests and so on across all of them. There are other Windows sharing options (e.g. simply logging into your account on different devices shares system settings such as language), but they don't include as many features as the digital assistant.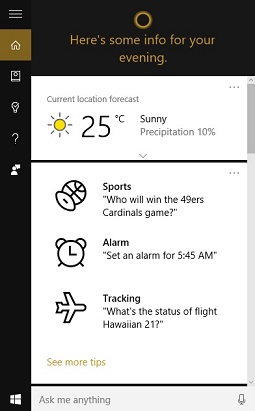 So what can Cortana do for you?
As well as being able to answer questions and search your computer or the internet in response to your typed or voice commands, Cortana can interact with apps to help organise your life. For example, it can add an event to your calendar when you say "Cortana – add lunch, February 3rd at 2pm", then send reminders as it nears. If it can't find anything on your computer based on your search command, Cortana will do an online search using Bing or Google, depending on your default search engine settings.
Customising content
Cortana includes a lot of information and entertainment features and feeds as well, which are linked to apps and can be customised to suit your interests. For example, Cortana can deliver up-to-date stockmarket reports, and you can change the settings to only show results that are relevant to your portfolio. Some feeds and apps include localised information, but others lack Australia-specific content, such as the local sports score feed.
Getting to know you
Over time, Cortana can gather data on your search preferences (based on your privacy settings), to tailor content to your interests. This is one of the more impressive features, as it doesn't take long for the software to develop a profile then deliver articles, music and video based on limited user input. For example, when you say "Cortana, show me sports news", it will list information from your local news sources, which it identifies using your browser's IP address.
The level of detail depends on how deeply embedded you are in the Microsoft 'ecosystem', and the amount of access you give Cortana. If you turn on location services, it can deliver local weather updates when you ask "what's the weather like on Friday?" And if you purchase plane tickets using the account synced to your inbox, Cortana may be able to track the flight and provide updates, depending on which airline you're after.
While these requests usually deliver accurate results, it can be difficult to change the default apps tied to Cortana. For example, if you say "Cortana, play music", it will open Microsoft's music app Groove. Changing this to launch another program such as iTunes is a complicated process, but you can work around this problem by specifying the software you want to use in your search query – for example, say "Cortana, open iTunes."
Voice recognition
We found the voice search tool to be accurate and responsive to male and female voices of varying volumes and pitches, even when thick Aussie accents and colloquialisms were evident. It can decipher foreign accents as well, but while it speaks and understands many languages, we weren't able to set up more than one language on our account at the same time.
Teething issues
It's still early days though, and there are a few inconsistencies and oversights. For example, when we scheduled a basketball game for 7.00pm Thursday, Cortana asked us to enter a start time, but failed to mention that we had to say when the game finished. In the end, it added a random end time a few hours later, which we had to go back and change. There's a period of trial and error when you first get your hands on Cortana, but we found it doesn't take long to come to grips with its basic commands.
Summing up
Although a lot of the emphasis has been placed on the voice commands, you probably won't use this feature much unless you have limited mobility in your hands, visual impairment (it can read text aloud) or you really prefer to talk over typing. However, it's also a very powerful search tool that does a good job of tailoring content to suit you, which is where Cortana is likely to find its audience.
Microsoft has also had some fun with Cortana, as Apple did with Siri, by building in entertaining and funny responses to specific or odd queries. For example, try using the music identification tool, which can "listen" to a song and tell you what it's called (much like popular app Shazam). Then ask Cortana to tell you a joke or, better yet, its opinion of Siri – the results should give you a laugh.
Notify me
System alerts have been bundled into a one-stop notification shop called the Action Center. It's accessed via a button in the bottom-right corner of the desktop, or by swiping across from the right side of the screen. Notification history is saved in a list so you can review all alerts at once, rather than having to stop and read each one before it disappears. Some apps such as OneDrive, Email, Twitter and Facebook, can sync to the Action Center as well, and it also includes a quick action menu which lets you turn certain features on and off such as Bluetooth, screen rotation, a VPN (virtual private network) and battery saver.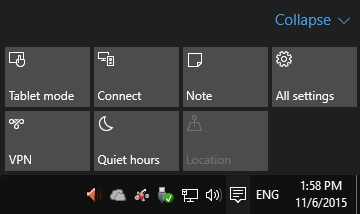 Snap and switch
After years of trailing behind OS X and Linux, Microsoft has finally added virtual desktops to their OS. These give you the option to run different programs on different desktop screens. This can reduce screen clutter and improve productivity, as you can move distracting software, such as email, to another desktop. Although a limit isn't specified, we were able to create 250 virtual desktops on our mid-range test system. Most people will probably be happy with three or four.
Microsoft has also updated the 'snap' feature – now called Snap Assist – which automatically increases a program's window size to quarter, half or full-screen when you drag it to the left, right, top or any corner of your monitor. After you snap an app, the empty space will be occupied by thumbnails of all other active windows. You can click one of these to quickly fill the remaining space, or leave it blank.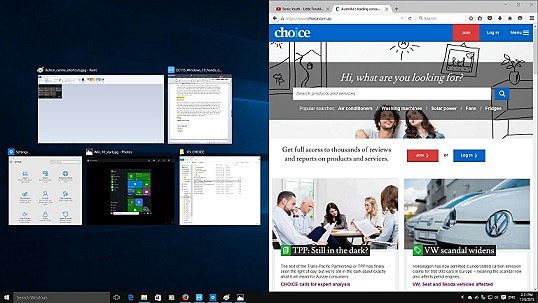 Windows Hello
'Hello' is a new feature that lets you log in using face or finger identification (known as biometrics). It's designed to replace the traditional keyboard login with enhanced security features. While it's technically available here, there aren't many devices in Australia with the special 'depth cameras' that Hello requires to use this feature.
Laptops, 2-in-1s and other devices with Intel's new 6th generation processors and RealSense cameras support Hello, but these only hit the market late last year. This means that pre-2015 computers and monitors with inbuilt webcams won't support Hello. However, it works with almost any device that can read fingerprints. Because this technology is still rolling out, we didn't have access to it at the time of writing
A work in progress
Even though Windows 10 gets a lot of things right, some changes seem a bit underdeveloped, while others feel like setbacks compared to older versions of the operating system.
On the edge
Microsoft has finally started to move away from Internet Explorer (IE), replacing it with a new web browser called Edge. On top of much-needed visual and navigational updates, which tidy up a lot of the clutter, Edge is designed to be a touch-friendly browser, which includes writing controls so you can add annotations or references to web pages.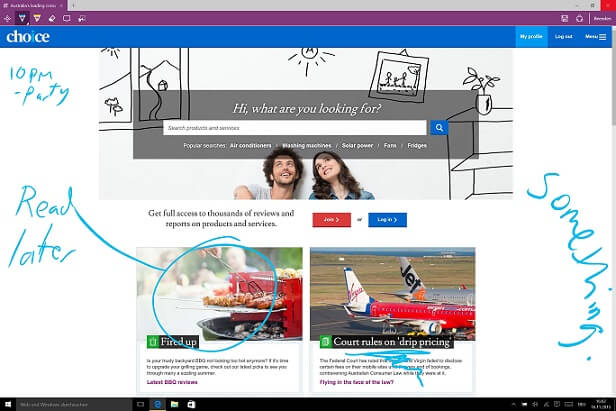 Many navigation features are similar to the Windows 10 desktop, such as Reading lists, favourites and history, which are stored in an Action Center-like sidebar. And although we didn't run any stringent speed tests, we did find Edge to be faster than IE. Finally, Cortana is integrated into Edge for personalised, voice-activated web browsing, but we couldn't fully test this as the digital assistant hadn't been completely rolled out at the time of writing.
Although Edge is an improvement over IE, many people moved to Firefox or Google Chrome after IE began to lag in terms of useability and features. At the moment, Edge still doesn't offer any compelling reason to switch back, but it's early days and Microsoft is likely to add more features to the browser in coming months.
Automatic updates
When Microsoft releases a Windows 10 update, the files will automatically download by default, which is a big change from past operating systems that provided greater control over download times. This is useful, on the one hand, as it ensures your desktop, mobile and other devices are safe from major vulnerabilities, but it fails to take individual user factors into account, such as bandwidth limits and data caps.
While there are some settings to avert this in the Professional, Enterprise, and Education editions, the Home edition, which most consumers will own, forces you down the automatic update path. There are some workarounds that basically trick the OS into thinking your desktop is a mobile device, but they're pretty complex and you really shouldn't have to resort to these methods.
Lamentable losses
A few features from previous operating systems have been removed, and some will be missed. These include:
Windows Media Center – the media hub that could play music, video, DVDs and TV.
Desktop gadgets (e.g. Calendar, system information and weather). This is due to a serious vulnerability discovered in the code.
Floppy drive support. However, you can download floppy disk drivers from the Microsoft website for free.
Preinstalled games such as Solitaire. You can still download most for free from the Microsoft store, but they include advertising. The ads can be removed with a paid subscription. Solitaire is free with ads, but costs $US1.49 a month or $US10 a year to remove them.
Private practice
There have been many reports and user comments crying foul about Microsoft's privacy practices since the launch of Windows 10. Most of the criticisms are levelled at the default settings, which supposedly let Microsoft gather a broad range of personal information without clearly informing the user. Is there anything to worry about or has this been blown out of proportion?
What information can Microsoft gather?
By default, Windows 10 can gather a surprising amount including; information on your day-to-day desktop use, web activity which can help narrow down your interests and tastes (e.g. movies and food), your location, personal data via app and software accounts and even the content of SMS messages.
Is this a privacy nightmare?
We've received some questions from readers asking if Microsoft has permission to do this, and the short answer is yes, depending on how you set up your computer. Almost all of these options will be turned on if you select 'Express Settings' when configuring your system for the first time. When these options are turned on, you're giving Microsoft permission to gather your data, which is why some critics are pointing the finger at Microsoft for being less than transparent. Choose 'Customize Settings' during set-up, to turn any or all of them off.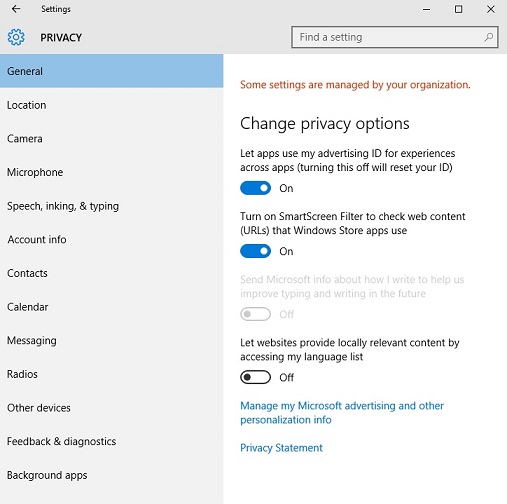 Most of these settings can be switched off after you install Windows 10. But before you raise concerns, it's worth considering the data gathering in the context of the operating system and any related apps. Some features require access to private information to function, such as Cortana, which means you won't be able to access all of the tools available with Windows 10, if you lock down the privacy settings.
However, some data tracking tools cannot be deactivated in the Home edition and don't provide you with any way to 'opt out', either. Microsoft claims this is acceptable as the software supposedly sticks to gathering system information to identify problems such as bugs, crashes or performance issues. Microsoft says privacy settings that relate to personal data can be turned off, but that gathering device information from PCs is necessary to maintain the stability of the system, as it's been installed on so many systems – over 100 million at the time of writing.
So what should I do?
Head to Settings > Privacy, look through each category and decide which features you want to leave on or turn off. A few settings that you should consider turning off include:
Start screen ads: Go to Settings > Personalization > Start and turn off Occasionally show suggestions in Start.
Wi-Fi Sense: This setting allows you to automatically connect to open Wi-Fi networks. However, that includes personal networks shared between friends via Facebook, Outlook and Skype. Once the network is shared, each party can log into the others' Wi-Fi network without using a password. We believe the convenience is not worth the risk of uninvited guests accessing your home network. To turn off Wi-Fi Sense, go to Settings > Network > Wi-Fi > Manage Wi-Fi settings and turn off Connect to suggested open hotspots and Connect to networks shared by my contacts.
System feedback frequency: You can't turn off system feedback, but you can limit the amount of diagnostic data Microsoft can gather. Go to Settings > Privacy > Feedback and diagnostics, then switch Windows should ask for my feedback to Never, and Send your device data to Microsoft to Basic. This will reduce the risk of Windows sending back private content, which can be caught up in diagnostic scans.
Cortana: If you don't plan to use Cortana, turn off its data logging tools by clicking the search bar then settings (cog icon) and turning Cortana Off.
Search online and use web results: The search function that's built into the tool bar (adjacent to the Start menu), can be used to explore your device and search the web. If you're searching for files that contain personal content however, the information you enter will be considered an online search as well, which could be captured by web tracking software. If you don't plan to use Cortana we recommend turning off search online by clicking the search bar then settings (cog icon). Here, turn off Search online and include web results. If you want to use Cortana, leave this turned on and avoid searching for sensitive documents with this tool.
---
Latest Electronics and technology