Rising rates on low-interest cards from the big banks
The official cash rate has dropped but the big banks haven't been passing on the benefits to consumers when it comes to low-interest credit cards.
Rates go up while cash rate declines
---
Three of the big four banks have increased interest rates on their 'low' rate cards since 2013, despite the official interest rate falling to record lows, according to our latest analysis of data provided by comparison site Mozo.
Official interest rates have been on the decline for the past four years. Interest rates were at 4.75% in June 2011 and since then have more than halved to reach the current level of 2%. But it seems the big banks haven't been passing on the benefits of this to their customers when it comes to low-rate cards.
The interest rates on ANZ, Commonwealth Bank, NAB and Westpac low-interest credit cards have moved by less than 1% over five years, with most rates increasing from 2013. Westpac was the only big bank which didn't increase the interest rate on its low-rate card over the past five years, keeping it consistently high at 13.49% at a time when the cash rate dropped by a massive 2.75%.
Big banks don't offer the lowest rate card
Not only have the big banks failed to drop their interest rates on low rate cards since 2013, they also don't necessarily offer the best deal.
"Not one supposedly 'low' rate credit card from the big four banks is close to the best rate available to consumers, which is 8.99%, offered by Community First Credit Union," says Erin Turner, campaigns manager at CHOICE.
In addition, two of the consistently best performing cards in the market (by interest rate) - Community First Credit Union's McGrath Pink Visa and bankmecu's Low Rate Visa - have dropped interest rates largely in line with cash rate movements.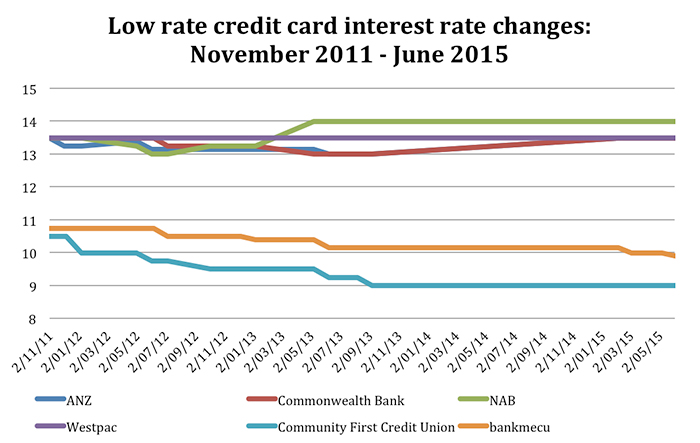 The graph shows a comparison of six low-rate cards: ANZ Low Rate card, Commonwealth Bank Low Rate credit card, NAB Low Rate Card, Westpac Low Rate credit card, Community First Credit Union McGrath Pink Visa and bankmecu Low Rate Visa (the last two cards have had some of the lowest interest rates from 2011 in the market according to Mozo data).
Balance transfers used as lure
Our research also revealed a surge in credit card providers marketing 0% balance transfer and 0% introductory purchase offers to lure in new customers.
"The number of 0% balance transfer offers on the market has grown from 10 in June 2011 to 112 now – that is a staggering tenfold increase in these types of offers. Zero percent introductory purchase rate offers follow a similar trend, surging from three in mid-2011 to 47 now," says Ms Turner.
While it might seem like a good deal, many balance transfer deals have a sting in the tail and revert to an average 20.09% rate when the promotion period ends.
"Amazingly, they don't even revert to the card purchase rate, with the big banks opting instead to punish consumers with the higher cash advance rate."
CHOICE will be presenting its detailed findings as part of a submission to the upcoming Senate Committee on Economics inquiry into Matters relating to credit card interest rates.
---
Join the conversation

To share your thoughts or ask a question, visit the CHOICE Community forum.