Kitchen trends from the IFA
What to expect in future fridges, dishwashers, ovens and other kitchen products.
Clever kitchens
---
This year's IFA (an annual global consumer technology show) is all about smart devices designed to integrate into a connected home.
In the kitchen, you can view the contents of your refrigerator remotely, track expiry dates of your food, have your fridge suggest recipes based on its contents, including individual dietary restrictions, and adjust operating temperatures. Following on, you'll be able to plan a dish, start cooking remotely, using recipes and cooking tips, and view your food while it cooks, via your smart device. You'll even be able to scan your fruit to detect ripeness.
The popularity of anything linked to food and cooking continues unabated. Kitchenware manufacturers ran regular cooking demonstrations, often employing Michelin-hatted chefs to show-off their wares.
Fridges
Multi-compartment refrigerators
Multi-compartment refrigerators are something that we've already seen in Australia to some degree, but it seems they are gaining popularity with the bulk of fridge makers now on board. These typically have an extra compartment (or more) that can be set to a range of different temperatures based on requirements. Freezer, soft-freeze, chiller or fridge settings can be selected.
Dishwashers
Fast dishwashers
The need for speed is evident in both dishwashers and washing machines here at IFA. Dishwashers with a one-hour program were commonplace, with Miele's 17-minute cycle on their ProfiLine range a standout.
Never run out of detergent again
Both clothes and dishwashers are utilising smart technology to make sure you never run out of detergent either. Combined with auto-dosing capabilities, companies including Beko, Miele, Bosch, Siemens and Haier have Amazon Dash support which will automatically re-order detergent when stocks are running low.
Ergonomic washer
If you're prone to a bad back, AEG and Electrolux may have you covered with a clever mechanism that allows dishwasher users a safer, more relaxed body position when loading and unloading dishes thanks to a lower rack lifting system they call ComfortLift.
Ovens and cooktops
Volumetric ovens
Perhaps one of the most startling reveals at IFA was the Miele Dialogue oven. It's a brand-new technology that borrows from the realm of medical science. While it appears no different to a conventional oven from the outside, it uses electromagnetic waves in a specific frequency range emitted by two antennae inside the oven to do the cooking. As food molecules are arranged in different ways, and continue to re-arrange during cooking, these same antennae provide feedback on the amount of energy absorbed by the food. The term coined by Miele for this is "volumetric" cooking and is supposed to deliver even cooking all the way through food. It's combined with radiant heat to ensure browning while roasting and baking.
The cooking demonstrations were particularly impressive (if not a little baffling!), with a piece of fish cooked perfectly while encased in the middle of a hollow block of ice. The fish came out perfectly cooked, yet the ice remained frozen. Similarly, a whole roast dinner of meat, potatoes and green veggies was placed into the oven at the same time, ending with the meat nicely medium, and the veggies still al dente, demonstrating the ability of this oven to identify different food types and target cooking accordingly.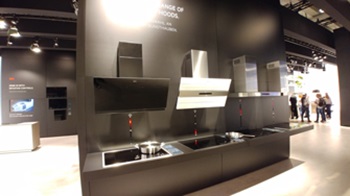 Zoneless induction cooking
Zoneless or variable zone induction cooktops are en vogue at IFA. These identify the size and position of the cookware and apply heat as required, meaning you can just as easily use a square skillet or a round saucepan, with the hob adjusting even if you move the pots around. The Genius Sensor+ from Panasonic will allow the user to dial-in the precise temperature required in degrees Celsius, and the induction range from Bosch and Siemens contain integrated downdraft extraction, which can be filtered and recirculated or externally vented, contributing to sleek aesthetics by negating the need for a separate rangehood.
Benchtop cooking
Benchtop appliances are ever-popular with new vacuum blenders from manufacturers such as Beko and Kuvings. The theory behind vacuum blenders is that removing air preserves freshness and nutrition.
And Bosch has released its first multi-cooker with over 100 recipes (and more to come) – it lets you roast, bake, boil, braze, steam, fry and sous-vide.
Colour in the kitchen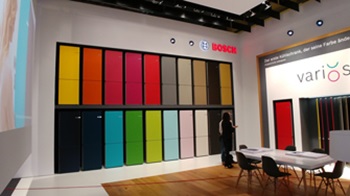 Another trend that is clearly evident is the vast number of colours, finishes and customisation options available for household appliances. Ovens, fridges, mixers and blenders are all available in a dizzying array of hues. Gone are the days where white and stainless steel were the only available choice. One fridge manufacturer is offering front panels in 19 different shades.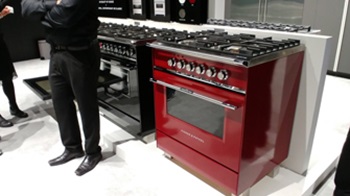 Everything old is new again too, with loads of examples of retro-chic appliances on display. Fridges with rounded lines and chrome handles, again in multiple colours. Free-standing ovens with enamel-like finishes that hearken back to the days of the old wood-fired AGA, while still packing the latest in cooking technology and convenience.
What is the IFA?
IFA (or Internationale Funkausstellung – International Radio Exhibition) is an annual event held at the Berlin Exhibition grounds in Berlin that showcases the latest products and innovations in global consumer technology. It's a key meeting place for manufacturers, retailers, buyers and experts from both industry and media. With over 1800 exhibitors spread over 159,000 square metres of floor space, it is simply astounding in size and scope.
My mission here, on behalf of CHOICE, is to report on new product innovations and capture market trends of relevance to Australian consumers.
Related articles
---
Join the conversation

To share your thoughts or ask a question, visit the CHOICE Community forum.