Google Chromecast Ultra review
Latest version of popular video streamer now offers support for Ultra High-Definition (4K) TVs.
Are you fast enough to use it?
---
Google has upped the ante on its popular Chromecast media streamer to include 4K ultra high-definition (UHD) content, but should you buy it?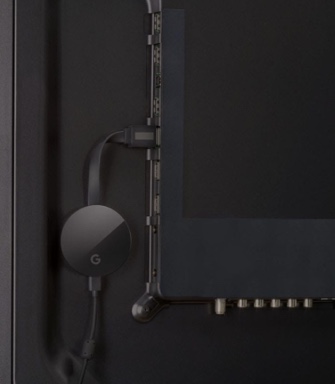 To get the most out of a 4K streaming device you will need a 4K TV, very fast internet speed and a subscription to a service that can supply UHD content, such as YouTube or Netflix. Though 4K streaming is offered by Google Play Movies, Amazon Prime Video and Stan, the Chromecast Ultra was not listed as a supported device at time of testing.
The Chromecast Ultra looks a little different to its
hockey puck-shaped predecessor
. This model has an ethernet port on its power adapter (the other end goes to your network router), which then connects to the main body of the device via a micro-USB port. The addition of ethernet is a plus if your local Wi-Fi network is too slow or the signal too weak to deliver high-quality streaming content. The Chromecast Ultra then plugs in to your TV via HDMI port.
Otherwise, the $99 Chromecast Ultra works much the same as the still-available $59 Chromecast. You simply use mirroring to stream online content via your smartphone, tablet or laptop to your TV. If you don't have a 4K TV it will stream HD content optimised for your TV's maximum resolution.
Are you really getting 4K?
Technically, it provides a very good, easy to use and relatively low cost solution to getting 4K streaming onto your TV. The problem is that it's difficult (if not impossible) to know whether a piece of content you are streaming is actually in 4K or if it is just standard or HD.
This is because neither the YouTube or Netflix apps let you select the quality of the video you want to play. However, the Netflix website does this with High and HD settings. High reportedly consumes up to 7GB (gigabytes per hour) which equates to just over 15Mbps (megabits per second). HD is reported at 3GB per hour, which is about 6.64Mbps.
Netflix says that for Ultra HD content you need a steady internet connection speed of 25Mbps or higher. However, YouTube says you'll need a consistent download speed of just 15Mbps.
In Netflix's case, there is a little label that appears next to the content to suggest the quality that is available to stream. This can change from HD to Ultra HD depending on the configuration of your set-up. Although, we noticed that Ultra HD appeared even when we were connected to a network that did not have enough bandwidth to play Ultra HD content.
The bottom line is that we can only say that if your plan supports 4K, you have a 4K TV (with an HDMI port that supports HDCP 2.2 or better), and you have enough bandwidth (15Mbps at minimum for Google's and Stan's services, and 25Mbps minimum for Netflix), you will attain the highest picture quality available.
If you don't have a Google Chromecast already and you're thinking of getting a 4K TV, the Chromecast Ultra is the way to go. If you have an existing Chromecast you'll need to look to your internet speed first or you won't be able to use the full capabilities of the Ultra.
Other ways to watch 4K
If you have 4K content stored on your local network devices you can play it through the Chromecast Ultra, as long as they are of a supported format and you have the right devices. There are several ways of doing this, but the following are a couple of examples:
Network attached storage (NAS): If you have content stored on a NAS it can be played using the Chromecast Ultra via a supported video app. Synology NAS devices, for example, have an app called DS Video through which this can be done.
On-phone storage: You can stream 4K content stored on your phone through an app that supports casting. ES File Explorer is one such app, though you also need to install the ES Chromecast plugin to make it work. You should note, however, that 4K video files are large and can take quite a while to transfer to a phone. You'll also need enough room on the phone to store it. Content created by the phone in 4K quality is another option.
So, though it can be done, local streaming of 4K files via Chromecast Ultra is dependent on having the right hardware, software and file types. It's certainly simpler to just stream 4K content from online if you have a connection fast enough to do so.
Chromecast Ultra media streamer
Price:
$99
Contact:
store.google.com
---
Join the conversation

To share your thoughts or ask a question, visit the CHOICE Community forum.