"I gambled on Australia's public health system and lost"
CHOICE's Jonathan Brown spent 18 months on the waiting list for elective surgery, then a move interstate meant he had to start again.
Stuck in limbo
---
I was choking, gasping for air and jolting awake at least eight times a night. This went on every night for three months before I could get help.
Referred from doctor to doctor and specialist to specialist, I spent three months trying to hold down a job, pay a mortgage and be present for my friends and family, all while getting – at best – two or three hours of broken sleep a night.
It felt like my health, my life was falling apart and no one was willing to help. I was tired, angry, restless and barely keeping it together.
I'm one of many Australians stuck in limbo on the public waiting list
Eventually I found a specialist who listened. Who gave me a plan. Who cared about the impact this was having on me. After three months of nothing, I finally found someone who said, "I'll help you figure this out."
Now, two years later, I sleep with a CPAP (continuous positive airway pressure) machine and a not-very-attractive mask strapped to my face. My sleep is slightly better, but the machine is only a stop-gap. I get by.
What I really need is surgery to improve my quality of life. But I'm one of many Australians stuck in limbo on the public waiting list.
The waiting game
Previously, I'd had another surgery for a related issue after being on the public waiting list for three months. Little did I know that on this occasion, I'd still be waiting – 18 months later.
I waited 18 long months for nothing
Every couple of months I'd call up and be told, "No change. Wait for a letter."
It was excruciating – I didn't receive any information about my progress. Having a mask strapped to your face every night is incredibly uncomfortable, and it certainly doesn't help with your romantic life.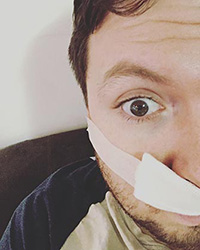 Recovering after my first surgery.
While I was on the waiting list, I accepted a job at CHOICE which meant I needed to relocate from Victoria to New South Wales. That was when I found out that if you're on a waiting list in one state and you move to another, you need to start all over again.
That's right. I waited 18 long months for nothing.
Back to the beginning
It took another two months to get the appropriate appointments and referrals to start the process again in New South Wales. Currently it's estimated I'll need to wait another eight to ten months for my surgery.
You may ask – why didn't I get private health insurance? Or just pay upfront?
Well, because my previous surgery only took three months, I was under the mistaken impression that Australia's public health system had my back.
Of course it occurred to me – do I get a personal loan ($6000+) and just get it done? Or should I buy private health insurance and see if that waiting period is shorter?
But no, I gambled on Australia's public health system – and lost.
Do I need health insurance?
I've now been waiting two years for surgery, and all the while my condition continues to affect my work and my personal life.
With my 31st birthday (and lifetime health care loading) fast approaching, I'll have to decide – should I get private health insurance?
But in April, Australia's private health system will go through one of its biggest structural changes in decades with the introduction of new Gold, Silver, Bronze and Basic tiers. And I'm not alone in finding the changes confusing.
Thankfully, I'm surrounded by some of the country's best health insurance experts here at CHOICE. I'm going to share my experience navigating the health system and the big decisions I've got coming up. I'll get their advice and share it with you along the way.
Related:
---
Join the conversation

To share your thoughts or ask a question, visit the CHOICE Community forum.