How you can pay the Lifetime Health Cover loading and still be better off
Don't fall for the spin – buy health insurance when you're ready.
Load up on savings
---
"If you're 31 years old and you still don't have private health insurance, now is the time to panic. Because if you don't have cover before July 1, the government is going to bankrupt you with taxes. You will never be able to afford health insurance because you left it TOO LATE."
OK, so it's not usually that over-the-top. But every year in June we see messages like this trotted out by private health funds, and the for-profit comparison websites they pay commissions to. They're everywhere: on TV and radio, in print, filling up your social media feeds, all trying to sign you up before the June 30 "deadline".
If you're paying for health insurance you don't use, or you're considering buying it "because it will cost more later" – this is required reading.
So what is the Lifetime Health Cover loading?
These ads are talking about a government initiative called Lifetime Health Cover (LHC). It exists to encourage people to take up private hospital cover, and take pressure off the public system. If the private health insurance rebate is the carrot, this is the stick. There are some complex rules around LHC, but here are the basics:
The first 1 July after your 31st birthday is your "base day". If you don't have hospital cover before then and you do eventually purchase it, your premiums will be 2% higher for every year you put off getting cover. This is called the LHC loading.
For example, if you take cover out at 40, your premiums will be 20% higher than a 30-year-old on the same policy.
But this isn't for life! The LHC loading only applies for 10 years, after which your premiums go back to normal (so long as you keep your cover).
The loading also only applies to hospital cover. Extras policies – for things like dental and optical – are a completely separate thing, even though health funds will try to sell you both of them. Having only extras will not affect your liability for the LHC loading.
Why health funds are so keen to sign up younger members
Younger people can be a gold mine for health funds. They tend not to come with chronic illnesses, and spend less time in hospital than older people, making them cheaper to insure. Health funds pay on average $204 in benefits for every insured person in their thirties; well below the $342 population average.
Chart: Private hospital benefits paid per insured person
Private health insurance benefits:
click here for a text-only version of this infographic.
But as you would expect, this pales in comparison to health care costs for older age cohorts. Health funds aren't allowed to set premiums according to a person's age or wellness. Everyone pays the same for the same policy, meaning younger members are subsidising the private hospital cover of older Australians.
Another reason to get customers while they're young is that Australians on the whole don't like to change health funds. Once people choose a product, they often stick with it for years. If a health fund can get you early, when you're at your healthiest, then that's all the more time to be collecting premiums from you without needing to give much back in return.
How to avoid the LHC loading without buying insurance you don't need
The LHC loading is the health insurance marketer's best friend. Their messaging around it is one of the oldest tricks in the book: you'd better buy now, because it'll be more expensive tomorrow. But what if you aren't ready to throw down hundreds of dollars a year on health insurance? Sure, you could buy junk insurance on the cheap, but there's something galling about paying for something you don't even want to use.
We crunched the numbers and found there's an easy way to put off buying health insurance for years, and not be squeezed when it comes to paying the LHC loading. Here's how you can do it:
Find the cheapest budget or junk hospital policy in your state.
Don't buy it.
Instead, put the same amount those annual premiums would cost into a high interest savings or term deposit account. This could be as little as a few hundred dollars.
Repeat from step one the next year. Let the interest build up.
Take out health insurance when you're ready. In almost all cases, the amount you save in premiums plus the interest you earn on it will more than cover the extra cost of the LHC loading.
We went back through 15 years of historical data about health insurance products and found the cheapest hospital policies in every state for every year from 2001, for singles and families. We calculated how much these policies would cost you, factoring in the base tier rebate for under 65s (30% until 2014, when it began decreasing).
How does it work?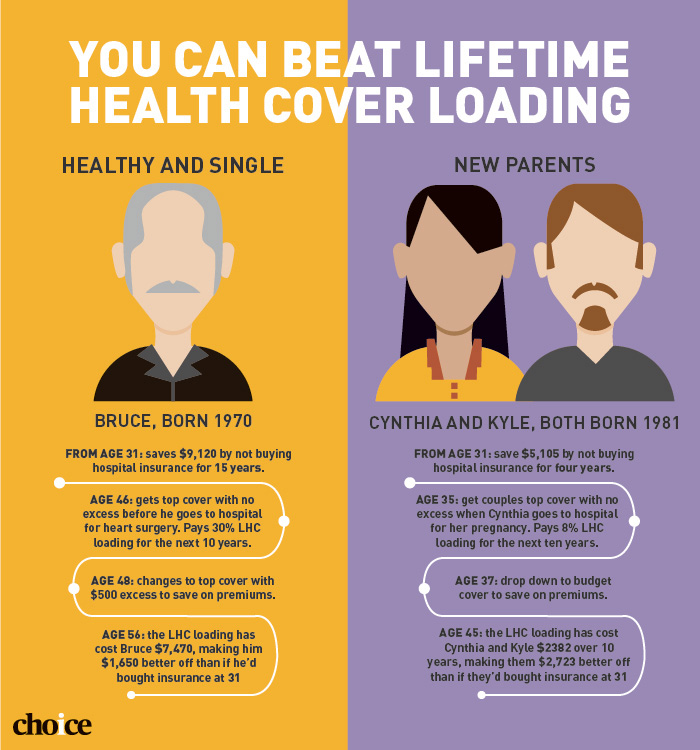 You can beat lifetime health care loading:
click here for a text-only version of this infographic.
Meet Bruce
Bruce lives in Melbourne. Bruce turned 31 in June 2001. Instead of taking out health insurance before 1 July to avoid the LHC loading, he added the annual cost of a cheap budget hospital policy – $289 – to a one-year term deposit account at 4.35% interest. (This was the average interest rate for that sort of account at the time.) When the account matured in June next year that deposit was worth $302.
For the sake of simplicity we've given Bruce a term deposit and calculated interest annually, but you could also use any high-interest savings account.*
Bruce did this for fifteen years, reinvesting his savings and adding each new year's premiums to the overall amount, until a health condition compelled him to take out hospital cover in 2016. By this time his premium savings were worth $9120, including $1890 in interest earnings.
But will that be enough to cover his 30% LHC loading for the next ten years?
Looking forward
We're making predictions now, so let's assume average premiums will increase by the average of the past five years of increases: 5.7% each year. Bruce's plan is to take out the cheapest nil-excess top hospital policy for two years ($2514 in 2016), then change to a less expensive $500-excess policy ($1554 in 2016) when his immediate health concerns have been dealt with.
Over the next ten years, our model predicts the added LHC loading will be about $7470. With his savings over the past 15 years Bruce is not only able to cover the loading, but still have more than $1650 left over, which will cover him in case premiums increase more than we assumed. If he moves to a budget policy instead, his LHC loading will eat up even less of his savings, leaving him over $4600 better off.
* We used June average interest rates on a $10,000 one-year term deposit (source: RBA). We did not account for any bank fees, and the $10,000 you would need to
exactly
follow our method isn't included in any savings calculations. To account for tax we deducted 30% from the interest earnings for every year of the savings period.
So does it work for everyone?
We tested a range of different scenarios with our savings model. We looked at how much would be saved if you waited 15, 10, five, four or just two years after turning 31 to take up hospital cover.
Because in most cases it was the amount we put away which got us over the line, not the interest earnings, we are confident that this savings plan is reliable even in today's low-interest environment. Interest was a factor in fewer than 10% of scenarios. This tells us for the majority of people, if you put off buying health insurance until you really need it, and be smart about the policies you buy, the LHC loading will be less than what you would have spent to avoid it.
The biggest threat to the model is high premium increases. If Bruce lived in NSW, WA or ACT the savings would fall short if he took top $500-excess top cover for the last eight years of his LHC period. This was likely due to steep premium increases during the mid-2000s (the average was 8% in 2005) which meant we didn't put enough away early on.
Keep in mind this was over a 15-year savings period: the longer the period, the greater chance a price blowout will make your savings unable to match the LHC. Premiums currently increase by about 5.7% annually – if price hikes climb back up to where they were you'd have to consider whether you really want insurance.
What about families and couples?
So far we've only mentioned single person policies. If you're a couple this model works as well, since premiums for couples and family policies are usually twice the singles rate.
If you earn well above the average income, this isn't for you
Our scenarios assumed no liability for the Medicare Levy Surcharge. This is another way the government drives people to private health insurance: If you earn over $90,000 (or $180,000 with your partner) and don't have hospital cover, you'll have to pay an extra 1% or more income tax – at least $900 a year. If you have to pay this surcharge, your best money-saving option is to actually buy health insurance – preferably a good one, not a junk policy just to avoid the surcharge.
So how can I do it?
This plan is for people who don't need insurance right now, but might in future. If private hospital cover is something you could benefit from today, then by all means start shopping around for the best policy. If you're not sure, check out doineedhealthinsurance.com.au.
You don't need to find a big lump sum every year – just make it part of your weekly budget. Depending on your state, junk hospital cover can cost as little as $13 or even down to $5 a week. Set and forget an automatic transfer to your savings account.
Shop around in June each year for a new policy not to buy – you'll be reminded by the incessant health fund commercials – and adjust your deposit amount accordingly.
---
Join the conversation

To share your thoughts or ask a question, visit the CHOICE Community forum.