Supermarket wines
Is that bottle of wine premium or home brand? The answer may surprise you.
Coles and Woolworths' control of the liquor market
---
Coles and Woolworths are the two major players in the Australian liquor industry, together controlling around 60% of the liquor market (as at 2012). Both own large numbers of liquor stores – in 2012, Woolworths operated more than 1250 and Coles over 780. Between them they own Dan Murphy's, BWS, First Choice Liquor, Liquorland, Vintage Cellars and more. Both also own hotels, clubs and pubs – Woolworths upwards of 280 and Coles more than 90.
Supply chain inroads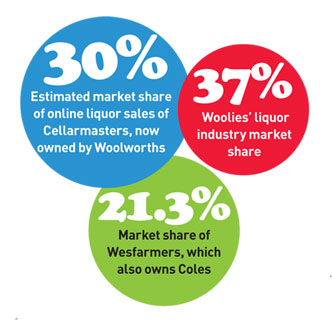 The supermarkets aren't just involved in the retail side of things. With its $340m acquisition of Cellarmasters, Woolworths not only owns Australia's largest online wine retailer but has also taken control of Dorrien, a wine producer with bottling, packaging, storage, filtration and testing facilities. It's has also bought into vineyards and acquired stakes in Gage Roads Brewery. Coles is also buying in at all levels of the supply chain.
According to market research company IBISWorld, the supermarkets have "exploited their market position to reduce shelf space dedicated to branded products and push their own, higher-margin private and control-label beer and wine".
Overall, in 2012 an estimated eight per cent of all wine and two per cent of beer sold in Australia was produced by the big two supermarkets.
The share of private labels sold through Woolworths and Coles liquor outlets, such as Dan Murphy's, BWS, First Choice Liquor Superstore or Liquorland, is likely to be even higher, and on the way up overall.
Private label wine masquerading as premium
What do Platinum Blonde beer, Baily & Baily wine and Napoleon 1875 brandy have in common? And what about Tasman Bitter beer, Robinsons Marlborough Sauvignon Blanc and Pensilva Estate McLaren Vale Shiraz?
It may surprise you, but the first three are Woolworths' private label offerings, and the last three are Coles' home brand. Just as they sell home brand food and household goods, the supermarkets also sell private-label liquor. So would you buy a Coles- or Woolworths-branded bottle of wine, beer or spirit?
You might be surprised to learn you already have.
Lack of labelling
While consumers may baulk at buying no-frills liquor, there's no easy way for them to know who makes their wine, short of searching online or checking the Australian trademark database.
Charles Sturt University's associate professor Anthony Saliba is a program leader at the National Wine and Grape Industry Centre. In 2012, he told CHOICE that supermarket-produced wine ought to be labelled as such.
"When you buy a generic product, you don't know much about it. Has it been ethically or sustainably produced? It's impossible to track down if you only know basic information such as the variety and a broad region."
Stephen Stracha, ex-CEO of the Winemakers' Federation of Australia, agreed. "Consumers have a right to know the heritage and background of products they're being sold." The reason for not labelling private-label liquor as such is clear.
"It wouldn't be popular if it were called 'Woolworths Select' or 'Coles Smart Buy'," says one wine producer. "With wine you want it to have a premium feel, it's not something like sugar. Wine you sit on the table and enjoy with friends. You want it to look premium and have a premium feel and packaging."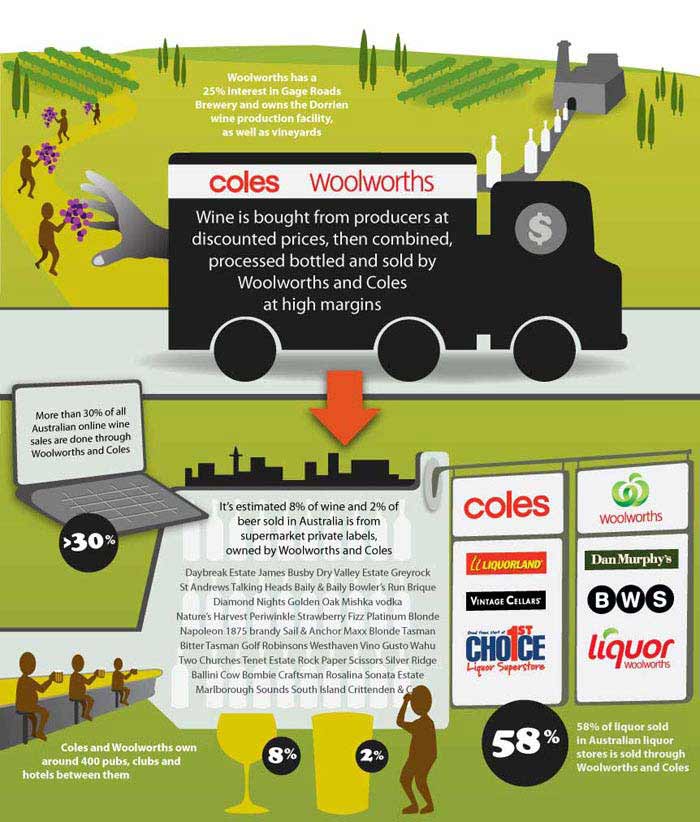 Is it a cheaper alternative?
The lure of a cheap, decent bottle of vino might appeal, but according to IBISWorld, the consumer is unlikely to see an overall benefit economically.
"While the supermarket giants are expected to continue engaging in price wars, this will take the form of cutting flagship products … in an effort to increase store traffic and boost sales of other products, rather than across-the-board discounting. As a result, average selling prices are expected to increase over the year, boosting revenue and margins."
What about quality?
Are private-label wines of a similar quality to proprietary brands? That depends on who you ask.
Lawrie Stanford, executive director of Wine Grape Growers Australia told us in 2012 that the supermarket home brand wine is of a lower quality, but is being sold at a premium price. "At the end of the day they access wine cheaply from growers and processors. At the same time they are marketed as proprietary labels and achieve the same premium price on the shelf. So the tendency over time will be for poorer-quality wine to be sold for the same price as high-quality labels, leading to an undermining of the quality proposition."
Others, however, told us it is difficult to tell the difference – even wine connoisseurs may not be able to pick a generic from a branded product. Interestingly, a number of our sources tell us that many of the private label wines are actually identical, but sold under different brand names, in different packaging and at different prices.
"Many are just the same wine repackaged," said Paul Rogers, a wine lawyer, taster and holder of the Australasian Wine Masters Award from the International Wine Academy. "The only way you can tell is if you're very astute in wine tasting, which isn't an exact science."
How Coles and Woolworths cornered the liquor market
1998: Woolworths has 38 freestanding liquor stores, including five Dan Murphy's stores it has acquired in Victoria.
1999: Coles opens the first Quaffers Wine Superstore.
2001: Woolworths opens its First Estate outlet for fine wines. It acquires 43 Liberty Liquor stores, bringing its total number of stores to 130. It has approximately 15% of the liquor market.
2002: Coles buys the NSW arm of the Theo's Liquor chain, adding 49 liquor stores and four hotels to its stable.
2004: Woolworths acquires ALH Group for $1.3bn, netting 130 pubs and 400 liquor shops.
2005: Woolworths has 938 liquor outlets, including 192 freestanding ones. Coles begins its push into large-format liquor stores, opening two 1st Choice Liquor Superstores, with 47 new liquor stores opening in total. Coles owns 31 hotels nationally.
2006: Coles acquires Hedley Group, including 36 hotels and 103 bottle shops. Coles has an estimated 20% of the off-premises market, Woolworths has 23%.
2008- 2009: Woolworths buys a 25% stake in Gage Roads Brewery and the Langton's online wine auction business. Woolworths opens two new liquor distribution centres and 77 new liquor stores.
2011: Woolworths expands Dan Murphy's to 140 stores, with plans to have 200 open in the next three to five years. Woolworths buys Cellarmasters, Australia's largest online wine retailer, for $340m. It is now also the owner of the Dorrien Estate wine production centre. Market share of Woolworths grows from 15% to more than 35%. 70 new private-label beers, wines and spirits are introduced onto shelves. Total number of Woolworths liquor stores is 1250; Coles has a total of 785 liquor stores and 93 hotels.
Case study
Bill (not his real name) is the owner of a boutique vineyard in Margaret River, WA. He refuses to deal with the supermarkets after being on the receiving end of some nasty tactics, and instead sells directly to independent liquor retailers.
"Either you're with them or you're against them," he says. Bill's wine was previously stocked in the Woolworths-owned Dan Murphy's.
At the time, the buyer responsible for his account threatened him with drastic action if it showed up elsewhere else for less. The buyer told Bill that if he saw the wine cheaper in a different liquor store, Dan Murphy's would "go it".
"That means they'll put it in a $9.99 bin… If you upset them, look out – you'll find yourself advertised in the catalogue for less than your wholesale price. Then independent stores ring up and tell you they don't want to do business with you anymore either."
Bill also says the staff at supermarket-owned stores push private-label products above the brands.
"There are hundreds of them, and the customer doesn't know. They don't have the chance to understand that this is a private-label brand, and not a mum-and-dad vineyard that's grown the grapes."
---
Join the conversation

To share your thoughts or ask a question, visit the CHOICE Community forum.