CHOICE supermarket special investigation
Australia's big two supermarkets put the price squeeze on suppliers and brands.
The situation on the supermarket shelves
---
Australia has a highly concentrated supermarket sector. Our two big players, Coles and Woolworths, control over 70% of the market. CHOICE has been reporting for some time now on the fact that relationships between the supermarkets and their suppliers and manufacturers are strained.
After our series of investigations into the tactics behind the supermarket price wars, and an ACCC call out for suppliers to speak out about bullying behaviour, there have been new horror stories emerging on a regular basis. Earlier this year, the ACCC announced it would take Coles to court over allegations of supplier bullying. The move came as a result of an in-depth CHOICE investigation, during the course of which we uncovered some super shady dealings at the supermarkets. Read on for the investigation.
The state of Australia's supermarkets
Coles and Woolworths are enormous corporations, and they're growing bigger, stronger, and more profitable. It's no surprise, given Australians spend over $1 billion each week in the big two's supermarkets, which have over 70% combined share of the grocery market.
The two companies have engaged in a much-publicised price war over the last few years, with each claiming to have deflated prices on thousands of products. Yet despite this race to the bottom, the big two both posted healthy profit growth in the same period. So how can shelf prices of thousands of products be coming down while supermarket profits go up?
Brands being squeezed off the shelves
A large share of the Australian grocery market is now held by private labels, owned by the supermarkets themselves, which in 2012 accounted for about 25% of annual supermarket sales.
IBISWorld predicts that by 2016, about one in three products on the supermarket shelves will bear a private label. Coles and Woolworths now both have a multi-tiered private-label offering – bargain staples, medium-priced fare and premium/specialist products.
Private-label goods can be big profit drivers. Marketing them is cheap since, as Coles merchandise director John Durkan points out: "We only have to advertise Coles".
Manufacturing is also streamlined. "We set up individual research and development areas, where we can work with suppliers who supply many people, to fractionalise cost," says Durkan.
But supermarket shelves aren't flexible – there's little room for growth beyond the initial supermarket floor plan. A supermarket's own brand needn't worry about a shelf space squeeze. Where two brands compete for the same shelf, and one brand's parent owns that shelf, it's not hard to tell who the winner will be.
"At the end of the day, the retailer owns the store and can do whatever they want," says Tim Morris, managing director of NZ strategic management consulting and market research firm Coriolis Research."They can put rival products on the bottom or top shelf, and their own products at eye level. They can manipulate the price. The only controls are competition and the consumer."
Brands are disappearing off supermarket shelves
When we asked CHOICE members to tell us if one of their favourite brands had disappeared from their local supermarket shelf, the response was overwhelming.
"More and more I find I have to drive around town to get the products I'm looking for," said Sarah Weir.
Fiona McPhee agreed: "I'm sick of having to chase my favourite products down."
Jaynie Edwards wrote: "Pretty much everything I used to buy is getting less shelf space, only to be replaced with the three varieties of shop brand."
Manufacturers are missing in action
The collapse of a number of large-scale manufacturers over recent years has shone a spotlight on the difficulties faced by those trying to make a living out of supplying groceries in Australia, which usually means supplying Coles and Woolworths.
We spoke with several manufacturers and suppliers whose product lines have been deleted by the big two. Many claim this was as a result of supermarket-exerted pressure, including private label expansion. All but one refused to be identified, citing fear of retribution from the supermarkets.
Kevin* is the managing director of one such company. "We were deleted to make room for their own brands. They're reducing the third-, fourth- and fifth-most popular products in product areas."
Woolworths and Coles argue that introducing and expanding private labels has stimulated innovation and competition in many areas of the market. Coles claims only under-performing products are cut. "Where we don't see innovation from branded manufacturers, we'll use the Coles brand to innovate," says Durkan.
"We don't have elastic shelves and we have to keep stock for customers, not products that are not working."
However, many small suppliers – and even large ones such as Heinz and Coca Cola – are concerned about the pressure they face in the fight for this finite shelf space.
Kevin argues his product was cut not because he wasn't innovating, but because Coles set him up to fail. "Coles told us it's because our sales weren't achieving targets. But that's because they wouldn't put us in catalogues, we got no shelf space, we were hidden behind a column and they refused to let us have promotions, and that made it impossible for us to compete with the big boys."We suspect what they were really doing was targeting the products they wanted to delete so that it would be easier to justify in six to eight months' time."
Over at Woolworths, brands are also being cut. Mark* had his organic product deleted directly after Woolworths acquired the Macro wholefoods label. Following steady sales for three years, Woolworths' category buyer told him there was only room for one organic label – Macro, its own. This decision saw his yearly sales halved.
(*Names changed)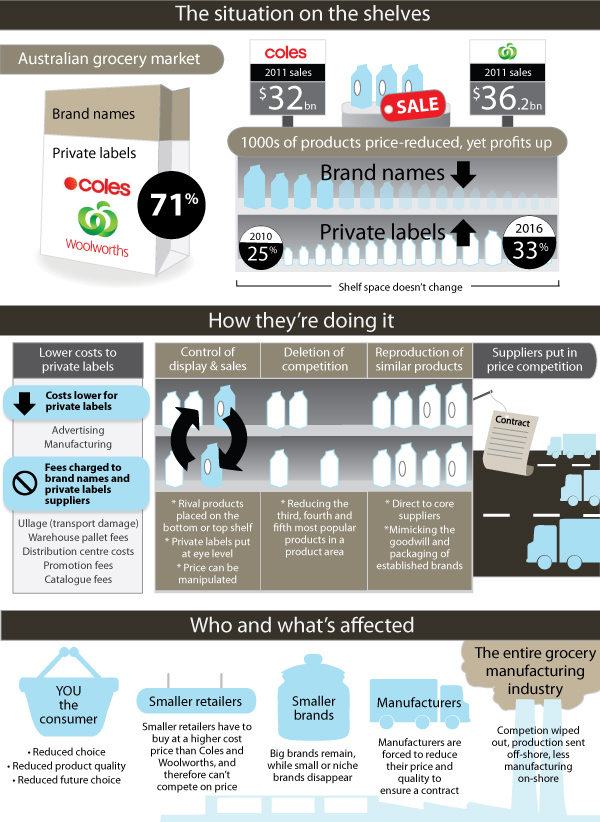 Supermarket price wars
It's not just the cost of marketing and economies of scale that keep branded products more expensive than private labels in the supermarkets. There's also the myriad levied fees and rebates.
In 2012, suppliers told us that these include ullage (a percentage rebate for potential damage in transit), distribution centre costs, warehouse pallet fees, catalogue and promotion fees. Woolworths and Coles say "blended" or "variable" costs can be discussed in the cost price negotiation phase.
Shelf space for sale?
Grant Muller is the editor of Buy Australian Magazine which promotes Australian products and is distributed through IGA supermarkets. He told us in 2012 that the supermarkets also engage in "cliffing" – the auctioning off of shelf space (sometimes called "slotting").
He says he has examples of multinational corporations offering the chains millions up-front to secure "premium" shelf space.
"The chains will go back to the local manufacturer with an opportunity to match or outbid the multinational, but the dollars involved are too great or the supplier gets into a bidding war they can never win.
"All the costs that other brands have to pay mean home brand products have a 30% price competitive advantage, because obviously they don't charge their own products."
Coles and Woolworths both deny selling shelf space.
Even when customers appear willing to pay more for the branded product than the home brand, manufacturers overwhelmingly tell CHOICE that the supermarkets forbid them from raising their prices, both wholesale and shelf.
Restricting the market
Tony Lutfi is the managing director of Greenwheat Freekeh and the only manufacturer who spoke to CHOICE without the condition of anonymity. His product was initially stocked by Coles in 1998 for a short period of time, then re-stocked eight years later after he approached Coles again.
"We should have been selling to Coles at $2.90 per box but they wanted to buy at less than $2.00 a box – the 1998 price," he says. "In spite of repeated pleadings and explanations about our increased costs of grains, labour, freight and gas [for dry roasting] to name a few, they insisted that our selling price to them should not increase in line with market conditions and that we could take it or leave it. We had no choice."
Lutfi also says customers, and even Coles staff, could not locate the product in shops where it was stocked. "So, consumers started asking for Greenwheat Freekeh in other shops." When Lutfi started to sell the product through other retailers, Coles deleted the line from its shelves altogether.
Lutfi says the 1998 price demanded by Coles made his product difficult to sell to other distributors. "Coles was restricting the market because they were keeping the price low, and no other distributor would take the product at a sustainable price. They were basically monopolising our product by restricting our ability to sell to others. Ultimately they deleted it even though sales were growing. "All I want Coles to do is reconsider. We'd like to be back in there on commercial grounds so that we can afford to supply them."
One manufacturer told us his company was facing intense financial pressure as a result of what he estimated to be a $5 million loss following the "unexpected" deletion of his product from Coles. "We've told them this will have serious ramifications for us. It seriously threatens jobs and we can't continue to operate if retailers continue to kill our brands without reason."
Another told us he believed the treatment was "appalling" and he prefers to deal with IGA or Aldi. "In the future, smaller manufacturers will walk away from the big two because of the way they treat you."
When brands produce supermarket label products
When the going gets tough, brands sometimes turn to manufacturing private label goods for supermarkets. Producing the same product under a private label can make better business sense than producing it under your own – in some cases a manufacturer barely needs to change a thing.
Chris and Diane's* product line was deleted from Woolworths. They were told it was no longer wanted, yet soon after, the shelf was stocked with the same type of product but made by a multinational.
Woolworths then offered Chris and Diane the opportunity to manufacture the same product for their Select range.
During the negotiation process, Chris and Diane had little say in the final cost price they would be paid, and were required to foot the bill to reformulate recipes and packaging at Woolworths' request. They estimate these costs ran into the millions.
A month after a second package change, the range was deleted.
Private label overkill in the UK
Australia is in a relatively early phase of home brand expansion. One of the world leaders is the UK where, according to a 2011 Nielsen report, private label sales account for 52% of supermarket sales.
As at 2012, the UK's four majors, Tesco, Asda, Sainsbury's, and Morrisons, had a combined market share of about 76%.
Individually, they held from about 12% to just under 30% of the market. Morris says that while the UK supermarket landscape is generally positive, private label expansion can go too far, as happened in Sainsbury's a few years ago. "[They] just kept increasing the number of private labels and removing brands. They tried to jam private label down people's throats – it was up to 70% in stores. Customers didn't want to shop there."
As Sainsbury's was aggressively expanding its private label offering, its competitors were moving at a slower pace. So customers went to those shops where choice still existed and, Morris says, Sainsbury's sales dropped and so they had to wind it back.
The outlook in Australia
While Sainsbury's ventured into an aggressive private label expansion alone, Coles and Woolworths continue their much safer game of follow the leader – each time one launches a new pricing strategy, the other follows. IBISWorld says that "the battle of the private labels is expected to intensify".
But Australian consumers aren't powerless, because the war for shelf space is really just a battle for your shopping dollars. Morris says it's a simple case of money talks. "Say you go shopping one day and your favourite brand of marmalade is gone. If you complain and then go to other stores, the marmalade will return."
Are supermarket private label products as good as brand name ones?
Is the quality of cheaper home brand products consistent with those produced by big-name brands? In our taste and nutrition tests comparing large-scale private labels with leading brands, the results were mixed.
Morris believes home brand quality has been sketchy in the past. "Australia went through a period of bastardised products. When a brand owner is selling quality they have to draw a line in the sand and say they can't make it any cheaper than that. When you make private label, the retailer can tell the manufacturer to make it cheaper, and they will."
Several manufacturers who spoke with CHOICE believe a quality compromise still continues. "I'll guarantee the best-quality product in the range we're involved in isn't a home-branded product," says Matthew*, CEO of one Australian supplier. "The shift towards private label doesn't necessarily mean the consumer benefits – they definitely lose choice and sometimes lose quality."
Aisle-way robbery: copycat packaging on the shelves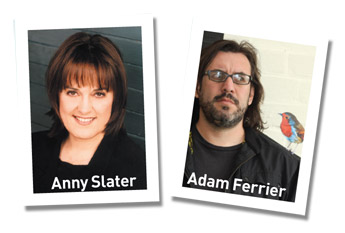 CHOICE went shopping at our local Coles and Woolworths in 2012 and picked up a trolley of private label and name-brand products. We even mistakenly picked up a private label product instead of the brand name we were after.
But at what point does a private label product stop being an homage to a market leader and become a copycat? We showed our trolley-load to consumer psychologist, Adam Ferrier, and intellectual property lawyer Anny Slater, and they've shared their thoughts below.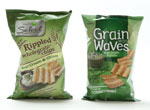 Grain Waves
Packaging colour probably influences consumer behaviour more than any other variable, hence it's extremely important to be associated with a colour," says Ferrier.
"In my opinion, the use of green here, coupled with the very similar placement of the chips, looks very similar to Grain Waves, presumably so people consider Woolworths' product instead."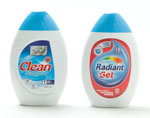 Radiant Gel
Ferrier says: "The shape of a product can be an extremely important asset when building a brand. In this instance, the distinctiveness of one product shape appears to have been replicated by another, presumably in an attempt by Woolworths to signal to consumers that their brand is just like the other brand."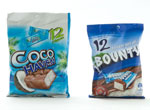 Bounty Bar
"The product shot is hero on this packaging – Woolworths are saying their product is at parity," according to Ferrier. "They've mimicked the 'tropical' theme probably to reinforce the 'coconuttiness' of the brand proposition."
"To prove the products are too similar, a court would consider the colours, artistic work and 2D representation of the coconut bar," says Slater.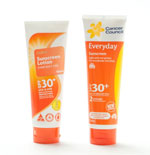 Sunscreen
"It seems one manufacturer has created a sunscreen that looks very, very similar to another," says Ferrier.
"They've used many of the key packaging elements to achieve this similarity, including product format, colours and approximate placement and shape of symbols." Slater says the court would have to consider the significance of the colours orange and yellow to customers buying sunscreen, and the extent to which they associate them with the Cancer Council.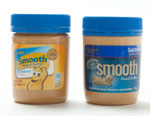 Peanut butter
"The fact that the background colours of the labels, the orientation of the integers and the caricature of the peanuts are all substantially different to the Sanitarium label would greatly influence a court's view of any overall similarity," says Slater.
"It's unlikely that any liability would attract to using words that describe the product, for example, 'smooth', or humanising a peanut if the result is substantially different."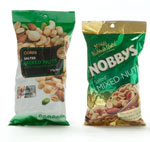 Nuts
"The nuts have borrowed the conventions of nut packaging, including showing lots of nuts spilling out," Ferrier says.
"They've also delineated between ranges with colour, using the same colours as others in the nuts market."
To make a judgment, the court would have to consider how snack food packaging is recalled by consumers, and the impact of product packaging colours on buying decisions, says Slater.
What the experts say
In the world of product marketing, it's not always what's on the inside that counts. Colours, images and packaging shapes are all important visual cues that translate into purchasing decisions.
Prior to the mid-2000s, when the supermarkets launched their mid- and top-tier home brand offerings, the selling point of private labels was a lower price, not designer packaging – there was no mistaking the bland look of a no-frills product. But things have changed.
Ferrier believes the move away from bargain basement-style generic packaging by the big two is in part designed to make consumers feel better about the products that go into their trolley.
"If they're buying a cheaper and inferior product, they don't want to be reminded of that. The more the cheap and inferior product looks like the market leader or higher-quality product, the better people will feel about the purchase. So a home brand product that looks similar to an established brand will be more popular with consumers."
Slater says that while there is nothing wrong with being inspired by a competitor's work, the combined elements of some of the copycats we presented to her are "likely to give rise to confusion in the marketplace".
Australia has legal protections in place to prevent companies using others' trademarks or visual assets, but enforcing the law is difficult.
To hold private labels accountable would in most cases require manufacturers of branded products to take legal action.
When we approached several suppliers seeking comment on what we saw as copycat packaging, none were prepared to speak out against the supermarkets. When manufacturers' best customers are also their biggest competitors, there's a lot at stake for those who publicly break ranks.
When we spoke to him in 2012, Durkan claimed he hadn't encountered a single incident of customer confusion between copycat products and "wholeheartedly disagrees" with the claim that many Coles products attempt to mimic the goodwill of established brands.
A spokesperson for Woolworths told CHOICE that although products with similar ingredients may have had similar visual cues, its products did not breach the law.
---
Join the conversation

To share your thoughts or ask a question, visit the CHOICE Community forum.