Is Aldi's $469 iPhone 6S worth buying?
Aldi will sell refurbished Apple iPhones this Wednesday, but should you buy one?
Apple iPhone 6S for under $500
---
The Apple iPhone 6S with 64GB of memory will be available in Space Grey or Silver, and will be offered as an Aldi special buy on Wednesday 30 January. Special buy products are limited in number and stock will vary between stores.
CHOICE verdict
The popular smartphone, which Apple released in 2015, will be refurbished and is not brand new, but does come with a 12-month warranty and could be a good option for kids or parents.
The smartphone comes unlocked and will work with all telecommunications carriers in Australia.
It's a good option for anyone wanting an iPhone without having to pay up to double the price for the new, entry-level iPhone 7
It also comes with a one-year warranty and you can bring it back within two months for a refund if you don't like it.
While it's a refurbished model, that shouldn't deter you as this is a good option for anyone wanting an iPhone without having to pay up to double the price ($749) for the new, entry-level Apple iPhone 7.
Price: $469 for 64GB version
Get a refurbished Apple iPhone 6S for several hundred dollars less than any iPhone you can get from Apple.
It's refurbished – should I be worried?
Rest easy. Aldi and other retailers are obliged to clearly state where you stand with regards to support and warranty.
So just because it's refurbished, that doesn't mean you don't get any of the warranty or replacement protections you'd expect to get when buying a new product.
Aldi offer a 12-month warranty as well as a 60-day refund
Aldi offer a 12-month warranty as well as the same 60-day refund they offer on their other special buys. Aldi spell out the situation clearly:
All re-manufactured models come with a 12-month warranty.
They come in two colours only, Space Grey or Silver.
Devices are fully re-manufactured (dis- and re-assembly), using only authentic parts.
Each device undergoes an extensive inspection, functional testing and data wipe processes.
A detailed cosmetic inspection guarantees that there are no LCD discolorations, no screen lifting or gaps, no signs of liquid damage and only minimal scratches with a maximum length of 0.5mm or less.
Every device is fully sanitised, cleaned and securely boxed.
Buying a refurbished phone – Aldi vs Apple
The Certified Refurbished area on the Apple online store explains what consumers can expect when shopping for an Apple device that has been refurbished, and it's essentially the same as the Aldi claims for the quality and warranty support.
Apple's online store had no iPhones of any type available as of 25 January 2019, but did have a range of Macbooks, Apple TVs, Mac minis, iPods and other Apple products at a slightly discounted rate.
When comparing iPhones, Apple indicate that the iPhone 6, 6Plus, 6S, 6S Plus and SE are still available from authorised resellers, but not directly from Apple.
There's no information on how many iPhone 6S models will be available in each branch of Aldi.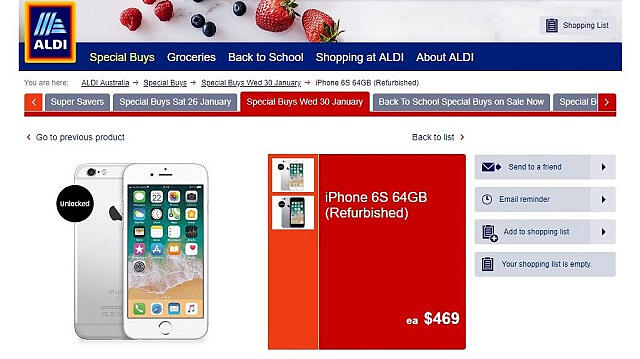 As with most Aldi special buys, some stores will sell out before others.
Apple iPhone 6S pros
Headphone jack. The continued success of the Apple iPhone range since the iPhone 7 shows that the loss of the headphone jack may not be an issue for many, but some people find the inability to simply plug in their headphones without using a dongle very annoying. The iPhone 6S, 6S Plus and SE models were the last to include the headphone jack.
Powerful smartphone for under $500. There's no avoiding the fact that up until last year there was no way you could get an Apple iPhone for under $700.
Huge case and accessory options. The after-market support for this model is not only substantial, but is also often available for an absolute bargain. When you look in any store for heavily discounted cases and accessories, you'll find a range of options for the iPhone 6S.
Apple iPhone 6S cons
It's a 2015 smartphone. So the processor and camera features are a little behind the times when compared to the latest and greatest smartphones and iPhones, but you can keep reminding yourself that it's just $469.
No removable memory. If you keep your life in the cloud this may not be an issue, but the internal storage can still be limiting. However the 64GB of storage for the Aldi offer is still good enough to satisfy most people.
Related:
---
Join the conversation

To share your thoughts or ask a question, visit the CHOICE Community forum.