The Oppo Reno G5 is one of the first 5G smartphones to arrive in Australia and it's an extremely solid offering. The fact you pay $1,499 is tempered by the extra goodies on offer for the early adopters such as Bose headphones (if bought through Telstra or JB HiFi), but thankfully it performs well enough as a camera phone to stand on its own.
CHOICE verdict
The wow factor for the Oppo Reno is the flip up selfie camera lens that allows you to do without the dreaded 'notch' on your smartphone, presenting you with a clean display. The camera performance is very good for most situations and great in low light, the battery charging is phenomenal for a large mobile and the speed and display quality on the 6.6-inch screen is what you'd expect from a camera that costs about the same price as a plane trip to London. There's a 4G version as well, which could be the better value option if you tend to get a new phone every 18 months, and can find it for under $1000.
Price: $1499 (5G version); $1,199 (4G version)
Contact: oppo.com/au
Why we've partnered with WhistleOut
We've partnered with search engine WhistleOut to help you find and buy the right plan for you. The 'Search Providers' button above will take you to their site. While we make money if you buy through WhistleOut, this doesn't influence our rankings. 100% of the money we make goes straight back into our nonprofit mission.
So what is 5G
5G is the next generation mobile network. It promises a faster mobile internet experience on your smartphone and also at home if you choose to use it as your main internet option.
5G promises internet download and upload speeds many times faster than that possible with 4G. However, these improvements are only possible when you have a 5G device are within the reception area of a 5G tower.
It's not just a matter of deciding you want 5G and switching over to another mobile plan.
For example, almost all the smartphones currently available can't deal with the 5G network and never will be able to deal with it, so if you have the latest iPhone or Android premium smartphone, 4G is as good as it gets.
So does that mean you should get rid of your brand new smartphone and get the first 5G smartphone you can lay your hands on? In a word – no!
A choice of login methods
The Oppo Reno 5G supports a few different login methods, besides the standard pin code:
The fingerprint sensor is incorporated into the screen and is easy to set up. The performance is more accurate and faster than the previously tested R17 Pro and will be the preferred unlocking option for many users.
The facial recognition feature worked flawlessly and although it feels a little gimmicky at first, before too long you'll find the process very natural. You simply raise the phone to your face to unlock and many users no longer raise the phone to their ear as the default move anyway.
Faster, cooler charging
The Oppo mobiles we have reviewed in the past (including the R17 Pro and R15) have been very impressive when it comes to recharging. Why? because Oppo introduced a fast charging technology called Voltage Open Loop Multi-step Constant-Current Charging or Vooc. This makes it an ideal smartphone for anyone who forgets to plug in their charger overnight, but charge it over breakfast and you'll at least get several hours of use.
The Oppo Reno 5G uses Vooc 3.0 providing similar fast charging to previous Oppo mobiles at a lower-voltage setting to help keep heat issues to a minimum.
A full charge takes a little over half an hour and you can get a few of hours use in an emergency by charging it for 10 minutes.
To get the fast charging, you will need to use the supplied charger and cable. While you can use a third-party charger and USB-C cable combination, you won't get the fast charging.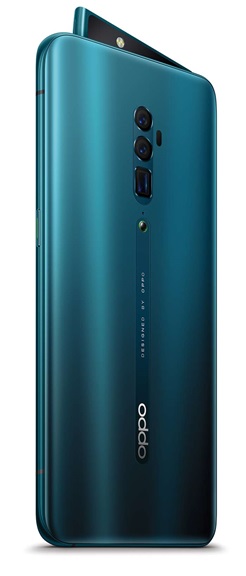 Selecting the selfie camera causes the lens to quickly rise out of the case.
Camera performance
As with most mobile phones sold today, the Oppo Reno 5G is called a camera phone, as this is one of the most important functions for the mobile for many new smartphone buyers.
Some of the additional camera features in the Oppo Reno 5G help deliver the tools to take the best photo possible in different lighting situations.
The primary built-in lens collection includes a 48MP main lens, a 13MP telephoto lens and an 8MP wide angle lens. Together, this combination delivers a 10X hybrid zoom (16-160mm) that performs surprisingly well in transitioning back and forth from a wide angle shot to getting in close.
Automatic mode is recommended for most situations, and it does an excellent job. While there are many exposure and shutter speed combinations to choose from in the 'pro' mode, you will no doubt lose any candid situations as you fiddle back and forth between the various menu selections. However, if you have a static scene and the time to experiment, you will get some great results with details in areas of shadow.
When the lighting situation worsens, the camera automatically alters the aperture to let in as much light as possible with the widest aperture of f/1.7.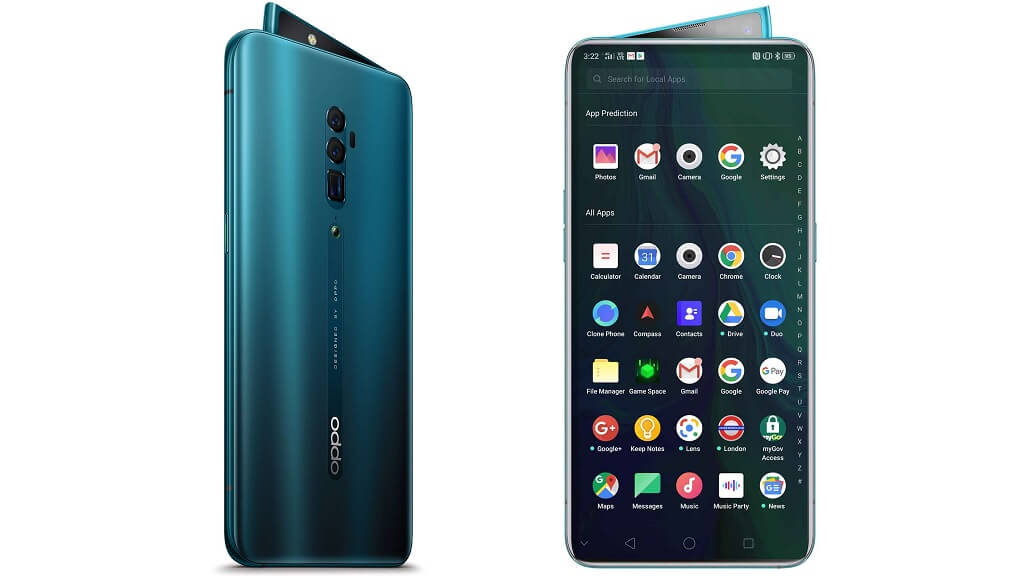 You get the full screen experience due to the pop-up selfie camera lens.
What's not to like?
No headphone jack. It may sound silly but this one point continues to be an issue for some people. The fact that some high end mobiles include the headphone jack prove that some people still want the function. The success of the iPhone range since the iPhone 7 and other smartphones dropped the 3.5mm headphone connection may mean most smartphone users no longer see this as a huge issue, but it remains a sore point for anyone with a good set of wired headphones. Samsung continues to include the jack in their range for now (so they must know something).
Lack of case options. It's an unfortunate reality that if you don't have a Samsung or Apple device, your choice of cases will be limited. However it does come with a very good yet basic case that shows off the phone while also protecting the edges.
Processor and memory options
For those who want to know what's under the hood.
Processor: Snapdragon 855
Display: 6.6-inch 1080 x 2340 pixels with Gorilla Glass 6
RAM (memory): 8GB
Battery 4,065mAh
Storage options: 256GB (external microSD support up to 256GB)
Stock images: Getty, unless otherwise stated.
Join the conversation

To share your thoughts or ask a question, visit the CHOICE Community forum.