Freeview FV review
Free-to-air TV - it costs nothing, but is it still worth it?
Freeview FV app
---
Live streaming and catchup TV – what more could you want for nothing?
If you're a millennial or Gen Y, you may be surprised to hear of a time when you not only couldn't watch what you wanted, when you wanted on whatever device you wanted – you could only watch it on channels 2, 7, 9, 10 and 28 (SBS). You also needed to be sitting on your couch in front of your giant 32-inch CRT TV at 7.30 on a Wednesday or you wouldn't be discussing the latest episode with friends the following day.
Fast forward to now and you can binge a TV series on your phone after finding out it's a 'must watch' on your way to work so you can sound like you've been a fan since the beginning.
Streaming or on-demand video has made a huge impact on how many of us consume our entertainment. Watching free-to-air (FTA) content remains a big part of the home entertainment mix for many of us, but delivering all the FTA shows online in one place (as you'd expect to see on your TV) has proved problematic, due to each network being determined to protect their content.
When you get all the FTA networks into a room and tell them they have to create an online app for catch up TV as well as live streaming, what you end up with is Freeview FV. It's impressive the networks are collaborating on a single app.
Choices within the Freeview FV app include watching live TV or accessing catchup TV but be warned, you will be flicking in and out of the app for catchup shows.
Setting up
Installation is a breeze:
Search for Freeview in Google Play install the app. (It's also been available on iOS for a while now.)
Once installed, you'll be prompted for your location to determine the channels you should be watching and a series of live screens will be presented, with the various shows you can watch now. That's it.
Most of the selections are available with a simple click on the play button, but you may get some choices displaying the message 'This show is currently unavailable'. Many of the live sporting options that are available on your TV in the lounge room aren't available through the Freeview FV app, due to licensing restrictions in place to ensure you need to pay for the streaming access (even though the same content is available if you turn on your TV).
The Watch Live tab is self explanatory, with thumbnails of the currently showing programs running down from SBS, through the various channels for 2, 7, 9 and 10. Some show as unavailable and some will flick you out of the app and into the channel's own catch-up app, even though it's live.
The Featured tab promotes upcoming shows with each of the five networks highlighting what is on offer. If you scroll across the Nine area you see shows from GEM, Life or Go!. Look in the 7 area and find shows available on 7TWO and 7Mate.
Support for Chromecast delivers catch-up TV functionality to older TVs without Freeview Plus (or HbbTV) support, making it a very good option if you are otherwise happy with your 'non Smart TV'. All you need is a Chromecast dongle, available from many local electronic retailers or online for $50 (HD version) or $90 (4K version). Once you have attached the Chromecast dongle to your TV's HDMI port, you can stream or cast the content showing on the Freeview FV app from your device to the TV.
As you browse around the app, most shows have an ability to be selected as a Favourite (shown as a heart) or you can set a Reminder to tune in before the show starts (shown as a clock). The reminder selection can be set to alert you from five minutes to three hours before the show starts.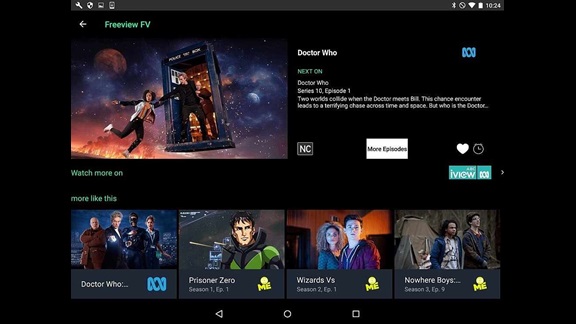 You can select the show you want to watch later in your favourite folder and set a reminder so you don't miss it.
The switching back and forth between playing directly from the Freeview FV app and playing from the separate catch-up app may put off some uses. But if you tend to watch more live TV rather than catch-up TV it won't be that big a deal. For example, it's a great option when you want to watch the news on your daily commute.
Even if you don't use an of the other features on offer with the Freeview FV app, you'll find the EPG (electronic program guide) to be the most accurate available, as they take a direct feed from the networks. You can see a week in advance on all the major FTA channels and select any of them to save in your favourites, or choose to be reminded when they will appear live.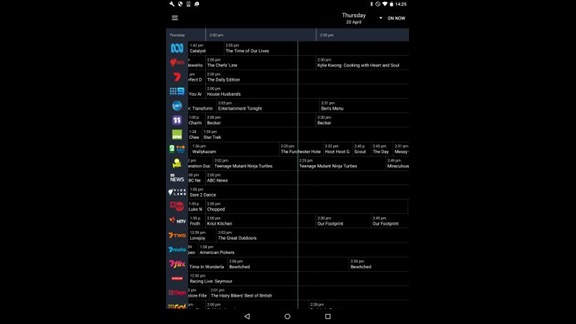 The Electronic Program Guide (EPG) delivers and easy to see rundown on the weeks TV viewing choices.
CHOICE verdict
The fact that Freeview FV doesn't cost you any money makes it easy to try out for yourself to see if it's right for your viewing habits. However, the biggest shame is that Freeview FV could be so much better if it wasn't so constrained by the commercial networks refusing to play nicely together and the irritating need to sign up for each channel.
The inability to play most sporting events or switching in and out of the station's own catch-up app to play some content may be a deal-breaker for some. But if you watch live TV and channel surf, you may still want to give Freeview FV a look.
Price: Free for Android and iOS devices
Contact: Freeview FV/
---
Latest Electronics and technology