Online shopping delivery and returns
Online shopping is convenient, but what happens when you need extra help? We see how online customer service stacks up.
Are you being served?
---
The appeal of being able to shop online 24/7 is undeniable, and more and more of us are turning to online stores for both large and small purchases – Australians spent $13.5 billion online in 2012–2013 alone, and experts predict this sector will only continue to grow.
But what about online customer service – does it even exist? This is what traditional bricks-and-mortar retailers tout as their strong selling point compared with online retailers. So we went shoe shopping to check out how some of the main players in the online arena compare when it comes to a happy and fruitful shopping experience.
Where we shopped
We chose to order shoes for this exercise. Unlike electronics or books, shoes are hard to assess without seeing them and especially trying them on. You're also likely to have a more involved interaction with the retailer, as you'll need a lot of information before buying; and there's a strong possibility you'll need to return them or exchange them for another size.
We selected eight large retailers that sell shoes as part of their offering, choosing a mix of online-only retailers as well as traditional bricks-and-mortar stores offering an online option, and a couple of UK players too. We bought shoes from:
Online shopping report card
We rated the retailers by delivery costs, delivery times, returns policies and customer service options.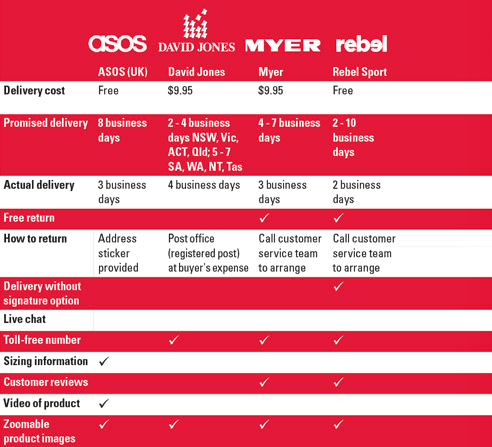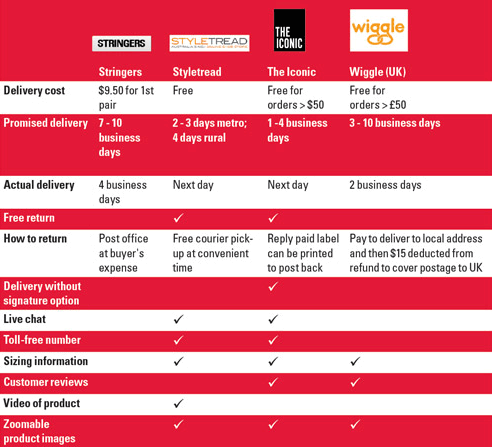 Ready, set, ship!
We placed all eight orders at the same time and recorded when the packages arrived in the office. Here are the results:

Does the shoe fit?
Our shopper chose her shoes using the information provided by each site, or where there was no information provided, using her own shoes as a guide. Of the shoes ordered, only the sports shoes and those from The Iconic fit properly. The others were too small or too big.
When it comes to buying shoes online, look for a retailer that offers free delivery and easy returns, and consider ordering a couple of sizes to try on if returns are free.
Happy returns
Styletread is the leader of the pack when it comes to returns, with simple instructions on how to return the item emailed with the invoice. Within minutes, our shopper printed a label and booked a free courier collection at a convenient time. The shoes were picked up within one business day and a refund was received promptly.
The Iconic has a complicated process that involves joining up as a member on the website, and following a series of instructions that eventually arrives at a page where you can print off a return label. The label allows the product to be sent back, reply paid, via any post box.
The order from ASOS came in a simple bag, with a peel-off sticker with a local return address. As there were no instructions, our shopper assumed this was postage paid, and put the sticker on and sent the shoes back via post box. It was only afterwards that she discovered the costs of returns aren't covered by ASOS – returning the item should have involved a trip to the post office. She managed to get a free return this time in error, but a correct return would have cost the customer about $10 or more, depending on the weight of the order.
The Rebel order, when placed in June 2013, didn't include any information at all about how to return the shoes. A visit to the website involved some investigation work and a lot of contradictory information. Eventually our shopper had to call and seek clarification, and a helpful customer service rep confirmed that the item could be posted back free of charge. The Rebel website has since been updated, providing much clearer instructions on how to return items and offering a number of options.
Myer was less than helpful about returning goods, with no explanatory material in the package or in the emailed information. Its website tells customers it does have a change-of-mind returns policy, directing them to contact the customer service team. After a phone call we were offered the option of returning the shoes to a store or posting them back. A few hours later, we were emailed the details as to where we could post the shoes back – free of charge.
Costly returns
Stringers, while not providing information in the package, has clear information on its website on how to return your shoes if you change your mind, and provides the address. This involved a trip to the post office and a cost of $13.35 to our shopper.
David Jones includes a returns form in its package, but makes it clear that if you want to return the item by post the consumer bears the cost of the post (and registered mail is suggested, which is pricier but allows the package's progress to be tracked). This cost our shopper $11.90.
Finally, Wiggle, which is based in the UK, has a local returns address – but posting the shoes cost our shopper $12.40, and then a further $15 was deducted from the refund to cover the cost of shipping the shoes back to the UK. The return instructions were quite confusing, which resulted in our shopper having to email the UK and wait a couple of days for a response with this information – so you'd want make sure that the shoes are going to fit before buying to avoid this hassle.
Geo-blocked shoes
We know that digital access to content such as movies, TV and music is costing Australians more, but you might be surprised to know it's also happening in the apparel industry.
Several of our readers contacted us during this investigation to inform us that they'd tried to buy sports shoes from overseas at a much lower price – only to be blocked by the site at the purchasing stage because they were buying from Australia.
We tried to buy ASICS trainers from UK-based sports supplier Wiggle, only to be blocked because we're in Australia. For this test, we bought a pair of ASICS Kayano Gel 19 trainers from Rebel Sport for $239, although the same pair was available on the Wiggle UK site for just $153.84.
Online shopping psychology
Consumers are in a different state of mind when they shop online, and smart online businesses need to consider this to be successful, according to Dr Paul Harrison, a consumer psychologist and senior lecturer at Deakin University. "Online it's about reducing risk; the more a retailer reduces risk, the more chance they have of making a sale."
A common perceived risk is being stuck with something you don't want or that isn't quite right (due to not being able to see, touch and/or try on the item), and then the extra hassle and cost involved with returning the goods and organising a refund.
So how can online retailers get around this? Tactics such as free returns, prepaid address stickers, or free couriers to avoid trips to the post office – along with easy access to information, customer reviews, images, and videos – help to reduce the grunt work for consumers before they take the risk and buy.
Dr Harrison says that the best business models allow consumers to order a range of items to try on at home before being able to post or courier them back with minimal cost and effort. "A good example of this are local eyewear retailers Frankie Dean and Sneaking Duck, which allow customers to order frames, try them on and easily return them, all without any charge," says Harrison. "While we are seeing some businesses like this and innovations overseas, in Australia there's still a long way to go."
However, as online shopping becomes more developed, consumers are becoming more comfortable with the procedure. "Online shopping has become a lot more common," adds Harrison. "The more people do it the more it becomes normalised."
---
Join the conversation

To share your thoughts or ask a question, visit the CHOICE Community forum.