Need to know
Our experts have tested Kogan dishwashers, coffee machines, air fryers, stick vacs, fans, steam mops and more
Some rated well in our tests, but others performed poorly
Kogan has received two CHOICE Shonky Awards: One for its terrible customer service and the other for its dodgy bladeless fans
Since starting in 2006, Kogan.com has become one of the country's biggest online retailers, selling thousands of products across hundreds of categories, including its own range of cheap house-brand items.
It hasn't been all smooth sales, though. Along the way, the company has been busted for bad behaviour, including questionable customer service, flouting Australian consumer laws and misleading price discounts (see the ACCC's successful case last year).
Kogan is a two-time winner of CHOICE's Shonky Awards and we continue to advise shoppers to be cautious when buying from the company.
But if Kogan's bargains are just too tempting to resist, you should know that our experts have tested many of their house-brand products. To help you avoid the bad buys, here are some of the appliances and products that failed to impress in our tests.
Shonkys 2021: Knock-off bladeless fans
These bladeless fans were awarded a Shonky for being the "worst fans ever".
Kogan SmarterHome™ Bladeless DC Motor Slim Smart Fan.
Kogan SmarterHome™ Bladeless DC Motor Slim Smart Fan
Price: $150*
CHOICE Expert Rating: 44%
Model name: KASBLSSLFANA
Our testers were less than blown away by the performance of this space-age-looking fan – it received the lowest score in our reviews of a wide range of pedestal and tower fans.
Our experts say the air flow was extremely poor and barely above ambient. Which is kind of awkward for a fan, really.
In fact, it's so terrible that it was inducted into our (infamous) Shonkys Hall of Shame, receiving a Shonky Award for its complete and utter inability to actually create a breeze.
And when you consider that many of the CHOICE Recommended fans cost less than $150, we don't see any reason why this would be a good buy.
It's so terrible that it received a Shonky Award for its inability to create a breeze
"It's the perfect example of a sham product because almost every feature either didn't work or was pointless, and the performance was the worst we've ever seen," says CHOICE expert tester Adrian Lini.
This shonky fan is sold through a number of retailers under different brand names, so no matter where you shop, watch out for this dud.
Find out more about why this bladeless fan won a Shonky Award.
Kogan EasyClean R10 Robot Vacuum.
Kogan EasyClean R10 Robot Vacuum
Price: $99
CHOICE Expert Rating: 30%
Model name: KACOMROBVCA
When it comes to cleaning, this budget bot just doesn't compute. Earning the lowest score in our lab tests by a long way, it rated poor for hard floors and corners, and very poor for carpets and pet hair.
This robo vac is very cheap compared with others, but a broom is probably a better bet
If that doesn't short your circuits, the vac also constantly hits objects and even gets stuck moving from hard floors to carpet and back. A low battery life and small dirt receptacle further lower its chances of actually cleaning the floor.
Yes, this robo vac is very cheap compared with others, but a broom is probably a better bet.
Read the full EasyClean R10 review.
Kogan SmarterHome G60 Robot Vacuum Cleaner.
Kogan SmarterHome G60 Robot Vacuum Cleaner with Mopping Function
Price: $229
CHOICE Expert Rating: 26%
Model name: KAVACRBG60A
This Kogan robot vac might be more than three times more expensive than the EasyClean R10, but it actually delivers worse performance. How is that even possible?
Our expert testers found that it's rubbish on hard floors, not much better at picking up pet hair and absolutely abysmal on carpet.
Its one saving grace is that even though it regularly bumps into objects, it manages to slow down before it hits them so it only makes light contact. Hardly a selling point.
Oh, and the app and manual instructions are unclear and labelled incorrectly.
It does have a reasonable battery life, but with performance this poor you'll probably be left wishing it would stop.
Read the full Kogan SmarterHome G60 review.
Kogan ThermoBlend Elite All-in-One Food Processor & Cooker.
Kogan ThermoBlend Elite All-in-One Food Processor & Cooker
Price: $350
CHOICE Expert Rating: 68%
Model name: KAPRETHBLNA
With some all-in-one brands such as Thermomix costing thousands of dollars, this Kogan cooker comes at a very attractive price. To its credit, our experts rated its cooking performance as very good, and it outscored some other models that cost upwards of a thousand dollars more.
Sadly, performance dropped off dramatically in our 'ease of use' tests, where it scored just 58%.
The lack of included recipes and basic guidelines make it difficult for all-in-one first timers to get started. And there were some notable build issues, such as the lid still locking despite being in an incorrect position, and a loose measuring cap and weight-scales cover.
Baked-on food on the jug's bottom was also difficult to clean, and strong foods left the jug smelling, requiring bicarb soda to get rid of odours. Read the full ThermoBlend Elite review.
Kogan KAGDWS15CTA dishwasher.
Kogan dishwasher
Price: $900
CHOICE Expert Rating: 67%
Model name: KAGDWS15CTA
To be fair, this basic Kogan dishwasher does a very decent job of washing dishes. It just leaves them sopping wet afterwards, with the lowest score for drying in our current test. Which seems to kind of defeat one of the purposes of having a dishwasher in the first place.
We test quite a few dishwashers that are at this price point or cheaper, and there are a few that perform better. When you add in Kogan's questionable history of dodgy customer service, we think it's safe to say that this one is best avoided.
Read the full Kogan dishwasher review
Kogan SmarterHome portable air conditioner.
Kogan SmarterHome portable air conditioners
Price: from $800 to $1000
CHOICE Expert Rating: 50%
Model names: KAWFPAC12YA, KAWFPAC16PYA, Kogan KAWFPAC16YA
Not one of these portable air conditioners impressed our experts. The only good thing they could find to say about one of the models is that it weighs less than 30kg.
The rest of it was bad news: they're very noisy, have high running costs and they're terrible at cooling. These three models were among the lowest-scoring portable air conditioners we tested.
In short, just don't waste your money. Instead, check our portable air conditioner reviews to find an air conditioner that will actually cool your house.
Kogan Full HD Slim Wireless Smart Doorbell.
Kogan Full HD Slim Wireless Smart Doorbell with Chime
Price: $129
CHOICE Expert Rating: 52%
The CHOICE Expert Rating says it all: this 'smart' doorbell isn't that smart at all. Our expert testers rated it as 'Borderline' (which is a polite way of saying it's rubbish), with its video quality being particularly ordinary.
This doorbell should be the butt of a bad knock-knock joke.
Read the full Kogan Slim Wireless Smart Doorbell review.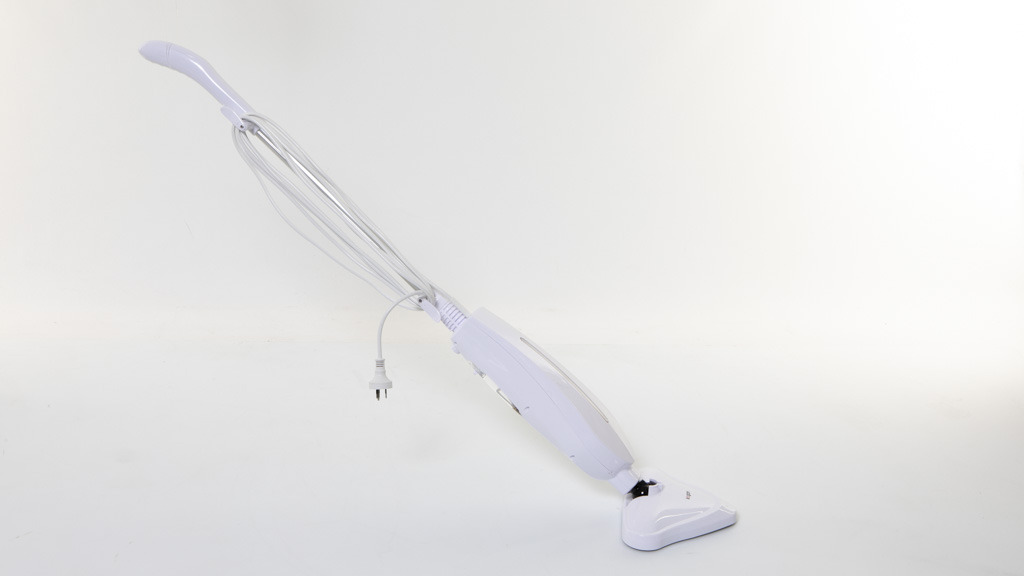 Kogan 13-in-1 KAMOP131STMA steam mop.
Kogan 13-in-1 steam mop
Price: $79
CHOICE Expert Rating: 65%
Model name: KAMOP131STMA
Steam mops were all the rage for a while, but don't count on this one. We've found a couple of Kogan steam mops that are fairly good, but this one scored the lowest in our testing.
Like many of our other bottom scorers, this one leaves quite a bit of residual water on your floor after mopping. It also received an average ease of use score (69%), which means it's probably difficult to manoeuvre and do things like filling the tank or attaching the mop pad.
Read the full Kogan steam mop review.
Kogan Food Dehydrator
Price: $110
CHOICE Expert Rating: 66%
Model name: KA06DHDTIMA
While this product's price may be tempting (it's the cheapest model we reviewed), it performed the worst in our test, taking a long time to deliver disappointing results.
In individual food tests, it earned a perfect score for dehydrating kale, but was only OK for semi-dried tomatoes, apple and fruit leather.
It's also hampered by basic controls and no rubber feet for stability (it moved when we pushed buttons), while the shelves can be fiddly to stack and hard to clean. Pass!
Read the full Kogan food dehydrator review.
Kogan 1000W Centrifugal Juicer.
Kogan 850W Centrifugal Juicer and 1000W Centrifugal Juicer
Price: $60 (850W) and $80 (1000W)
CHOICE Expert Rating: 68% and 69%
Model names: KAJCE85FSTA (850W) and KAJCE10FSTA (1000W)
By far the cheapest juicers in our review, these Kogan products didn't exactly perform terribly – but again, they weren't great.
Our experts rated them both as 'OK' overall, and on most of our tests they were only rated as OK. While our experts say they're both easy to assemble and disassemble and don't require much cutting of fruit and vegetables, their bad points far outweigh the good.
Read the full reviews:
*Retail price paid by CHOICE at time of purchase.
Join the conversation

To share your thoughts or ask a question, visit the CHOICE Community forum.