ShopMate and US freight-forwarding services
What are your postage options when US retailers won't ship your purchases to Australia?
Pass the parcel
---
Any Aussie who regularly shops online will know the frustration of picking out purchases on an American website, only to discover at the checkout that the company doesn't ship to Australia; not to mention the frustration of knowing that Australians can pay up to 60% more for clothing than US consumers and up to 200% more for cosmetics when we shop locally (also known as the Australia Tax).
Freight-forwarding services look like the answer to these problems. They allow consumers to 'shop without borders' by providing them with the necessary US address – often a warehouse in a state with no, or low, sales tax – which will receive their purchases and forward them to Australia for a fee. Freight-forwarding was a particularly great deal for Aussies back when we could bag overseas bargains on the favourable exchange rate, and it's still useful for buying items that aren't available here at all.
Australia Post launched its own freight-forwarding service, ShopMate, in November 2014. And while it's great to see Australia Post getting in on the freight-forwarding game, a number of CHOICE readers have told us they're not happy with ShopMate's service – so we decided to take a closer look.
Our investigation
How ShopMate freight forwarding works
Sign up for free by creating an Australia Post account.
Shop with US retailers using ShopMate's mailing address, located in the sales-tax-free state of Oregon.
Once your goods arrive at the ShopMate warehouse, you'll be notified by email of the shipping costs.
Log in to your account, declare your package and pay.
Track your delivery through your Australia Post account.
Receive your goods within five to eight business days of your shipping costs being paid.
Customer service criticism
The Postal Industry Ombudsman's office received 83 complaints about ShopMate in 2014–15 (out of a total 5600 complaints about Australia Post and private postal operators). Many of the complaints were during the peak Christmas period, not long after ShopMate launched, and most were in relation to delays and call centre wait times. Other gripes were about shipping charges, package dimension calculations and size limits.
An Australia Post spokesperson told CHOICE: "We acknowledge that there have been some delays in responding to customer queries, particularly during the launch period of the service late last year, and have actively worked to put additional measures in place to reduce waiting periods."
While most freight-forwarding services use couriers like FedEx, UPS or DHL, ShopMate operates through the US and Australian postal services, so it's not all that surprising that there have been some complaints about slow service and missing packages. Couriers generally offer faster and more secure delivery than traditional mail.
Packing problems
No package consolidation service
When CHOICE reader Louise from South Australia ordered 2.9kg of clothing from US retailer Banana Republic, she calculated the freight forwarding to cost $52.65 based on ShopMate's charges of $22.95 per parcel plus an additional $4.95 per 500g – but her actual bill came to over $120.
"It turns out that the retailer sent my order in four separate packages even though it was ordered and paid in one transaction. As a result each package attracted the $22.95 charge and each package was charged a minimum of 500g. One package contained one pair of socks, valued at $US4. In the end I paid the extortionate postage for most of my items. The socks missed out. I won't be using ShopMate again."
We asked Australia Post about Louise's situation and they told us they don't currently offer a package consolidation service, although they are working on it. For now, they offer a bundling discount of $10 per parcel for goods that arrive and are paid for on the same day. Unfortunately, that didn't apply for Louise.
All of the other freight-forwarding companies we looked at for this article can consolidate packages either for free or for a fee, which is likely to reduce the overall shipping bill.
Cubic weight vs actual weight
When calculating shipping charges, ShopMate measures the cubic weight (also known as volumetric or dimensional weight) and the actual weight of your parcel, and charges for whichever measurement is greater. This is standard practice for most postal and courier services.
To measure a parcel's weight in cubic centimetres, ShopMate uses the formula Height x length x width ÷ 6000.
For example, a pair of lightweight running shoes might weigh only half a kilo – but if they come in a standard shoe box measuring 35 x 25 x 12cm, their cubic weight will be 1.75kg. Odd-shaped packages can cause even bigger price shocks.
Wasted space
Cassie used ShopMate to forward a parcel weighing a little over 4kg. "Much to my shock when the parcel arrived at their warehouse in the US I got an email saying that my postage would be $150 for a cubic weight of 10kg! ... If it is in a branded box (which everything would be!) their policy is not to repack it."
In response to Cassie's situation, Australia Post told us, "We will not repack the item if there is a risk of the package being compromised by doing so."
ShopMate can repack a parcel to reduce its cubic weight, for a $5 fee, but this is done at their discretion and only if there's a saving of more than two kilograms. They won't repack items that are in branded packaging (which rules out many retail goods) or items in protective packaging like Styrofoam.
Some of the other freight-forwarding services we looked at have similar restrictions on removing protective packaging, but most have no problems removing branded packaging.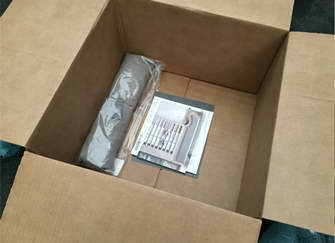 A US retailer mailed this tiny tablecloth in an unnecessarily large box.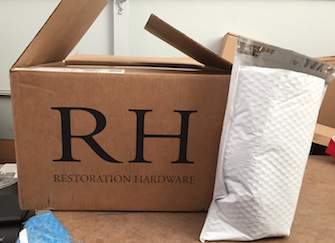 The freight-forwarder repacked it in an envelope to reduce its cubic weight before shipping to Australia.
Photos: US to Oz
What if the store won't accept an Australian credit card?
Not only do some US retail websites refuse to post to non-US addresses, some will refuse payment from non-US credit cards too. For a fee, some freight-forwarding services can make a purchase on your behalf. This service goes by a variety of names, such as Assisted Purchase (Shipito), BuyForMe (ComGateway and HopShopGo) and Shop For Me (MatesFreight), among others. US to Oz can bid on US eBay or buy US iTunes gift cards for you.
Some companies, like MatesFreight, ComGateway and HopShopGo, allow you to search for products and brands via their site, so you know you're already shopping with participating retailers.
Freight-forwarders compared
There are dozens of companies all over the world offering similar services to ShopMate. We looked at some of the main players shipping from the US to Australia:
Features
ShopMate
ComGateway
Shipito
MyUS
USA2Me
US to Oz
Matesfreight (see update below)
Cost to ship 2kg package to Australia

8

$42.75 via US and Australian postal services
$US36 ($49.91) standard delivery (6-8 business days) or $US43.20 ($59.88) express delivery (3-5 business days).
$US43.19 ($59.88) with TNT express (insurance included)
$84.18 (Premium Membership) to $101 (Basic Membership)
$US2.81 ($3.90) to $US64.21 ($89.09) depending on membership level, via FedEx International Economy (delivery time: 2-5 business days)
$US54.64 ($75.78) via USPS airmail trackable Priority Service, plus optional $US3.85 ($5.34) insurance
$US52.35 ($72.65) via DHL (insurance included)
How shipping is calculated

7

$22.95 per package, plus $4.95 per 500g (plus optional insurance of $2.50 per $100 of your parcel's value)
$US24 (Standard) or $US28.80 (Express) for the first 0.5kg, then $US4 (Standard) for every additional 0.5kg (insurance: 1% of item's cost)
(Non-members) $1 per package plus your choice of shipping
Varies depending on membership level
Varies depending on membership level
4.5% of the value of your goods plus shipping, with a minimum fee of $12 and a maximum fee of $350 (plus optional insurance)
$US12 per package, plus shipping (for goods valued $0-500) or 5% of value plus shipping (for goods valued over $500)
Warehouse location/sales tax*

6

Oregon / 0%
Oregon / 0%
Oregon / 0%, California / 7.5%, Nevada / 6.85%, Austria (EU)
Florida / 6%
Texas / 6.25%
Colorado / 2.9%
Oregon / 0%
Membership

5

Free
Free
Limited service for non-members
Members only (three levels of membership)
Members only (four levels of membership)
Free
Free
Package consolidation

4

No
Up to 3 packages for free; additional packages $1 (up to 15 packages)
Members only
Free for members
Free for members
Free
Free
Repacking

3

For a fee
For a fee
Members only
Free for members
Flat fee of $5 or for 50% of shipping savings
Free
Free
Shopper service**

2

No
Yes
Yes
Yes
Yes
Yes
Yes
Other features

1




Ships primarily via DHL Express and FedEx Express
Online time and cost calculator and live quote service
BuyForMe service - can purchase on your behalf (online)
Sister company HopShopGo offers the same prices and services, but operates exclusively through PayPal payments

Non-members can only have one package at a time handled by Shipito's warehouses
Use of the Austrian and Oregon warehouses, and services such as package consolidation are only available to 'Virtual Mailbox' members ($US4.17 a month)
Will send you a photograph of your item (for free) and will open and inspect the contents of your package if asked (for a fee)
Online shipping cost calculator
Assisted Purchase service - online and actual stores

A large company with 300,000+ members in 220 countries and territories
Ships via USPS, UPS, FedEx and DHL
Personal shopper service
Online shipping cost calculator

Ships via USPS, UPS, FedEx and DHL
Online shipping cost calculator
Online dimensional (volumetric/cubic) weight calculator
Personal shopper service

Australian owned and operated - all payments in Aussie dollars to an Australian bank account
Charges for actual weight, not cubic weight (so a good choice for shipping lightweight but bulky items)
Ships mostly via USPS, but can arrange FedEx, DHL or sea freight
No online shipping calculator – price quotes via email or website form
Can make US purchases and bid on US eBay on your behalf

Australian owned and operated
Has a dangerous goods license for shipping products containing lithium batteries like computers and cordless power tools, even chainsaws
No size or weight restrictions
Payment by PayPal only (3% fee)
Ships mostly via USPS, but can arrange UPS, FedEx or sea freight
Free photo of your item when it arrives in the warehouse
No online shipping calculator; 'Request a quote' service
Shop For Me service and in-store pick-up service (talk to a personal shopper in real-time as they make your purchase)
Prices and details as at September 2015. All dollar amounts are in Australian dollars unless otherwise specified.
Table notes: * Sales tax applies to goods purchased in US and is payable to retailer, not freight-forwarding service. ** Buy from retailers that don't accept Australian credit cards.
Matefreight update: In July 2016 a CHOICE reader informed us that Matesfreight had failed to deliver his packages and had not responded to emails. Comments from customers on Matesfreight's Facebook page tell a similar story. We contacted Matesfreight to find out what was going on, but we didn't receive a reply.
"Amazon sent my order in two parcels, and since ShopMate don't consolidate and the parcels arrived several days apart I had to pay for two shipments to Australia. Was still just worth it. Also was surprisingly hard to use a parcel locker address with ShopMate." – Andrew
"I have used Shipito in the past. I really liked their consolidation service as joining small packages or combining purchases into one larger box really brought down the costs of shipping. Their response was always prompt. I wouldn't use it for companies that already offer shipping to Australia, but for those who don't it was a great service." – Cassie
"MyUS are a terrible company. Their customer service is terrible, and of course they overcharge with hidden costs. I've found USA2Me much better for a smaller company. Cheaper rates, customer service by email but you get intelligent helpful responses by English speakers." – Sean
"We used HopShopGo back in the glory days of US online shopping when the dollar was high and things were so much cheaper. The shipping was pretty expensive, but was worth it for what we were saving. With the dollar how it is now, I can't imagine that it would be as worth it. Haven't used them in a long while." – Kate
"I use HopShopGo's BuyForMe service. I've bought lots of makeup, clothes and shoes, as well as some homewares. I find the best use is during the Black Friday and now Cyber Monday sales that the US have, as savings are great and the discounts offset the shipping costs." – Larissa
"US to Oz is my go-to forwarder. I can't fault the service. I particularly appreciate the free repacking service provided to cut down on shipping costs. I also love that it is Australian owned. A fantastic service." – Joanna
Tips for using freight-forwarding services
Don't base your provider choice on shipping price alone – service can be just as important.
How will your package be shipped? Couriers are generally faster and more secure, and they're not always more expensive than airmail.
Is this a one-off purchase or are you a regular international shopper? Some companies offer lower rates to members, and some are members-only.
Have you calculated the cubic weight of your parcel? You could save on shipping if you choose a service that can repack and remove excess packaging.
Buying multiple items? Look for a service that can consolidate your items into one package. And if your items are likely to arrive on different days, check whether you'll be charged storage fees for keeping them at the warehouse.
Buying something bulky? Check size and weight limits. Some companies offer sea freight for very bulky items.
Buying something dangerous? Check the fine print. Some companies may not be able to ship liquids, chemicals, weapons, tools, items with lithium batteries and other items classed as 'dangerous goods'.
Tips for buying online
---