5 things you need to be a MasterChef in the kitchen
From food processors to pressure cookers, these products will help you blitz the competition in the kitchen
Turn up the heat
---
Whether you want to be Australia's next MasterChef or just throw together a meal that the kids won't reject, having the right products in your kitchen can be a game-changer.
With these products in your arsenal, you'll be able to take on any Elimination Challenge or fussy eater.
1. Kitchen mixer
If you want to create a dessert so delicious it'll make Matt Preston drool all over his cravat, you'd better get your hands on a quality kitchen mixer.
They're not just for mixing cakes or whipping up pavs, though: with the right attachments, you can transform them into mincers, pasta makers, blenders and citrus presses. And of course they can take all the hard work out of kneading bread and pizza dough.
While KitchenAids are the mixer de rigeur, you might find that they're not the winning brand for you. Several other brands outperformed KitchenAid in our stand mixer reviews.
Not sure what features you need? Our kitchen mixer buying guide answers all your questions.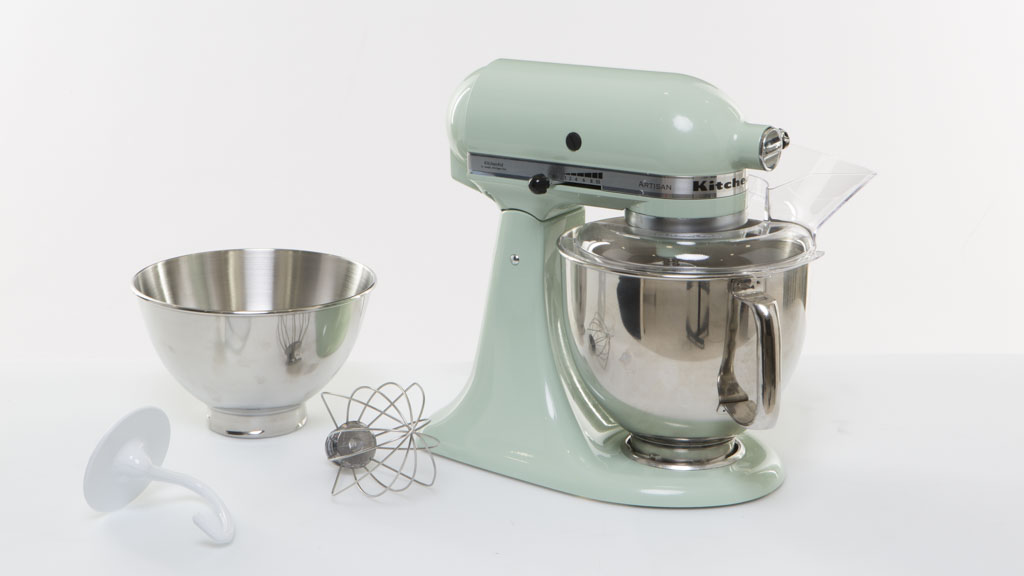 KitchenAid is a popular mixer brand, but is it the best?
2. Food processor
It chops, it slices, it dices - is there anything a food processor can't do? It's the ultimate kitchen workhorse: it can make short work of time-consuming cooking tasks so you can turn out a restaurant-quality meal in no time.
Avid MasterChefs cooking for large groups will probably want a larger food processor with all the bells and whistles. Some things to look for:
Storage for all the attachments
A suitable-sized food processor bowl
Pulse function, for making things such as shortcrust pastry
Reversible blade (one side grates, the other slices)
Double feed chute (for better control when slicing or shredding)
Rubber feet to limit movement when it's sitting on the bench
Beater and whisk disc attachments, for added versatility
Integrated scales, so you can easily weigh ingredients
But if bench space is at a premium, you could opt for a mini-processor that'll comfortably take care of curry pastes, chopped nuts, breadcrumbs, mayonnaise and pesto. They're usually up to 1L in capacity.
Find out which food processors we recommend in our food processor reviews.
3. Stick blender
When you're up against the clock, every second counts. For MasterChef contestants emulsifying a jus or blitzing a zingy salsa verde, busting out a bulky food processor eats up precious cooking and plating time. This is where stick blenders come into their own: they're easier, lighter and faster to use than a regular blender or food processor.
They'll also save you on washing up: not only are they faster to clean than regular blenders, you can puree, whip or emulsify ingredients in whichever vessel you're cooking in, so you won't create extra dirty dishes.
Look out for stick blenders with:
A comfortable, non-slip grip that's easy to hold
Sealed controls so food doesn't get into the crevices
Attachments for whipping and beating
A pulse function for blitzing small quantities of dry foods
A tall, narrow jug or beaker for pureeing soups and smoothies
Want to be a whiz in the kitchen? Check out our stick blender reviews.
4. Pressure cooker
If you want slow-cooked taste in fast-food time, a pressure cooker is a no-brainer. Cooking lamb shanks? That'll take you seven hours in a slow cooker, 2.5 hours on a stovetop, but only 45 minutes in a pressure cooker – just what you need to win the Pressure Test!
Or if you're looking for a change of pace, many multi-cookers have both slow-cook and pressure-cook functions. If you're not sure, take a look at the pros and cons of multi-cookers here and multi-cooker reviews here.
A slow cooker can take 7 or 8 hours to turn out this meal, while a pressure cooker can take 45 minutes.
If you're exploring multi-cooker options, look out for:
Sufficient capacity
Steam release valve
Different pressure settings
Pre-programmed cooking times
Easy-to-use controls
Easy-to-clean design
Timer
Automatic settings
Steaming and warming feature
5. Pantry staples
The perfect meal starts with great basics (just ask the judges), so make sure you have the best olive oil, butter, salt and stock on hand to really make your dish stand out.
In our butter taste test, a cheap supermarket brand outperformed several high-end, artisan brands. Find out which butter is better.
If you're going to fork out extra for extra virgin olive oil, you'll want to make sure you're actually getting what you're paying for. We tested 23 olive oils to see which ones met 'extra virgin' standards. See our olive oil reviews to find out which ones are the good oils.
Any chef worth their salt knows how important seasoning is. You might be tempted to splash out on some fancy specialty salt to really make your dish sing, but is it worth it? We looked at the truth behind the marketing to find out is gourmet salt better?
---