The high cost of cosmetics in Australia
Why do Australians pay so much more for cosmetics compared to consumers overseas?
Pretty pricey
---
Are you looking to buy some perfume as a gift? Or perhaps a new lipstick? Unless you've wandered through a Sephora in the US gaping at the bargains, you may be surprised to learn that consumers overseas are paying up to 50% less for exactly the same product we buy here in Australia.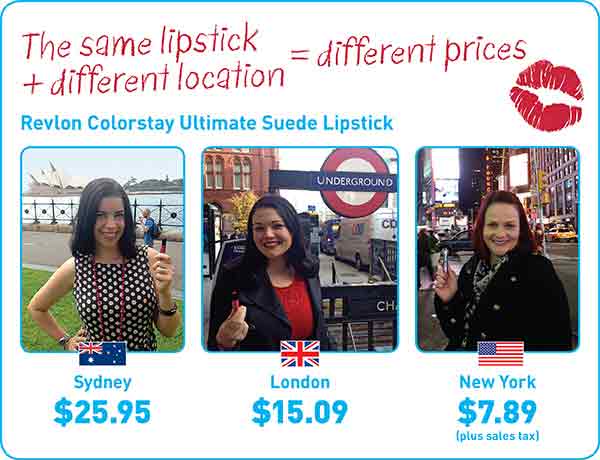 And cosmetics price discrimination isn't just affecting Aussie women. When we priced the popular Giorgio Acqua Di Gio Essenza men's cologne (75mL), this is what we found.
Cosmetic cash cows
Jane McKellar has worked in the cosmetics and personal care industry internationally and locally for almost 20 years. The former General Manager of Elizabeth Arden Australia says that "manufacturers have traditionally seen Australia as a cash cow, particularly in the cosmetics space where there are strong margins".
However, thanks to the emergence of online shopping, more Australian consumers are all too aware of the difference in what they're paying compared with shoppers overseas. Anyone with an internet connection can quickly run a price comparison on the cost of an identical product overseas, and many Australians don't like what they see.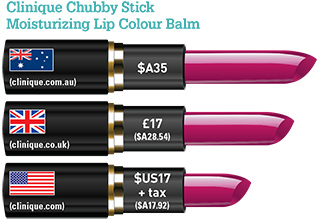 Comments from our members range from "Revlon foundation $38 in Target but $US11 in Walmart, go figure!" to "Benefit Brow Zings $30USD. I'm embarrassed to admit I paid $50 in Myer."
McKellar says she's not surprised. "Until recently, consumers had relied on bricks-and-mortar stores to do their research for them. Now they're more educated about product and price at the click of a button."
But while many consumers are unhappy with the price hike, others defend it, citing our higher wages compared to the US (for example) as a reason for the difference.
Kate Morris, founder and owner of Australian online beauty retailer Adore Beauty, says there are real costs associated with shipping and clearing customs. However, she argues the margins are still higher than they need to be. "Because of [higher costs] we may never see prices drop to match overseas completely, but the difference in cost here shouldn't be 50% either."
A war on beauty
UK cult cosmetics brand Illamasqua recently ran a campaign calling for consumers to sign a petition to change the unfair pricing structures by what they described as the "global giants of cosmetics who force Australian customers to pay up to 61% more than UK prices".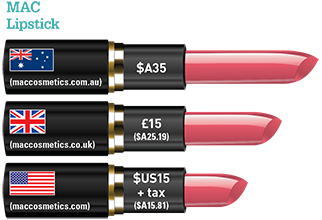 The petition went on to state that in the short time it had been retailing in Australia, it quickly became aware of Australian consumers' "frustration over the inflated pricing of cosmetics compared to the rest of the world". The brand then pledged to "slash" its own prices.
There was a catch, however. Those who signed the petition had to agree to continue to buy Illamasqua products and provide their details, a move criticised by us at the time as an exercise in data mining for customer details.
We contacted Illamasqua for an update on the campaign, but at the time of publication hadn't received a reply. However, a quick check of prices found that the local offerings have been brought into line with prices in the UK.
Parallel imports
Another outlet for Australian shoppers looking to save is the heavily discounted online-only retailers who primarily deal in parallel import (also called grey market) personal care and cosmetics. These products may be close to expiry date, left over from a discontinued line or be part of excess inventory that the manufacturer is looking to move quickly.
"Australians are prime candidates for the grey market because of local costs," says McKellar. "While there is some grey market activity in the UK and US, it's nowhere near as prevalent."
Popular online retailer Strawberrynet.com stocks discounted goods, offers free shipping with no minimum spend, and carries a wide range of well-known international brands. McKellar says Australians are one of biggest users of the Hong Kong-based site.
Despite the advantages of parallel imports, it's important to note that that some stock can be close to expiry date, and due to the nature of the grey market you may be quite limited in terms of choice. McKellar says online retailers such as Strawberrynet are for a very particular consumer: "They know exactly what they want, they aren't looking for advice, and they just want the product with no bells and whistles".
What can you do?
While it's easy to vent dissatisfaction towards Australian retailers, the experts we spoke to are quick to point out those local retailers face similar constraints regarding price. Costs are determined by the manufacturers, and for overseas brands prices are set by head office – often varying depending on the country.
Shopping online is one alternative, but this can also be difficult given high shipping costs and an increase in geo-blocking, where consumers are blocked from having their product shipped to Australia if they buy from an overseas site.
McKellar says the best way Australian shoppers can make their dissatisfaction heard to take it directly to the companies themselves. "With social media it's easy to do this. Ask them directly: 'Why are the prices so different?'"
Buying Australian
Morris suggests Aussie consumers look locally if they want to avoid unfair pricing. "Local sites can stock some great Australian brands at a variety of price points. If you want to know you're paying a reasonable price that's the same as everyone else I'd strongly suggest looking at those brands instead. You'll also be supporting local business."
---
Join the conversation

To share your thoughts or ask a question, visit the CHOICE Community forum.