Animal testing labelling of cosmetics
Your favourite cosmetic brands could be tested on animals, even though they claim otherwise.
Cruelty-free cosmetics? Not so much.
---
The shelves of pharmacies, supermarkets and department stores are heaving with cosmetics, deodorants, shampoos and soaps. The choice is seemingly endless, so in an attempt to differentiate their products from the competition, companies may proclaim that their products aren't tested on animals, or that they're cruelty free. But all is not as it seems.
In March 2012, American woman Marina Beltran filed a class action lawsuit against the Avon cosmetics company. The charge? Beltran alleged that Avon had been participating in deceptive and misleading conduct by falsely promoting its products as "cruelty free" and not tested on animals "when in fact the defendant was testing its cosmetic products on animals so that it could sell its products in China".
So what's going on?
China's stance on cosmetics testing
China's increasing wealth has seen a rise in consumers with disposable income, and a sizeable chunk of that money is being spent on cosmetics. Additionally, recent economic downturns and consumer belt-tightening in the west, coupled with reduced tariffs and taxes associated with selling cosmetics in China, have proven a tempting combination for cosmetic and personal-care brands.
"All cosmetic products sold in China must be registered with the authorities," explains Dr Alain Khaiat, president of the Cosmetic, Toiletry and Fragrance Association of Singapore, vice president of Scientific Affairs of the ASEAN Cosmetic Association and CEO of SEERS Consulting, a consultancy for manufacturers of personal care products. "In order to become registered, companies are required to submit a dossier to the relevant government authority, along with product samples for the authority to test. The authorities then do a number of tests, including for pH [levels] and viscosity. They also do some skin and eye irritation tests. And at the moment, these tests are done on animals."
Changes to China's animal-testing laws
Starting June 2014, China is phasing out its requirement that new, domestically manufactured, "ordinary" cosmetics and personal care products be tested on animals. Foreign-manufactured cosmetics (unless they are packaged in bulk in China) will still have to be animal tested, as will "special-use cosmetics" such as hair dyes, antiperspirant deodorants, sunscreens and skin-whitening products.
And regardless of the pre-market testing requirements, Chinese authorities still carry out post-market testing of all products on Chinese shelves, so any product sold in China (and any company that sells its products in the Chinese market) is tainted by animal testing.
Why do cosmetics need to be safety tested?
Products that have the potential to cause harm to humans, including personal-care products, cosmetics and medication, must undergo testing to ensure they're safe to use. Regulations requiring safety testing are important – without them, there's no way of making sure products on the market aren't going to cause serious harm (and even with safety testing, problems can occur). "You don't want to buy a product that's meant to enhance your beauty, and instead get a skin abrasion or a disease," says Khaiat. "Cosmetics must be safe for their intended foreseeable use."
And the intended use isn't always the same as the foreseeable one, as Khaiat points out. Shampoos, for example, aren't meant for use in the eyes, but the chance of accidental eye exposure is high. So shampoos are tested to ensure they're safe for ocular contact.
Although there are many methods for testing ingredients for safety, including in-vitro (test tube) tests on skin cells and donated corneas, these are relatively new scientific advances. For decades, the proverbial "guinea pigs" were, in fact, guinea pigs – as well as rats, mice and rabbits.
For decades, the proverbial "guinea pigs" were, in fact, guinea pigs – as well as rats, mice and rabbits.
Draize tests
The methods currently used to test products in China are, according to Khaiat, variations of the 'Draize eye test', which involves applying the test substance to a rabbit's eye and evaluating the damage caused. Irritation is assessed from tears, redness or swelling. The Draize skin irritation test involves shaving a patch on a rabbit's back and applying the ingredient to be tested. The skin is then checked for irritation for up to three days.
Is animal testing of cosmetics useful?
Questions have been raised about the reliability of animal testing. "I did a study in the late 1980s comparing the data I had on animals to the data I had on humans, and found there was a less than 50% correlation," says Khaiat. "I switched to in-vitro methods [involving human cells in test tubes] and found an 85% correlation between in vitro and human results. Animal testing is not reliable, and it is not humane to treat animals this way."
Although alternative methods have been developed for most animal tests, including for the Draize tests, there are still a small number of tests with no alternative. However, this isn't necessarily a barrier. In justifying its total ban on animal testing, the EU issued statements saying companies should either use alternative ingredients that have already undergone all necessary safety tests, or develop new methods of testing.
Manufacturers' conflicting claims
Many consumers are strongly opposed to animal testing and CHOICE believes information should be available so those who want to choose products that aren't tested on animals can do so.
Unfortunately, our market survey found consumers' ability to make informed decisions is being jeopardised by confusing claims, such as "against animal testing".
Companies selling cosmetics in China knowingly provide samples for animal testing, and open their products up to being tested on animals in post-market testing too. In defending its position, Avon claims its "commitment is to remain in the countries affected and work to bring about change, such as the acceptance of non-animal testing methods. Abandoning a market does not help bring about a solution."
L'Occitane also talks up its fight against animal testing, but then admits: "The company's products are sold globally and, along with many other global businesses, China is an essential market for its development. L'Occitane respects the right of each country to set their own laws and regulations; it actively seeks to influence the debate on abolishing tests on animals throughout the world and anticipates an end to animal testing in China."
On Bobbi Brown's website list of FAQs (frequently asked questions), the very first question is "does your company test on animals?" The answer? A firm "no". "Bobbi Brown is committed to the elimination of animal testing." Except that this is followed by: "We do not conduct animal testing on our products or ingredients, nor ask others to test on our behalf, except when required by law."
Some cosmetic companies, such as Lush and Paul Mitchell, have chosen not to sell their products in China. They recognise that selling in prosperous markets that require animal testing is inconsistent with their stance against animal testing.
Complicating matters is the growing appetite of cosmetic behemoths L'Oréal and Estée Lauder. L'Oréal is the parent company of Lancôme, Giorgio Armani Beauty, Biotherm, Kiehl's, Shu Uemura, Urban Decay, Garnier, Maybelline, Kerastase, Redken, Vichy, The Body Shop and many others. Meanwhile, Estée Lauder is the parent company of Clinique, MAC, Bobbi Brown, La Mer, Smashbox, Aveda, Prescriptives, Origins and others.
What cosmetic counter staff said
CHOICE sent a shadow shopper, Amy (not her real name), to Myer and David Jones stores in Sydney in early 2013. Amy approached the cosmetics counters of brands including Clinique, Clarins, Bobbi Brown, Benefit, Lancôme, SK II, Shiseido, Chanel, Dior, and M.A.C, all of which were in the Chinese market at the time.
Amy asked sales assistants whether their products were tested on animals. If the response was no, she asked them about whether the product had to be tested on animals in China.
The sales assistant at the Clinique counter was aware of the Chinese legislation, and although she wasn't spot-on about the application of the law, proactively warned our shadow shopper about it.
In contrast, when our shopper asked the sales assistants at the Clarins counter about the animal testing legislation in China, she was told it didn't exist. "Internationally it's illegal to test on animals, because animal rights is so big now," she was told. "Other countries really don't have a right to say that [animal testing is compulsory]". Wrong on all counts.
At Benefit and Bobbi Brown, our shopper was told the products weren't tested on animals, but upon probing further was referred to the head office for more information. SK II, Lancôme, Chanel, Dior and M.A.C sales assistants all claimed their products weren't tested on animals, but were unsure about the existence of the Chinese legislation.
What companies said on their websites
CHOICE also looked at the websites of 55 brands of cosmetics in early 2013, from specialty products to supermarket cheapies. Of these, 22 made claims either on their own websites or on those of their parent company about their products not being tested on animals, but only a minority were certified. Estée Lauder, the parent company of several of the brands now sold in China including Bobbi Brown and Smashbox, states on its website: "Our longstanding commitment to end animal testing has not changed: we do not test our products or ingredients on animals, nor do we ask others to test on our behalf, except where required by law."
According to Giorgio Armani's website,"Giorgio Armani does not use animals to test its products, and does not have animal testing conducted on its behalf by anyone else." The brand is in the Chinese market and is on PETA's list of companies that do test on animals.
Cosmetics packaging and animal testing
A CHOICE shopper also went to supermarkets, department stores and chemists and purchased 32 products with labels making claims about animal testing. The claims on the products varied, from the seemingly unequivocal "products and ingredients not tested on animals", "never tested on animals", and "cruelty-free vegan", to the slightly more ambiguous "not tested on animals" and "cruelty-free", and the potentially questionable "against animal testing", "finished product not tested on animals" and "tested on us".
Of the 32 products, nine carried a logo that signified certification by a third party. When we checked to confirm the origins of the logos and the credentials of the companies using them, we found mixed results.
DermaVeen, Invisible Zinc and Natural Instinct products all carried a logo that was not from a third-party certifier, although featured similar imagery. We could not confirm the origins of the Grace Cole Co and Olivella logos. An additional product made by Australian company Original Source carried a logo that did not appear to be official.
Only the Nature's Organics, Trishave and Innoxa products were certified by a third party, Choose Cruelty Free, as not tested on animals.
What to look for
Third-party certification
There are several independent third parties that certify products as having not been tested on animals, including Choose Cruelty Free, the Leaping Bunny, and PETA. All three organisations compile lists of companies that sign statutory declarations promising they do not test, nor do they allow others to test on their behalf, any products or ingredients on animals. These bodies do not certify companies that sell their products in markets like China, where animal testing is required.
However, it is important to note that in some cases, even companies that stay away from the Chinese market may be penalised by the certifiers on the basis of their parent company's stance on animal testing.
Not all logos are created equal; just because they've put a bunny on it, doesn't make it cruelty-free. Look for an official logo from one of the third party certifiers.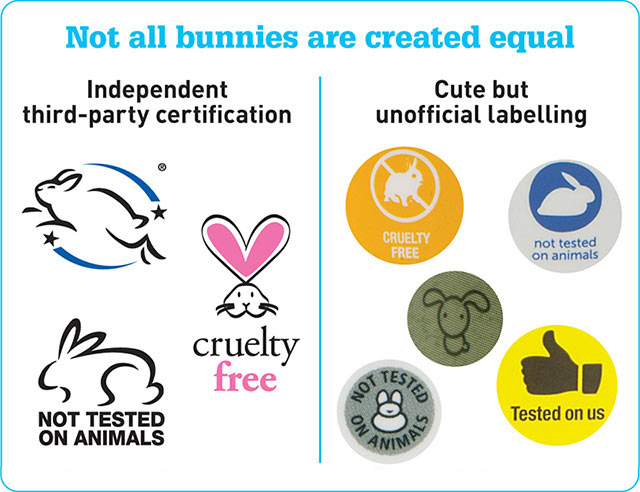 ---
Join the conversation

To share your thoughts or ask a question, visit the CHOICE Community forum.