Aldi pulls sale of flushable wipes after ACCC expresses concerns
Competition watchdog has ongoing court cases with flushable wipes manufacturers.
---
Aldi has preemptively pulled the sale of its special buy flushable wipes after the Australian Competition and Consumer Commission (ACCC) stepped in expressing concerns.
The decision to stop the sale of Green Action's flushable bathroom cleaning wipes comes after loyal shoppers scolded Aldi for selling a product known to block pipes and waterways.
The supermarket giant was supposed to sell the $4.99 product at its stores today as part of its Special Buy promotion, however shoppers lining up were told the product was no longer being offered.
"We are working with the ACCC regarding their concern with the flushable claim on our Green Action Flushable Bathroom Wipes, planned for sale as a Special Buy on 19th July 2017," an Aldi spokesperson tells CHOICE.
"While our discussions with the ACCC continue, we have decided not to sell this product. We apologise for any inconvenience caused to our customers."
The competition watchdog approached Aldi earlier this week, expressing concerns over the term 'flushable'. Such a term, the ACCC says, "may mislead consumers if the claim cannot be substantiated".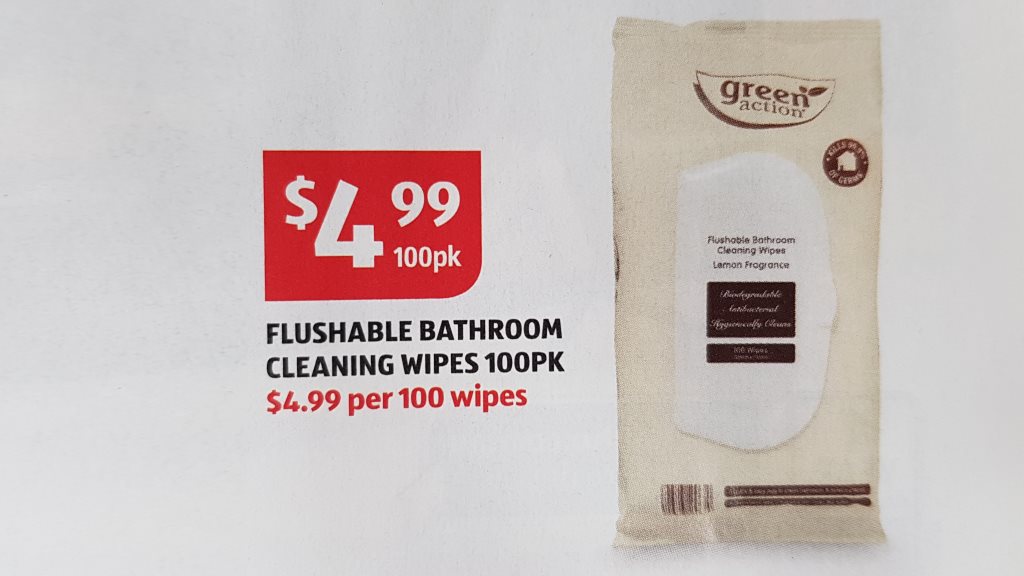 Aldi's Green Action Flushable Bathroom Cleaning Wipes have been pulled from sale following concerns from the ACCC.
The decision to pull the wipes from sale was commended by the ACCC.
"We welcome ALDI's swift action in addressing our concerns," says chair Rod Sims.
"The ACCC is also speaking with other industry players regarding similar products sold in Australia which make a 'flushable' claim," he tells CHOICE.
Loyal Aldi shoppers took to Facebook to lecture the supermarket chain about offering the contentious product.
One person wrote: "You have advertised flushable cleaning wipes this coming Wednesday but this is wrong. They must not be flushed. It is misleading advertising. Sydney Water are constantly trying to stop the sale of flushable wipes and now you are making things worse!"
Another wrote: "Aldi- I love you most of the time but really. Green Action (ahem) 'Flushable' wipes on sale next week?! When will everyone realise that these things ARE NOT FLUSHABLE!!! Please don't help in harming the environment and our waste systems. get with the program!!"
The ACCC is currently prosecuting two manufacturers of flushable wipes in cases underway in Federal Court. The action against Kimberly-Clark and Pental concerns the representations made by the manufacturers regarding the wipes being 'flushable' and breaking down.
---
Join the conversation

To share your thoughts or ask a question, visit the CHOICE Community forum.