The ACCC's investigation into Aldi's 'flushable' wipes concludes
No further action needed, in this case.
---
The competition watchdog has concluded its nearly four month investigation into Aldi's promotion and sale of 'flushable' wipes, a product currently at the centre of two ongoing court cases.
Wet wipes marketed as 'flushable' cause $15 million in blockage cleaning bills a year for Australia's water providers because they don't break down like toilet paper. The Australian Competition and Consumer Commission (ACCC) is currently battling two manufacturers of such wipes in Federal court for claiming they can be flushed.
Supermarket chain Aldi was at risk of facing court action after it advertised the sale of 'Green Action's flushable bathroom cleaning wipes' as a $4.99 Special Buy in the middle of July.
The claim sparked outrage online and on 19 July CHOICE revealed the supermarket chain decided to preemptively stop its sale after the ACCC expressed "concerns".
Earlier today the watchdog announced it has closed its investigation, concluding no further action will be taken against Aldi, after it removed the contentious phrase 'flushable' and added a warning.
"We're pleased that ALDI has added a 'do not flush' message for consumers," says Rod Sims, chair of the ACCC, "making it clear that the bathroom cleaning wipes it is still selling should be disposed of in a rubbish bin instead of a toilet."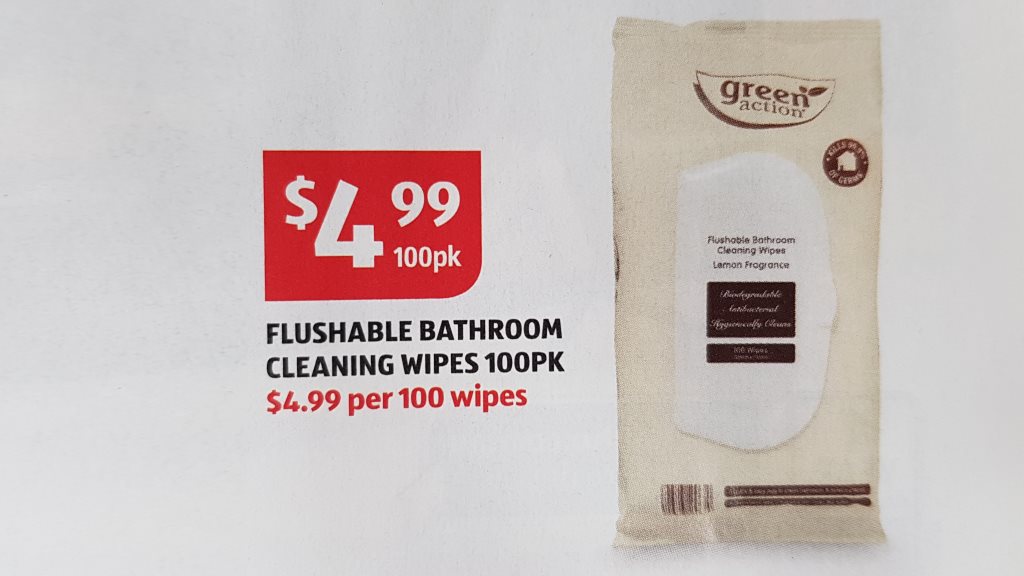 Aldi's Green Action Flushable Bathroom Cleaning Wipes have been pulled from sale following concerns from the ACCC.
---
Join the conversation

To share your thoughts or ask a question, visit the CHOICE Community forum.