Solar for renters and unit dwellers
Solar farms are offering renters, unit dwellers and low-income households access to the solar boom.
Are you locked out of solar?
---
Renters, apartment dwellers and low-income earners are generally not among the 1.76 million households in Australia reaping the rewards of offsetting their power bills with solar PV (photovoltaic) systems.
But community energy projects are now filling this gap, giving people previously 'locked out' of solar the opportunity to buy into solar farms on the roofs of companies or organisations.
We profile several community energy projects in Australia that people are already investing in, and show you how to find a community energy project near you.
The rise of community energy projects
There are more than 70 community energy (CE) projects running across Australia and more than 90 groups developing projects. Some projects are "behind the meter", meaning there's a host site that directly uses the electricity generated by the solar. Others sell their electricity to an electricity retailer with a power purchase agreement, or into the National Electricity Market.
According to Community Power Agency, a company that supports community groups in navigating the complex process of setting up a community-owned renewable energy project, there are not enough projects to satisfy the demand.
"Wherever we see a community energy group putting up an offer for investors to buy into a local energy project, there's a huge amount of interest," says CPAgency director Tom Nockolds. "They get sold out very quickly."
ClearSky Solar Investments
ClearSky Solar Investments sets up multiple CE projects all around Australia, each with its own trust. People invest in that particular trust or project, not in ClearSky Solar Investments.
The non-profit company run by volunteers has been highly successful in its mission to boost renewable energy generation. Spokesperson Warren Yates says, "We've got 23 projects up and running with $2.8 million invested and a total of 2MW (2000kW) of solar PV installed."
According to Yates the projects appeal to mum and dad investors, particularly those with self-managed super funds. "We want to reach the people who recognise that renewable energy is a very smart investment."
ClearSky Solar Investments has more investors than projects with more than 1200 people registered and waiting for a project to express an interest in.
Their latest project is a 100kW system on the roof of a leisure complex in Adelaide. The minimum investment is $5000, with a 10-year term and an estimated internal rate of return (IRR) of 7.4%. IRR is not a simple annual rate of return but is a metric used in capital budgeting which measures the profitability of potential investments. Generally speaking, the higher a project's internal rate of return, the more desirable it is to undertake the project.
Yates says they had to do a ballot because it was significantly oversubscribed.
ClearSky raises the capital through investors to pay for the solar installation. A separate solar company installs and maintains it, and has a power purchase agreement with the host business.
The benefits for the host business are that it gets cheaper electricity at a locked in price, and at the end of the 10 years of the contract, they get to keep the solar installation for free (which goes on generating power for about the next 15 years).
Investors are rewarded over the course of 10 years, receiving quarterly payments derived from the revenue from the sale of the electricity. Yates says this typically amounts to how much they put in, plus half as much again.
Pingala – Young Henry's Brewery
Pingala is a community solar cooperative. Investors co-invest in Pingala and its multiple projects for a profit. Its first completed project was installing solar on the roof of Young Henry's brewery in Newtown, Sydney.
The brewery 'leases' the solar system protecting it against rising electricity prices, and accessing more affordable solar power. There are no upfront costs or maintenance costs for the brewery during the life of the lease, and at the end it owns the solar system outright.
According to Nockolds, investors in Pingala shares will get ongoing dividends of five percent each year for their money.
Pingala's reason for existing is fairness in the energy system, says Nockolds. "It was very important to us that we had a low threshold for being able to invest. Unlike other projects it cost just $250 to invest in Pingala."
"We had over 250 people turning up on the day and it took just nine minutes to sell all the shares."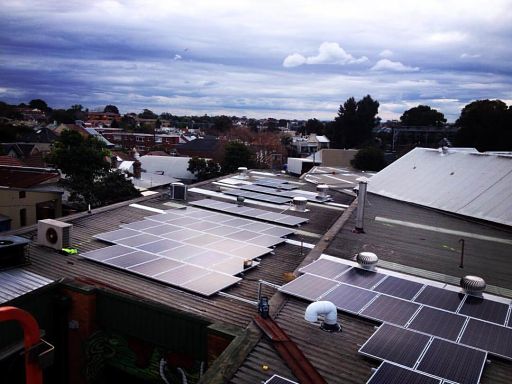 ABOVE: The community-owned solar farm on top of Young Henry's brewery in Newtown, Sydney.
Goulburn Community Solar Farm
Not yet installed, the ambitious 5500 solar panel, 1.2 megawatt Goulburn Community Solar Farm is likely to be the biggest of its kind in the country, according to Ed Suttle, president of community group Community Energy for Goulburn which is driving the project.
To be built in 2018 on leased rural land, it will have the capacity to power about 400 homes. Local people and businesses from the area will be invited to invest, with a likely minimum investment of $400 (the equivalent of one solar panel).
The renewable energy generated will either be sold to a large end user (a big business, council or university) or it will be sold to an energy retailer that will on sell it to members of the Goulburn community.
"We really want the community to own it, and the profits to remain within the community," Suttle says.
"We have a database of 800 people, most of whom have expressed strong interest in investing and/or buying the power. We won't build it unless we can be pretty certain of returning an annual dividend of around five percent. We anticipate the life of the farm being about 25 years."
Nauiyu ditches diesel during the day
Until recently, the opportunity to choose clean, renewable energy has not been available to remote communities in the Northern Territory.
Two hundred and thirty kilometres south of Darwin is the picturesque Daly River and its isolated Nauiyu community, with a population of about 300. Once dependent upon diesel that was trucked into the area for electricity generation, the community now enjoys the rewards of low emissions and totally quiet, locally generated solar power during the day.
A new solar and battery system consisting of a 2MWh battery charged by 3200 solar panels will generate 1MW of solar energy per year. It is expected to save up to 400,000 litres of diesel fuel annually and it will power half of the town's needs, providing Nauiyu with valuable energy independence and security.
It's one of the first projects in the Solar Energy Transformation Program (SETuP), which is jointly funded by the Australian Renewable Energy Agency (ARENA) and the Northern Territory government.
While not a community-funded model, the local community is invested in the project in many ways – through the training and employment of IronBark Aboriginal Corporation participants, the participation of the local Malak Malak Aboriginal Rangers, and contracting of local Aboriginal-owned businesses for site preparation.
In a National Indigenous Television (NITV) report on the project, local elder Miriam-Rose Ungunmerr explained that solar presents a new way for people to care for the land: "We've always been people that look after nature and now it's amazing having solar. It's in that mindset of ours in a traditional sense."
A further 9MW of solar capacity will be installed through SETuP across another 27 remote Northern Territory communities.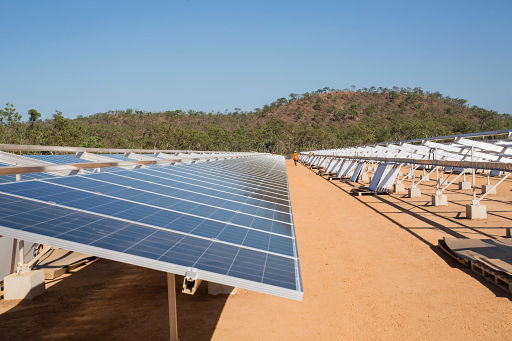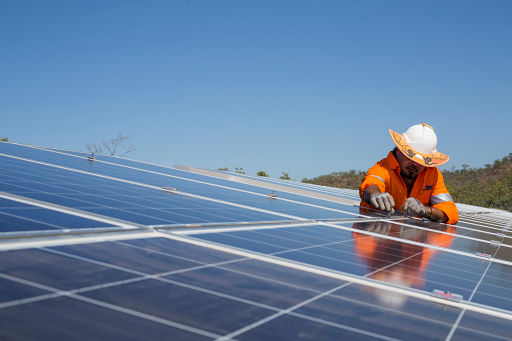 ABOVE: The Nauiyu community solar and battery system, Northern Territory. Credit: Power and Water. Photographer: George Fragopoulos.
What is a solar garden?
Not yet developed in Australia but flourishing in the US, solar community gardens allow people to buy or lease panels in a solar array and receive a credit on their electricity bill for whatever power their panels produce.
"Solar gardens are one of the best, but not the only, ways of enabling locked out users to access the benefits of solar," says Nockolds. "I believe solar gardens tick the equity box in a big way."
However, because the electricity generated by a solar garden is not utilised 'behind the meter' by one large end user, it must be distributed through the electricity grid's poles and wires. This adds a cost and, as such, is not as cheap as power generated on your own rooftop.
CPAgency recommends a rule change to the pricing of electricity and/or the creation of rebates or credits to incentivise consumers and overcome this cost barrier.
A trial funded by ARENA to test the viability of solar gardens and Local Energy Trading is underway in collaboration with Moira and Swan Hill councils in Victoria. This trial will look at the viability of solar gardens in the current market context and under the proposed Local Generation Network Credit Rule Change.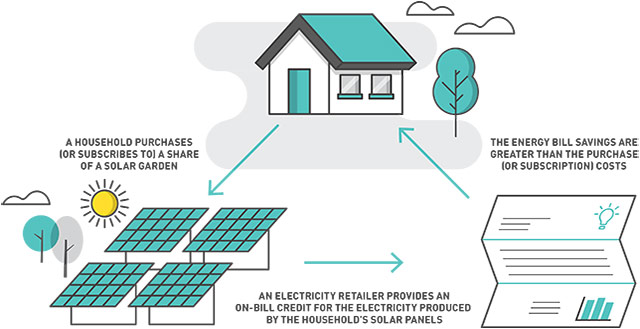 ABOVE: An example of how a community solar garden can work (with thanks to the Community Power Agency and UTS).
Click here for an accessible text-only version of this graphic
.
How to find a community energy project near you
Benefits of community energy projects
Financial benefits stay in the local community.
More renewable energy is produced with lower emissions and environmental impacts.
End users can access cheaper, low-emissions solar or wind power.
Social capital increased through engaged, networked and activated communities with the power to choose the energy they invest in.
Skills development in the community and jobs.
Reduced transmission losses.
---