Living with the Tesla Powerwall: the first Australian case study
The solar system could pay itself off much quicker than expected
---
Almost 90% saved on electricity bills by the first Tesla Powerwall owner

Annual bills dropped by $2000, projecting a pay-off time within a decade
Surging electricity prices will lead to battery installs increasing by more than 50%
Nick Pfitzner and his family live in a four-bedroom home in Kellyville Ridge, NSW. It's a large place with a study, an internal laundry, a pool and an outdoor entertainment area.
Powering the home with electricity in 2015 cost him $2289, but he's since invested in a solar power system that has significantly cut costs.
Nick, a self-confessed Tesla fanboy, was the first person in Australia to buy the company's Powerwall. He bought a 7kW battery, a 5kWp solar array, a SolarEdge inverter and a Reposit monitoring system for $16,790 in January 2016.
After a full year of living with the solar system, Nick's annual electricity bill dropped by $2006 to $283 – a saving of 88%.
His electricity bill for 2017 – where prices went up by about 16% in NSW – was higher at $323, but it still represented a drop of 86% when compared to his bills before installing the solar system.
The savings exceeded projections, as well as Nick's own expectations.
"Before I crunched the numbers I was looking at what would be my return on investment. If it saved me 80% of my power bill, [I thought] it would be pretty good," he says.
Nick estimates the solar panels are doing most of the heavy lifting, but says the solar battery accounts for about 25% of his savings.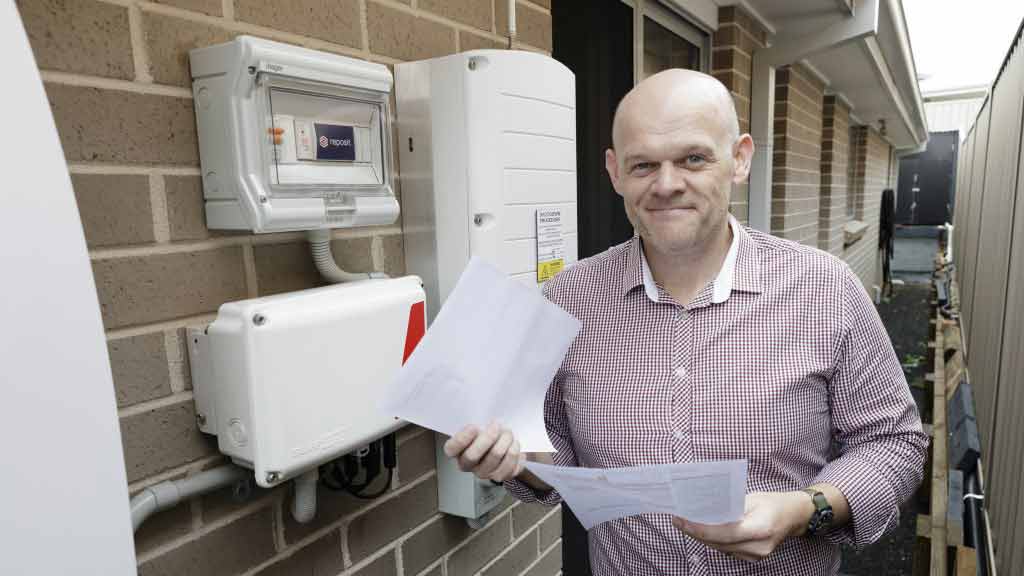 Nick Pftitzner standing alongside his home solar system.
Buying the solar system has helped Nick understand his electricity usage and identify how his household could be less wasteful. In 2015 his home used about 22kWh of electricity each day. That dropped to 17kWh each day once the system was installed.
Home batteries are an emerging technology. They gained a lot of attention when electric carmaker Tesla entered the market.
Original projections
estimated a payback time of more than a decade, anywhere from 14 to 18 years.
At this rate, Nick's solar system will pay itself off within ten years. This is partly because his set-up can sell the electricity his battery stores back to the grid.
"The system will power whatever the house needs first as a priority, then it will fill the battery as a second priority and then anything over it'll export," he tells CHOICE.
"The aim is to try and export about three times of what I import because my electricity cost is about three times [as much]."
He sold enough energy back to the grid one quarter that he received a credit of $50.
The rising cost of electricity has seen his system sell electricity at 12 cents per kilowatt-hour, up from 8 cents the year before.
Then there are the dividends paid by his Reposit monitoring system, an $800 extra that pushes the price up to $1 per kilowatt-hour when demand on the electrical grid is high. During hot weather, for instance.
"There's a peak event on the network and [electricity companies] ask batteries to start dispatching power, so it's kind of like a little power station if you like."
The Reposit add-on is one reason why Nick could end up paying his system off much earlier than projected. Another has to do with the capacity of his solar array, which at 5kW is larger than the 4kW arrays used for modelling.
Then there's the price he paid – $15,990 without the Reposit add-on – which was cheaper than the systems using the smaller 4kW array.
Prices for solar batteries dived a couple of years ago, but the nascent technology is now maturing, and it's doing so in a market that's growing volatile.
What to consider
About 500 homes and small businesses had solar batteries fitted in 2015, but in just two years that number jumped to 20,500.
And the number of installs are expected to rise in 2018 to 33,000 – an increase of 60%.
The ongoing growth is owed to bill prices and battery discounts, says Warwick Johnston, the founder of SunWiz, the first consultancy firm to audit the home battery market in Australia.
"People are responding to high electricity prices. They want a bill reduction and energy independence.
"But they need to be mindful that the economics of today will be different to the economics of tomorrow. Electricity prices are high, as are feed-in tariffs, but they will eventually reduce in the near future," Johnston says.
He recommends solar batteries that support over-the-air software updates, because these models can take advantage of fluctuating time-of-day pricing; a feature that'll result in the largest savings possible on electricity bills.
Tesla, the company stealing headlines for bringing electric cars to the masses and rocketing one into space, is widely credited for drawing attention to the solar battery market. The launch of the original Powerwall sparked such intense competition that battery pricing dropped by 40% in 2016.
But the biggest discounts have already passed, and Johnston doesn't expect them to drop any further. Instead, they'll idle as the capacities go up.
The second-generation Tesla Powerwall, for instance, offers 13.5kWh of battery storage at a retail price of $8600, though another $1000 has to be spent on what the company describes as 'supporting hardware'.
It's far from the only battery available on the market, with approximately 20 brands offering more than 90 different models, the most popular being Tesla, LG Chem and Sonnen.
As for paying a solar system off within ten years, that'll come down to each individual case, he says.
"When you're buying a new solar array alongside your battery system, then you can get a ten year payback. If you have above average electricity consumption, you can do it.
"But if you want to retrofit a battery to an existing array, then you're unlikely to get a ten year payback on just the battery alone."
Related
---