How do smart meters work and can they save you money?
Learn what smart meters can and can't do for you.
Meet your new meter
---
Smart meters digitally measure your electricity usage and send that data directly to the service provider
The data could help you find ways to save energy and money, and size up a new solar system – if it's in a usable format
Under new federal legislation, smart meters are now the default installation for all new homes, or where an electricity meter needs replacing for NSW, ACT, SA, Tas and Qld.
The mandatory roll-out in Victoria sparked a wave of negative feedback with plenty of learnings for government along the way.
Learn what a smart meter can and can't do, and how it could be used to your advantage – if you access the data in a usable format.
What is a smart meter?
A smart meter is a digital electricity meter that measures electricity flowing in and out of your home at 30-minute intervals. It communicates your home's energy use to the meter service provider, usually on a daily basis.
Once a smart meter is installed, there's no need for a meter reader to visit the property.
In contrast, the older-style electricity meters with a dial face measure only passive accumulation and can only display the amount of electricity used between the three-monthly manual readings.
Digital interval meters can also record electricity consumption in 30-minute intervals, but unlike smart meters they aren't able to communicate that data to the provider. Interval meters do allow time-of-use pricing, but they still need to be read or have the information downloaded.
Smart meters are standard in Victoria due to a mandatory rollout but are less common in other states.
However, since December 2017, federal regulations require that all new meter installations or replacements are smart meters.
Why should I get a smart meter?
A smart meter:
reveals more detailed energy consumption and solar PV export data (compared to old accumulation meters), which could help you find ways to be more energy efficient
lets you connect or disconnect remotely, avoiding delays when moving or swapping electricity retailers
allows better monitoring of the quality of electricity supply, including outages
could let third parties help customers analyse the data to find cheaper electricity plans
offers the customer a wider range of payment and pricing options, such as flexible or time-of-use pricing
reveals usage data to assist when designing suitable solar and battery systems
may allow customers to trade their energy in the future.
Can a smart meter help me choose the right size solar or battery system?
Smart meter data provides critical household usage patterns that are helpful when sizing up a new solar PV system for your home, according to Dean Lombard, senior energy analyst with the Alternative Technology Association.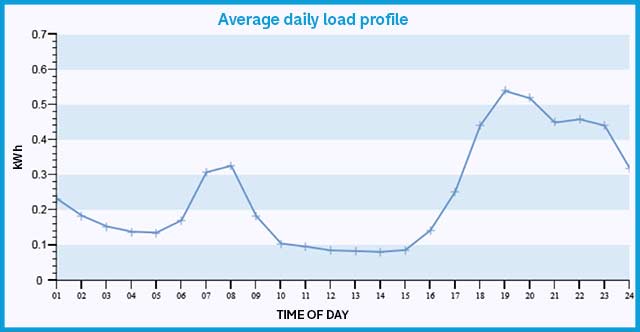 ABOVE: A graph of a household's daily load profile provided by Ausgrid to the energy consumer.
But if you're looking to expand a system or add batteries, on its own it doesn't show the full picture of generation and consumption, only net import and export measured at the meter.
Lombard says, "When ATA does analysis, we have our own models of solar generation that we use in conjunction with usage data.
"If there is an existing solar PV system and they are looking at an upgrade, we use our solar generation model in conjunction with their meter data to get a good approximation of their usage and their generation. Some inverters record total generation data so that also helps."
Nigel Morris from Solar Analytics says, "Access to usable data is a big issue for customers with smart meters.
"Thirty percent of homes now have solar and some – but not all – of these have smart meters. But almost none of these meters will show you how much solar PV electricity you've generated or consumed in gross terms."
This means solar owners can't see how much the solar consumed on the premises has saved them or the potential of a battery in the system, or even what their real energy consumption is.
"Smart meters only measure and share net energy flows which is completely useless and deceptive for design purposes," says Morris.
"The interval of data is typically 30 minutes, so it doesn't show the granular picture of energy flows that are required [to determine optimal battery design]."
How do I get a smart meter?
Policies and the availability of smart meters vary across states and energy retailers, but since December 2017 they're the default for any new meter installations or replacements nationwide.
A smart meter will be installed when:
you take up a new energy contract with a retailer and the smart meter is part of it
your meter is faulty and needs replacing
your home is new and has a new connection point
you'd like a smart meter and request one from a retailer (though delays are possible)
there's a smart meter deployment in your area.
What if I don't want one?
If your retailer is offering you a smart meter as part of a deployment in your area, but your existing meter is still functioning properly, you can opt out of getting one.
But if your existing meter is faulty or has reached the end of its life, you must replace it with a smart meter.
As long as you haven't waived your right to opt out when signing up to a new energy contract, your retailer must give you two written notices of your ability to opt out. Your retailer is required to inform you about how you can opt out and by what date before the deployment.
How do I access information about my electricity usage?
Very few customers access their smart meter consumption data. In fact, an industry insider told us that only around one percent of all customers in Victoria do so.
This could be because, while smart meters do generate more detailed data on electricity supply and export, the meter itself doesn't display this information for the household.
Instead, customers can only access this information through a third party – their electricity retailer or distributor – or by investing in an in-home display.
In Victoria there are incentives available under the Energy Saver Incentive scheme to support the installation of in-home displays.
According to the Victorian Energy Saver site site, worldwide trials have found in-home displays helped consumers reduce their energy consumption from between 5 and 15%.
These devices show in real time:
how much electricity you're using
how much your electricity is costing per hour.
Some retailers let customers view their energy consumption data via their online account or through an app (e.g. Powershop, Origin, AGL).
Others (e.g. Momentum, Dodo) require you to make a special request for that information and will send it later via email.
Will a smart meter help me find a cheaper electricity deal?
Depending on how it's presented, the data can be useful to show consumption and average daily usage patterns. However, on its own it's limited in its capacity to help you pick the best electricity offer on the market for you.
In Victoria, a 2015 report by the Auditor General into the benefits to consumers of the 2006 smart meter rollout showed that just 0.27 percent of customers had subscribed to flexible retail offers associated with smart meters and it found few benefits to consumers.
Energy economist Bruce Mountain explains how difficult it is to pick the right retail offer: "It's not just a case of being able to analyse smart meter data and allocate your consumption history across the time period over some reliable period, such as a year. It is also knowing the rates of all competing flexible or flat (or multi flat) tariffs on offer in the market.
"This is a tremendously complex and data intensive calculation."
In Victoria, smart meter data can be uploaded to the government's Victorian Energy Compare service, which will combine it with information about your household and current electricity market offers to suggest an optimal electricity retail plan.
Unfortunately, the site doesn't allow you to compare offers with the current rates you're paying, and solar owners are disadvantaged as it doesn't include solar export or feed-in prices in the comparison.
For other states, the federal government's Energy Made Easy comparison site doesn't let you input smart meter data.
Mountain advises customers not to swap tariff structures from, say, flat to flexible pricing if you can't know for sure you're getting a better deal.
A flexible tariff doesn't automatically mean a better deal, and in some instances customers will be charged more on a flexible tariff plan.
How much will a smart meter cost?
It can be hard to find out how you'll be charged for a smart meter, but most likely it won't be free, even if there's no upfront charge. The costs will be incorporated into your bill in some form and it may not be itemised as a specific charge.
One metering company, Metropolis, told CHOICE that it charges electricity retailers approximately $90 per year for the servicing and maintenance of smart meters. (In contrast, the old accumulation meters cost the customer $29.48 per year.)
There are no regulations for what prices contractors or retailers can pass on to the consumer when they have a smart meter installed.
As such, retailers will take different approaches to recouping the costs of installing and maintaining the meters. For example, it may be a monthly charge or it may be built into the cost of electricity.
Tip: Be sure to ask the retailer about any upfront and ongoing associated costs of the new meter, and where this will be detailed on your bill. The retailer is required to disclose any associated costs before they install the meter.
When we asked for this information, however, some retailers weren't happy to share many details and others stressed that their current pricing may change.
For instance, AGL told us this information was 'commercial in confidence'.
Simply Energy said: "Customers who request installation of a solar meter or a new connection will be provided with a quote based on their location and the works required.
"Once approved by the customer, the charge will be applied to the customer's account and they will see this as a separate line item on their invoice.
"Any additional charges will be incorporated into annual price reviews applied across the business's customer base."
A spokesperson for Energy Australia told us there was no upfront cost to customers when an old meter is replaced with a smart meter, except where there are site difficulties.
As for ongoing costs, the spokesperson said Energy Australia hadn't yet reviewed their prices but, "as a guide we'd expect smart meters to add no more than $20 to customers' annual bills in 2018/19.
"A specific charge won't be recorded on a customer's bill. As was previously the case, the ongoing cost of smart meters is included in the price."
A spokesperson for Origin told us that, at the time of writing, Origin didn't charge a fee for installation, and did not apply a meter provider charge.
Powershop told us the cost of servicing a smart meter is built into supply charges for customers.
How can a smart meter save me money?
There's a pattern to how we consume energy. High energy use times are weekday mornings, afternoons and evenings. Unsurprisingly, low energy use times are overnight when we're all sleeping.
If a large number of electricity customers shift their energy use to off-peak times, there's less need for expensive upgrades as the current network infrastructure can be used more efficiently.
Beyond regular or flat-rate pricing tariffs, retailers offer flexible pricing plans or time-of-use tariffs to customers with interval and smart meters to incentivise customers to use cheaper, off-peak energy.
A typical flexible pricing plan operates across three time periods – peak, off-peak and the shoulder. It could look like this, but they vary widely in both pricing and times.
Peak 2pm–8pm weekdays (not public holidays)
Shoulder 7am–2pm, 8pm–10pm weekdays; 7am–10pm weekends and public holidays
Off-peak 10pm–7am every day

ABOVE: An example of a weekday flexible pricing structure.

ABOVE: An example of a weekend flexible pricing strucure.
ABOVE: An example of a flat pricing structure.
Peak prices are more expensive than a flat rate, while the off-peak rate should be lower. The shoulder period may be just slightly lower than a flat rate.
Flexible pricing won't suit everyone. It will be most beneficial for households that use a lot of energy in the cheaper off-peak periods.
Flexible pricing isn't necessarily cheaper for customers either – this will all depend upon the prices, times and your usage patterns.
Tip: If you're on a flexible tariff, check when it switches from peak to off-peak in the evenings. It could be 10pm or it could move to a shoulder period after 8pm. Run your dishwasher and any other appliances when it kicks into off-peak.
Tip: When upgrading your appliances look for a time-delay capacity. You can then set them to turn on when off-peak pricing kicks in, even if you're asleep. Or if you have solar, when the sun is shining.
The most suitable appliances to shift to off-peak times are those which guzzle energy and don't need to be used on demand throughout the day. These include:
Related articles
---
Join the conversation

To share your thoughts or ask a question, visit the CHOICE Community forum.