Christmas kitchen gift guide: KitchenAids to NutriBullets
The best luxury and bargain buys for Christmas 2018.
Splurge or save
---
Sometimes the big-name kitchen gadgets (with corresponding big price tags) don't live up to the hype.
If you shop smart, you can snare a bargain with a product from a perfectly respectable brand that does everything the flash product does at half the price – or even less.
But if you want to spend the big bucks, it pays to choose wisely.
We've trawled our test data to bring you the top-performing products from both ends of the price spectrum to make gift-giving easier this Christmas.
Splurge or save on:
Coffee machines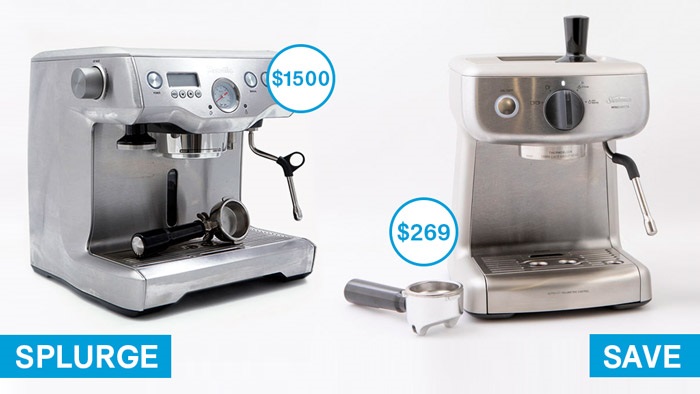 Splurge: Breville the Dual Boiler semi-automatic espresso machine $1500
Save: Sunbeam Mini Barista semi-automatic espresso machine $269
With only one percentage point difference in their scores, you can't go wrong with either of these models – it just depends how much cash you have to splash on a coffee machine this Christmas.
Both received excellent scores in our home espresso coffee machine reviews and both have many of the same features.
While the Sunbeam model heats up faster, the Breville can steam milk and make coffee at the same time thanks to its double boiler design.
Stand mixers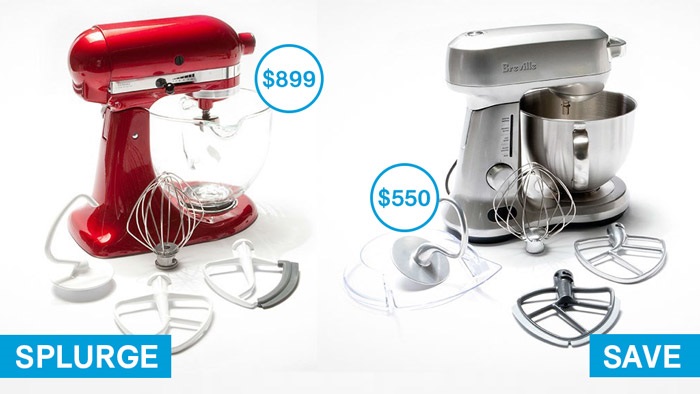 Splurge: KitchenAid Platinum stand mixer $899
Save: Breville the Scraper Mixer Pro stand mixer $550
Okay, okay – you got us. $550 is by no means cheap. But if you're going to buy a machine that whips, beats, kneads and mixes, you're going to have to drop a bit of cash.
The iconic KitchenAid is a home cook's dream. But if $900 for a bit of benchtop bling seems too steep, the Breville Scraper Mixer Pro does all the same things for a much lower price – and it scored slightly higher than the KitchenAid in our kitchen mixer reviews.
Juicers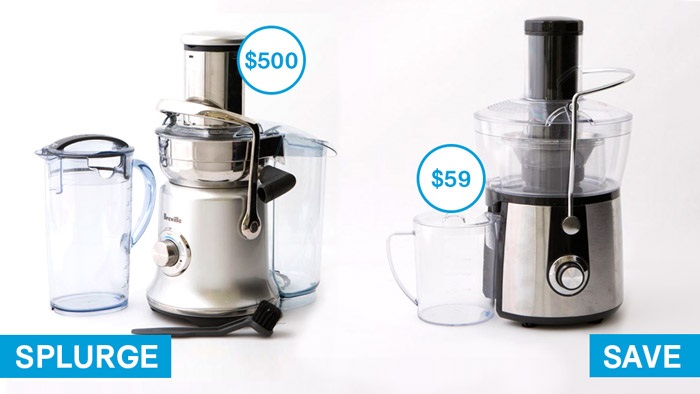 Splurge: Breville the Juice Fountain Cold XL juicer $500
Save: Home & Co Juicer Large $59
Same score – big price difference. A juicer can be a great gift to help your loved one get started on a new year health kick. But you don't need to spend a fortune: the $59 Home & Co juicer performed just as well as the $500 Breville Juice Fountain juicer in our juicer reviews.
However, Breville juicers scored well in our CHOICE reliability survey while Home & Co wasn't mentioned – so you might find that it's worth your while spending a bit extra. But given how short-lived health kicks can be, reliability might not be a priority for you!
Personal blenders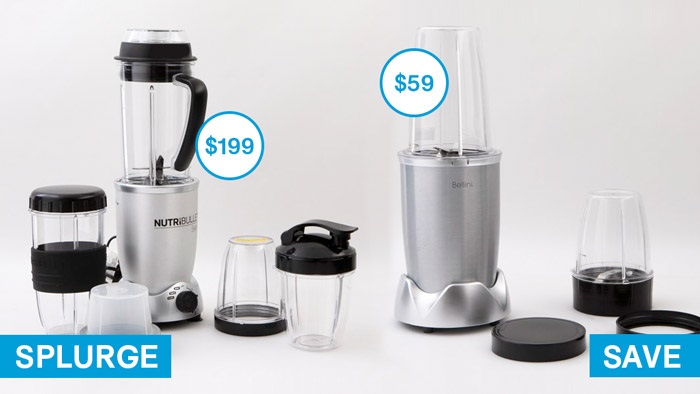 Splurge: NutriBullet Select personal blender $199
Save: Bellini 1000W Liquidiser personal blender $59
Personal blenders are another option if you're buying a gift for a health-conscious friend. They're a go-to item for gym bunnies who like smoothies on the go.
Despite a significant difference in price, both the NutriBullet Select and Bellini 1000W Liquidiser performed very well in our personal blender reviews.
If you want to go all out, the Vitamix S30 personal blender topped our test – but it'll set you back a cool $845.
There's a lot of competition and ambitious marketing claims in the single-serve blender industry – which we've had some fun with in this video featuring none other than '80s game-show royalty, Greg Evans.
But is there any science behind the marketing claims? Our research found that the nutrition hype that companies like NutriBullet spruik may not stack up.
High-performance blenders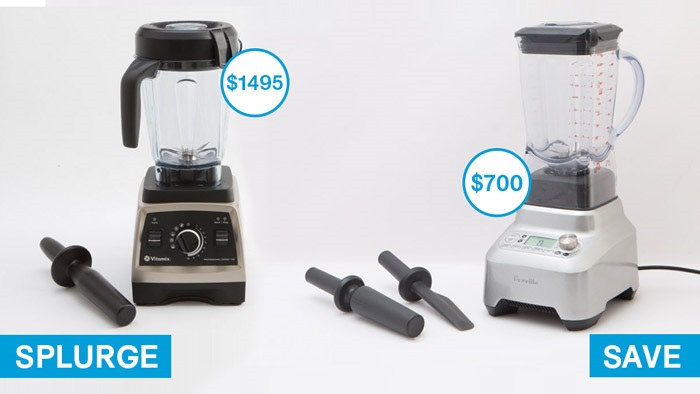 Splurge: Vitamix Professional Series 750 high-performance blender $1495
Save: Breville The Boss high-performance blender $700
While Vitamix is the glamour label in the high-performance blender world, its label also commands a high price.
Breville's The Boss high-performance blender lives up to its name, performing just as well as the Vitamix Professional Series – but for less than half the price.
Stick blenders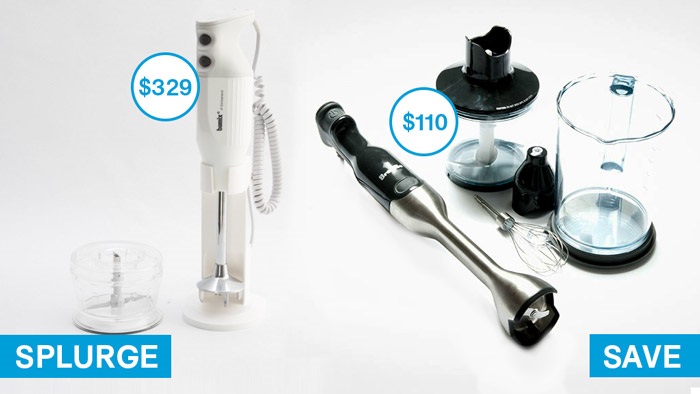 Splurge: Bamix De Luxe stick blender $329
Save: Breville the Control Grip stick blender $110
A stick blender isn't the most glamorous of Christmas gifts, so is it worth spending extra money on a posh European brand? According to our testing, maybe not.
The Breville unit outperformed the Bamix in our test, but is one-third of the price.
However, their scores were close – so if you're buying for a Europhile who can't go past a good Swiss brand, the Bamix is still a safe bet.
Food processors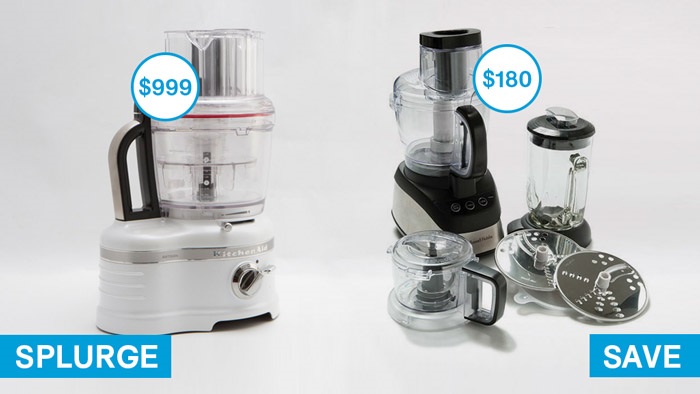 Splurge: KitchenAid food processor $999
Save: Russell Hobbs Multiprocessor food processor $180
You might notice a bit of a trend developing here: these two food processors received the same score in our testing, but are sold at very different prices.
The two units have many of the same features, but the KitchenAid has more blades, more chute sizes and larger bowl capacity. Are these features enough to justify $819 more than the Russell Hobbs unit?
"The KitchenAid and Russell Hobbs have similar features and both performed well in our testing," says CHOICE's kitchen expert Fiona Mair.
"The KitchenAid's bigger price tag is only worth it if you like the look or brand name."
Knives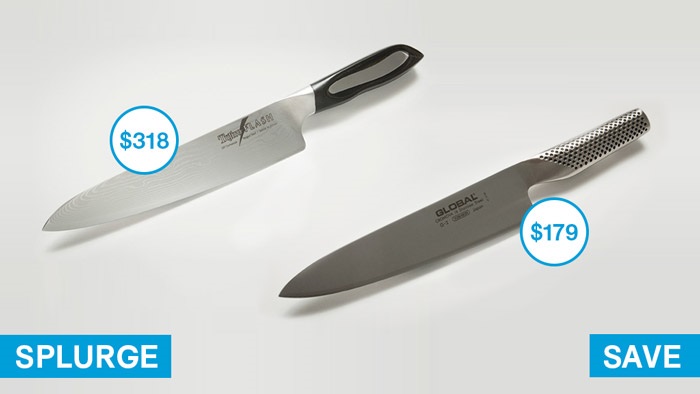 Splurge: Tojiro Flash Chef's Knife $318
Save: Global g-2 20cm Cooks Knife $179
Fun fact: some people believe that giving a knife is bad luck as it can symbolise severing the friendship. If you're thinking of buying a knife for a friend who's the superstitious type, you can combat the supposed bad luck by taping a coin to the knife. Your friend can then 'pay' you for the knife by giving you the coin, thus negating the bad luck.
A good-quality Japanese knife is a great gift for foodies. Good knives aren't cheap, but if you choose wisely they'll last a lifetime.
In our reviews, the luxe Tojiro Flash Chef's Knife performed well but was outclassed by the Global g-2 20cm Cooks Knife which is nearly $140 cheaper.
At $286, the Shun Classic Chef's Knife 20cm is another good option. It received the same score as the Global knife in our review, also beating the Tojiro knife.
---