Consumer sharing
Our guide to sharing food, transport, accommodation, tools and more.
Want to shop less and share more?
---
The concept of a community sharing its resources – such as food, transport, or accommodation – has picked up steam in recent years. Known as collaborative consumption, or the sharing economy, it's a grassroots approach to meeting consumer demand.
Sometimes buying new doesn't make sense, especially when you can get what you need for next to nothing and give it back when you're done. Whether it's a car, chainsaw or even a chicken, someone out there is likely to have what you need and is willing to share it with you. We explore this exciting trend.
Sharing food
Food is one of our biggest expenses, especially if you're after sustainable, chemical-free produce. National nonprofit organisation Australian Organic reports that we now spend around a billion dollars each year on organic food alone.
Many Australians are rethinking the humble vegie garden, and with the help of sharing resource websites, savvy local groups are organising to swap, share or give away their extra home-grown food. It's fresh, efficient, often chemical free and sometimes organic, and it can save you money.
In other countries, such as the US, people even buy into goat-sharing schemes. These give you part ownership of an animal for access to fresh produce such as milk and cheese.
Closer to home, at least one national operator (City Chicks) allows keen backyard farmers to rent a chook, which is basically a "try before you buy" chicken service.
Interested would-be urban farmers will find an enormous amount of info searching, even if you only have a small space to utilise or no previous experience.
There are also community gardens and neighbourhood groups offering food co-ops - again, start by looking in our resource section.
Benefits
Growing and sharing food can save you hundreds on your yearly grocery bill.
You will produce fewer emissions thanks to reduced or minimal transport costs, and composting can reduce household waste.
Enjoy fresh, delicious food that is grown without pesticides or other harsh industrial chemicals.
Transport sharing
Population growth places a strain on our transport system. A State of Australian Cities report indicates that if current trends continue, the cost of congestion could be $20.4 billion by 2020 (up from $9.5 billion in 2005), and there are also environmental concerns and quality-of-life issues too.
Aside from car pooling and better public transport, what are the solutions to our travel troubles?
Bike sharing
Estimates suggest that even five percent more commuters using "active" modes of transport such as cycling or walking could reduce 2020 congestion cost estimates by more than $6 billion. Bike sharing schemes are one way to make bicycles more accessible - and bike riding more attractive - to the community.
In parts of Europe, 'hop on, hop off' community bicycles are part of everyday life. In Australia, our two biggest bike share schemes, Melbourne Bike Share and Brisbane's CityCycle are yet to reach the popularity of overseas schemes - but they are growing in use, particularly by casual users rather than subscribers. The slow burn is blamed on the size of the schemes (Melbourne has 600 bikes compared to London's Barclays scheme, which has 6000), availability of bikes and docking stations, and helmet laws, which some critics claim stifle the potential benefits of cycling.
With the helmet message clearly at odds, the Brisbane council went a long way to proving that convenience could be the key to getting the best of both worlds. Its bicycle share scheme experienced a 72% boost in average daily trips when offering free courtesy helmets. And Melbourne's scheme saw a 44% increase in average daily usage after offering $5 helmets (with a $3 rebate on return) at nearby convenience stores.
Car sharing
Cycling is not for everybody, and especially for those outside urban centres, a car is often a necessity. One way communities can help pool resources is to use vehicle-sharing schemes.
Businesses like GoGet and Flexicar may prove useful to some drivers, or you could try private car rentals through websites like Drive My Car and Car Next Door. Just make sure to assess your driving patterns before making a commitment to ensure you get a good deal.
Benefits
Active travel, like cycling or walking, is good for your health and the environment.
Car-share schemes save on resources and, depending on your driving patterns, they can save you money.
Using public transport or active travel reduces stress on infrastructure and travel times, which improves quality of life.
Tool sharing
Greater urban density and fewer people per household mean fewer garden sheds and reduced opportunities to borrow tools. And asking a neighbour to borrow something is not always an easy option.
Fortunately, websites like Rentoid.com have provided an answer. These resources allow you to rent anything from drills to drum kits and everything in between. Owners set the rental price, bond, terms and conditions of renting, and the potential renter can decide whether it's worthwhile.
Are there any risks?
Just like borrowing from your neighbour, there is some risk involved but there are precautions you can take. "People renting items set their expectations when they list an item," says the director and co-founder of OpenShed.com.au, Lisa Fox.
"We encourage people to check out member community ratings on the profiles, and we provide a secret digital code that ensures no money changes hands until both parties are happy."
Users of Open Shed can organise to meet in a public place if they don't want people coming to their home address, but the site is designed with community spirit in mind.
"Open Shed members don't treat each other like big businesses. We think it's a good way for communities to get organised and share the things they need for a fair price," says Fox.
Renting can save you time and money with easy access to items you'll only use once or twice, and you might even be able to rent out something of your own. However, if renting is not your thing, you could also use one of many websites to swap or even pick up the things you need for free.
See our sharing resources for more.
Benefits
Researching and buying a product can take time, but in comparison renting is largely free of commitment.
If you only need to use a product for a short time, renting can save you money.
Renting can be good for the environment as it saves shipping, packaging and other associated costs.
The following list of consumer sharing resources is intended as a guide only. We don't endorse any of the websites, and you should take all necessary precautions before getting involved with the sites or individuals listed.
Please bear in mind that some of the websites below may not be available in your state, city or suburb at this point in time.
Food
Australian City Farms & Community Gardens Network
Landshare - matching growers with landowners
Mamabake - big-batch group cooking
City Chicks - chicken and coop rent or buy
Transport
Car Next Door - neighbourhood car sharing
Divvy - driveway rental
DriveMyCar Rentals - private car rental
Flexicar - Melbourne car share
GoGet - car share scheme in Adelaide, Brisbane, Melbourne and Sydney
Green Share Car - car share scheme, Melbourne and Sydney
Jayride - car pool and rideshare, all states
MeeMeep - "connects people who need stuff moved with people on the move"
Mmmule - transporting goods for rewards
Clothing
Accommodation
Miscellaneous
Freecycle - second-hand free stuff
Friends with Things - sharing anything from skills to tools
Gumtree - free classifieds
Open Shed - rent items from people near you
Rentoid - online hire and rental market
ReUseIt Network - second-hand free stuff
Streetbank - neighbourhood sharing scheme
TuShare - sharing network for just about anything
Ziilch - give away or swap free stuff
Zookal - rent textbooks
Ways to share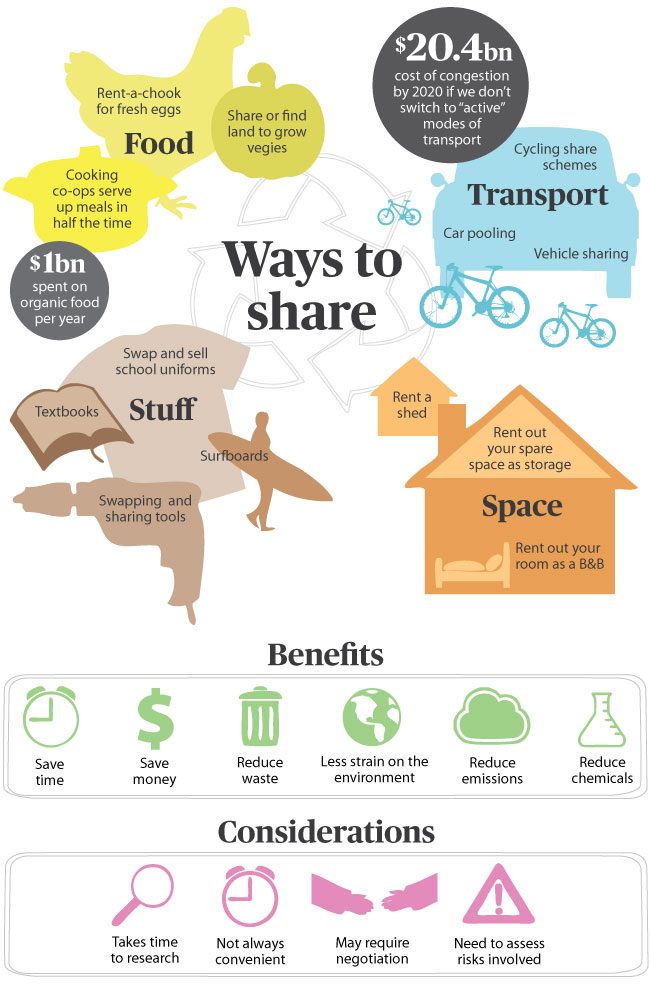 ---
Join the conversation

To share your thoughts or ask a question, visit the CHOICE Community forum.