Making health stars work for you
The five-year review of health stars is around the corner, and CHOICE wants five changes.
Making it better
---
Health stars should make things easier for shoppers, but some companies are using the system to make their unhealthy products look better than they are. With the five-year review of health stars around the corner, now is our opportunity to improve the system to make sure health stars work for you, not food companies.
Five asks to improve health stars
Finding a healthier choice in the supermarket shouldn't be so difficult. Every time we go into the supermarket there are hundreds of choices we can make, and food manufacturers are using million-dollar ad campaigns, dodgy claims and manipulative marketing to influence each choice.
Health stars are that little bit of extra information on your side that you can use when comparing products to make a better choice. They should make things easier for you, but some companies are using the stars to make their unhealthy products look better than they are.
We're making the case to government that it's time to act. We want five changes to make the system better.
Make sure foods high in sugar, fat or salt can't get a high star rating.
Make health stars appear on all products, at the very least on products marketed to children.
Make sure companies can't claim a high rating based on mixing their product with something more nutritious.
Include added sugar into the health star calculation.
Make sure health stars promote whole foods not their processed alternatives.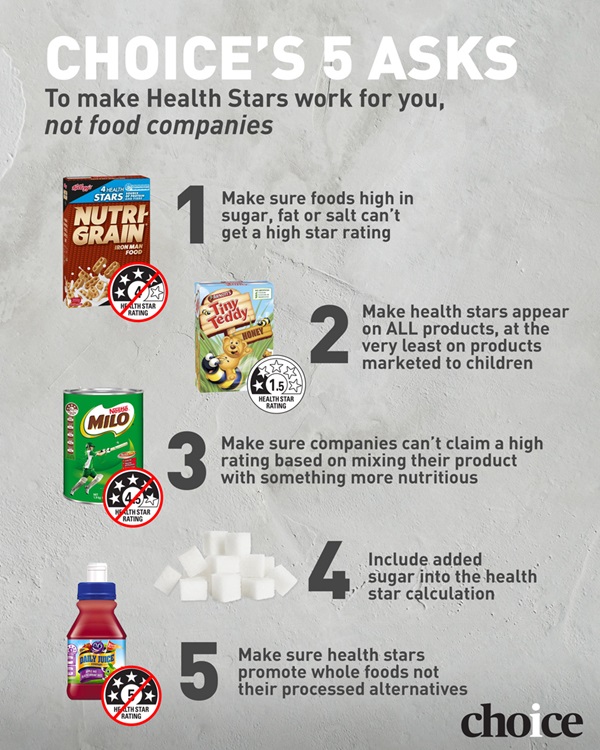 What are health stars?
The government-led Health Star Ratings scheme lets consumers compare the nutritional value of products within the same category, via an easy-to-understand graphic on the front of a packet. It's been in place for three years, and just over 7000 products in the supermarket now display health stars. Read our FAQ about Health Star Ratings.
CHOICE commissioned research to understand the effect that health stars has had after its first two years. The nationally representative research found that people are using health stars, and overwhelmingly people agree that health stars help them make healthier choices.
Read the full report: Health star ratings and added sugars: a consumer perspective [PDF, 2.8MB].
Are health stars working?
Government monitoring of the system so far finds it's mostly working well. Research confirms most people like health stars and want to see them rolled out across more products. And one in three people who are aware of health stars have used them to switch to a healthier product they wouldn't normally buy.
Our research also shows that some people are losing confidence in the system, primarily due to a number of outliers where foods with high levels of sugar, salt, saturated fat and few positive nutrients carry high ratings. This has led to potato chips, Paddle Pop ice creams and popular sugary drink additive Milo receiving high health star ratings, giving them a "health halo" that doesn't reflect their real nutritional value.
Why does CHOICE support health stars?
Today we have a dizzying array of choices, and even among relatively healthy products it can be overwhelming trying to choose the one that's better for us. Added to this are time pressures, the challenges of shopping with children and other everyday life circumstances, and it's just not good enough to expect consumers to go it alone, poring over labels. Health stars give you at-a-glance ratings to compare similar products side-by-side on the supermarket shelf. They're designed by government and developed with experts to operate in the world we actually live in.
When a system is popular and largely working well, you don't abandon it. You make it better. That's why we're calling on the government to improve the system via our five asks –please join our campaign to make health stars better.
---
Join the conversation

To share your thoughts or ask a question, visit the CHOICE Community forum.