Wholemeal bread review
Which supermarket loaves deliver on both taste and nutrition?
Any way you slice it
---
We test 21 wholemeal sliced breads from brands including Burgen, Helga's, Mighty Soft and Tip Top to see which loaf rises above the rest for both nutrition and taste.
In this article:
Bread in Australia
Bread is a grocery list staple for most of us, and the number of people buying bread in Australia in an average week is increasing – from just under 10.5 million to 11 million in the last 12 months, according to Roy Morgan Research. Despite the rise in popularity of artisan bakers in recent years, most people buy their bread from the supermarket.
White bread is still the firm favourite, but healthier wholemeal varieties are increasingly popular, which is good news as you'd be hard pressed to find a more convenient and versatile source of wholegrains, the nutritional powerhouses that we should all be eating more of.
But do all wholemeal breads deliver equally on the wholegrain front? And which ones taste best? We set out to find the wholegrain heroes of supermarket sliced breads.
Recommended breads
All of the breads we tested are very high in wholegrain, but five stand out as being both nutritional all-rounders and palate pleasers.
Lawson's Stone Mill Wholemeal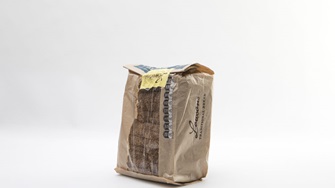 Overall score: 87%
Price per serve (two slices): $0.82
Wholegrain content per serve: 53.6g

Experts say: "Great loaf with good earthy aroma and flavour. Good dark caramel external colour with even cell structure and evidence of bran throughout slice. Nice wholemeal texture in the mouth. Large size may not suit all toasters."
Abbott's Village Bakery Grainy Wholemeal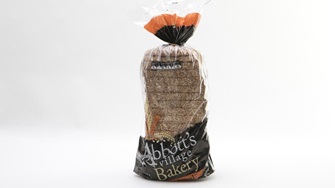 Overall score: 86%
Price per serve (two slices): $0.39
Wholegrain content per serve: 48.5g

Experts say: "A substantial slice of bread with good colour and taste. Good structure with visible grains and nice soy grain particulate. Soft, open, dry texture."
Burgen Wholemeal & Seeds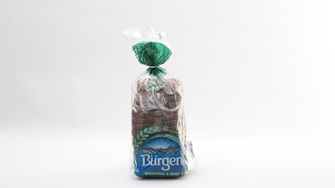 Overall score: 84%
Price per serve (two slices): $0.58
Wholegrain content per serve: 31.5

Experts say: "Sweet, nutty aroma and texture. Dark, even coloured crust, with visible seeds and grain throughout the small size loaf. Nice and moist. An overall good looking and tasting loaf."
Woolworths Wholesome Country Wholemeal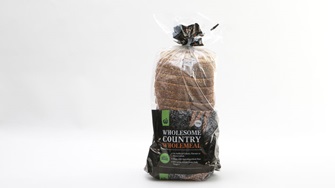 Overall score: 83%
Price per serve (two slices): $0.28
Wholegrain content per serve: 41.2g

Experts say: "Light grain topping, nice full shape, versatile size. Slightly open, moist, tender crumb. Visible whole wheat grain throughout. Good nutty flavour and aroma. Doesn't feel or look commercial."
Helga's Traditional Wholemeal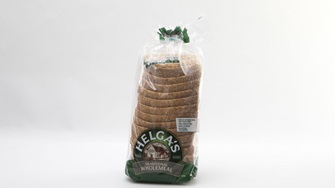 Overall score: 82%
Price per serve (two slices): $0.39
Wholegrain content per serve: 57.3g

Experts say: "Nice shape. Reasonably coloured, soft crust. Very tender crumb with open texture, airy in centre. Great nutty aroma."
Find out how the other breads on test scored in our table.
Wholegrain – what is it, why eat it, and how much?
Australian Dietary Guidelines tell us to eat more wholegrains, and recommend that adults up to 50 years eat six serves of grain (cereal) foods a day, mostly wholegrain and/or high cereal fibres (a standard serve of bread being equivalent to one (500kJ) slice, according to the guidelines). And there's good reason for this.
Wholegrains contain the nutrients – fibre, vitamins, minerals and a host of antioxidants and other phytochemicals – that can help protect you against heart disease, type 2 diabetes and colorectal cancer. The insoluble fibre in wholegrains helps keep things moving in the bowel, which means less constipation and better digestive health. And there's evidence to suggest that wholegrains can help people reduce their risk of gaining weight.
Bread can be a good source of wholegrains, but wholegrain content doesn't have to be declared on the label and can vary widely depending on the bread type. Even within the 21 wholemeal breads we looked at, the wholegrain content ranged from 38-69%, so it's good to know what to look for.
"Wholegrain" doesn't just refer to the visible grains you can see in bread. Grains can be processed and separated into their three constituent parts (bran, germ and endosperm) and will still retain their nutrients, so as long as the three parts are added back into the food in the same proportions as the original unmilled grain, a food can still be classified as wholegrain.
Breads made from wholemeal wheat flour are therefore a source of wholegrain, even if they don't contain visible grains. On the flipside multigrain breads might be bursting with obvious wholegrains, but are usually made from refined wheat (white) flour, and can have a lower overall wholegrain content than smooth, wholemeal bread. And both bread types are sometimes made with a combination of wholemeal and white flour.
Choosing a healthy bread
We asked Lisa Renn, Accredited Practising Dietitian and Spokesperson for the Dietitians Association of Australia what to consider when choosing bread:
Wholegrain or wholemeal
"Look for the words 'wholemeal' or 'wholegrain' high up in the ingredients list – wholegrain flour in particular," suggests Renn. "Not only are wholegrains a good source of protein, dietary fibre and vitamins and minerals, but products made with wholegrains usually have a lower glycaemic index (GI) because the grains take longer to digest," she says. And this slow release of energy means you stay full for longer.
The Grains and Legumes Nutrition Council (GLNC) sets a daily wholegrain target intake of 48g for adults and children nine years and over, and claims permitted by its voluntary industry standard include 'contains whole grain' (if the product has ≥8g wholegrain per serve), 'high in whole grain' (≥16g per serve) and 'very high in whole grain' (≥24g per serve), so check for these statements on pack. All of the breads we tested were very high in wholegrain according to the GLNC criteria.
Fibre content
"Next check for fibre content, the higher the better. One of the benefits of wholegrain bread is that it will contain all three types of fibre – insoluble, soluble and resistant starch - as it uses all parts of the grain," says Renn.
According to the Food Standards Code a product is considered to be a 'source of' fibre if it contains at least 2g of dietary fibre per serve, a 'good source' if it contains at least 4g per serve and an 'excellent source' if a serve contains at least 7g. Fifteen of the 21 breads we tested were a good or excellent fibre source.
Watch the salt
High-salt diets are associated with increased blood pressure, a known risk factor for heart disease and stroke, and breads can make a significant contribution to our salt intake. To help lower the Australian population's salt intake the government's Food & Health Dialogue in 2010 collaborated with the bread industry to reformulate defined bread products (including sliced loaf breads) in order to meet a sodium content target of 400mg per 100g, or less, by the end of 2013. All but two of the breads we tested meet this target.
A certain amount of salt is needed in bread production to help it rise and develop texture, but the amount used can vary depending on the type of bread and the manufacturer. For example, research from the George Institute found that rye bread – generally considered to be a healthy option – contained on average 468mg sodium per 100g, with some products containing as much as 660mg per 100g. While OK for most, "this amount could be of concern for people with high blood pressure who are trying to limit their sodium intake," says Renn.
Front-of-pack claims to take with a grain of salt
Front-of-pack claims about fibre or wholegrain content can help when deciding which bread to buy. But other claims on the pack may be less helpful than you think. For more details of what is (and isn't) in your bread, see our bread guide.
'Made from unbleached flour'
In the past, flour bleaching agents such as chlorine (additive 925), chlorine dioxide (926) and benzoyl peroxide (928) were used for aesthetic purposes to achieve whiter loaves of bread. But bread flour in Australia hasn't been bleached for at least the last 10 years.
'No artificial preservatives'
This claim frequently appears on bread packs, but only one of the 21 products we tested has a synthetic preservative in its ingredients list (Buttercup Country Split Wholemeal contains preservative 282, calcium propionate). The Bakers Delight bread, which is baked daily in-store, is free from preservatives, artificial or otherwise, and the rest of the loaves tested contain vinegar to prevent mould growth and retain freshness.
'No added sugar'
It's a widely held belief that white sliced bread contains added sugar. This may be the case in other countries, but – sweet breads like brioche aside – the small amount of sugar in Australian breads is usually the type that occurs naturally in other ingredients. That said, two of the wholemeal breads we tested have sugar added – Baker's Life (Aldi) Wholemeal Sandwich and Lawson's Stone Mill Wholemeal (in the form of molasses) – although the amount is negligible. All of the breads we tested are 'low sugar' (contain no more than 5g sugar per 100g) according to the Food Standards Code.
Australian bread market dominated by two companies
The plethora of brands on the supermarket's bread shelves may create the illusion of a competitive market, but a large proportion of those brands are owned by just two companies (that also make breads sold under supermarkets' own brands). Here's a sample of the brands (wholemeal and otherwise) they own:
George Weston: Abbott's Village Bakery, Burgen, Gold Max, Tip Top (9 Grain, Sunblest, The One)
Goodman Fielder: Buttercup, Country Life, Helga's, Lawsons, Mighty Soft, Molenberg, Wonder White
Meet the experts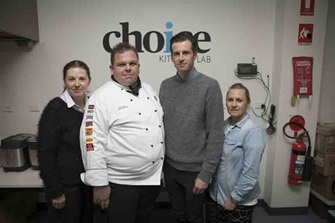 (Left to right) Michele Walsh, Adam Moore, Corey King, Brooke Stephen
Michele Walsh has worked in the baking industry for more than 30 years, starting as an apprentice and currently working as a tertiary-educated professional in the Vocational Education and Training (VET) sector where she delivers training to apprentices and non-apprentices in retail baking and patisserie. She has more than 15 years' experience in judging, including the Royal Agriculture Society (RAS) Fine Food professional bakery and WorldSkills trades competitions.
Brooke Stephen teaches at Le Cordon Bleu Sydney, lecturing and assessing the next generation of bakers and pastry chefs. She has been in the baking industry for 18 years, working in bakeries, hotels and fine dining restaurants as a lead baker. Brooke has worked in product development companies for airlines and cafes, and has judged the bread range at the Sydney Royal Easter Show.
Corey King has 18 years' experience in the bakery industry, and is the product development manager for Sonoma Baking Company, producer of artisan baked goods. He has travelled extensively with his work, and his experience includes a stint with the global leader for sourdough flavours, Puratos Group.
Adam Moore is a trained baker and qualified sensory judge with more than 25 years of experience as a chef. He is an active culinary judge for competitions such as Global sandwich Association, Le Cordon Bleu cooking school and RAS Fine Food professional bakery competitions. He's now corporate chef for food manufacturer Cerebos's Culinary Institute.
How we test
Choosing the products
We looked at the packaged, wholemeal sandwich sliced offerings from some of the bestselling bread brands in supermarkets (including supermarket brands). Where a brand had more than one wholemeal offering we selected the product with the highest wholegrain content. Where there was the option, we selected sandwich sliced. For supermarket brands that sell wholemeal bread at various price points we included one from each price point. We didn't include bread from in-house bakeries, or sourdough varieties. Prices are based on price paid (excluding specials) in Sydney in June 2017.
Tasting
The experts tasted the breads blind (without knowing the brands) in a randomised order, which was different for each expert. Each expert independently judged all 21 breads.
Scoring
Overall score: This is made up of taste (50%) and nutrition (50%). We recommend products with an overall score of 80% or higher.
Taste test score: Experts gave breads a score out of 10 for each of the following criteria: flavour, aroma, texture and appearance. The taste test score is the weighted average of these scores (taste 50%, aroma 20%, texture 20%, appearance 10%).
Nutrition score: This is made up of the Health Star Rating (HSR) score (50%) and wholegrain score (50%).
The HSR assesses the overall nutritional profile of packaged food per 100g/mL and assigns it a rating from a ½ star to 5 stars. It's based on an algorithm that takes into consideration nutrients including kJ, carbohydrates, protein, fat, fibre and sodium. We calculated the HSR of each bread and converted it to a score out of 10 for the purpose of our analysis.
The wholegrain score is based on the Grains & Legumes Nutrition Council industry standard for wholegrains, which references a daily wholegrain target of 48g in a serve. The contribution made towards this target by the wholegrain content of each serve of bread (two slices) was assigned a score out of 10 as follows: 20-39% – 6/10; 40-59% – 7/10; 60-79% – 8/10; 80-99% – 9/10; 100%+ – 10/10.
Wholemeal bread product comparison
We tested 21 wholemeal breads, listed below in alphabetical order. To order by another criteria, simply click on the column headings.
Brand/product name
Pack image
Overall score*
(%)
Price**
($/100g)
Price**
($/serve)
Serve size
(2 slices, g)
Taste test score
(%)
Nutrition score
(%)
Health Star Rating
(out of 5)
Wholegrains
(%)
Wholegrains
(g/serve)
Energy
(kJ/100g)
Carbs
(g/100g)
Fibre
(g/100g)
Fibre
(g/serve)
Sodium
(mg/100g)
Lawson's Stone Mill Wholemeal
87
0.72
0.82
114
79
95
4.5
47
53.6
925
34.5
8.3
9.5
400
Abbott's Village Bakery Grainy Wholemeal
86
0.41
0.39
95
81
90
4
51
48.5
1010
40.2
6.9
6.6
400
Burgen Wholemeal & Seeds
84
0.70
0.58
83
78
90
5
38
31.5
922
23.2
10.8
9.0
386
Woolworths Wholesome Country Wholemeal
83
0.33
0.28
84
80
85
4
49
41.2
934
39
5.7
4.8
400
Helga's Traditional Wholemeal
82
0.47
0.39
83
73
90
4
69
57.3
1000
41.5
6.3
5.2
400
Baker's Life (Aldi) Bakehouse Wholemeal
78
0.31
0.26
84
71
85
4
49
41.2
1010
39.2
6.7
5.6
342
Coles Traditional High Top Bread Wholemeal
78
0.33
0.28
84
70
85
4
49
41.2
988
39.2
5.8
4.9
400
9 Grain (Tip Top) Wholemeal
78
0.44
0.35
79
70
85
4.5
40
31.6
1040
30.6
8.7
6.9
370
Sunblest (Tip Top) Soft Wholemeal Sandwich
77
0.43
0.26
60
73
80
4
50
30.0
1030
40
6.5
3.9
400
Coles High Fibre Wholemeal Sandwich Loaf
76
0.29
0.20
70
67
85
4
65
45.5
977
38.4
6.2
4.3
400
Baker's Life (Aldi) Wholemeal Sandwich
76
0.23
0.14
59
72
80
4
53
31.3
980
43.1
4.3
2.5
385
Bakers Delight Wholemeal Block Loaf (A)
75
0.51
0.39
76
60
90
4
65
49.4
970
37.9
6.4
4.9
467
Wonder Wholemeal Smooth Wholemeal & Iron Sandwich
74
0.43
0.32
74
57
90
4.5
60
44.4
980
37.8
8
5.9
400
Mighty Soft Wholemeal Sandwich
73
0.55
0.33
59
60
85
4
66
38.9
990
42
6.4
3.8
400
Woolworths Homebrand Wholemeal Sandwich
73
0.23
0.14
59
65
80
4
49
28.9
991
38.1
5.9
3.5
389
The One (Tip Top) Wholemeal Sandwich
72
0.43
0.32
74
59
85
4.5
44
32.6
977
37
8.5
6.3
390
Coles Wholemeal Sandwich
71
0.23
0.14
59
56
85
4
67
39.5
991
42
6.7
4.0
400
Woolworths Select Smooth Wholemeal Sandwich Plus Iron
69
0.29
0.21
74
58
80
4
46
34.0
1020
40.7
6.3
4.7
400
Gold Max Tasty Brown
69
0.31
0.18
60
57
80
4
49
29.4
1000
40.9
6
3.6
400
Buttercup Country Split Wholemeal
67
0.67
0.32
47.5
59
75
4
59
28.0
980
38.4
ns
3.3
465
Baker's Life (Aldi) Viva Plus Wholemeal Smooth
65
0.27
0.20
74
45
85
4.5
46
34.0
1050
41.7
8
5.9
400
Table notes
ns Not specified
(A) Not sold in supermarkets. Included for comparison.
*Overall score based on taste 50%, nutrition 50%. For a full breakdown of the scoring see How we test.
**Price based on price paid (excluding specials) for whole loaves in Sydney in June 2017.
---
Join the conversation

To share your thoughts or ask a question, visit the CHOICE Community forum.