Apple MacBook Air review
The revamped 13.3-inch MacBook Air brings Apple's iconic ultraportable up to date and back onto the most-wanted list.
The iconic Air is back, but much better
---
The MacBook Air is no longer the poor cousin to the 13-inch and 15-inch MacBook Pro models and the 12-inch MacBook. After years of being almost frozen in time, a major redesign keeps the iconic Air look but brings the wedge-shaped ultraportable up to date and back into the spotlight.
We went hands-on with the new Air courtesy of Apple and were impressed with the upgrades.
CHOICE verdict
Pricing starts at $1849 for the 128GB version. Our 1.6GHz 256GB test model costs $2149, which puts it in the class of even more potent ultraportables from Dell and HP. But for Mac lovers wanting a light 13-inch Mac the hard decision will be whether to go super-slim or pay an extra $50 for the equivalent MacBook Pro with faster (2.3GHz) processor.
Sure, if you're after retro-minimalism you can still nab an old-style Air with non-Retina display starting at just $1499, presumably while stocks last, but try the new MacBook Air first. Once you've had a play with it, it's unlikely you'll want to go back in time.
Price: From $1849
Contact: apple.com.au
Retina display and Thunderbolt 3
This is the biggest revamp of the MacBook Air since it first set the high bar for ultraportables more than 10 years ago.
Finally, the Air gets the Retina-class (2560 x 1600 pixel) display that it always lacked, but also Touch ID fingerprint recognition for security and two high-speed (40Gbps) Thunderbolt 3 ports for plugging in power and USB-C plug devices.
A choice of casing colours
This model looks like the Air of old, but all the internals and even the 100% recycled aluminium casing are totally new, and now in gold, sliver or space grey.
The chassis remains similar in design and feel, but the 13.3-inch screen now has a much thinner bezel surrounding, giving less visual distraction and making the laptop appear smaller overall.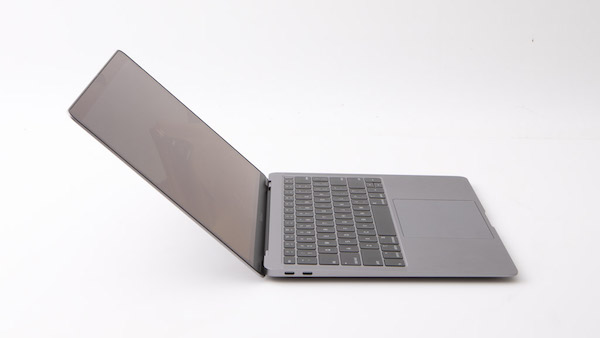 High security and Siri
The MacBook Air gets Apple's high security Touch ID, powered by its own latest T2 security chip that ensures a secure boot process and also supervises full disk encryption and use of the Siri digital assistant included as part of the operating system.
The Touch ID sensor makes it much quicker to log in and authenticate yourself using a fingerprint rather than a password. It also lets you use Apple Pay via a simple touch and even authenticate encrypted documents (app permitting). It's also much quicker to switch between multiple user profiles. The sensor is located on the top-right corner, so it's out of the way while typing, but doesn't take up valuable real estate elsewhere on the chassis.
Keyboard
The Air includes the latest version of the low-profile backlit keyboard with the butterfly switches that have allowed Apple to make the board thinner, but with minimal travel. That said, the more you use the shallower keyboard, the better it feels.
You don't have to press too hard to leave your mark, and the keys feel highly responsive overall. Some may feel that the keys are a bit loud when pounded on, but we didn't feel they were distractingly loud. And some people prefer noticeably 'clicky' keys. It's best to give the new keyboard a good workout in-store if you can, to make up your own mind.
The keyboard is backlit with up to 16 levels of intensity available, and the ambient light sensor will switch on the backlight automatically when the lighting conditions around you get dimmer.
Touchpad
A lot of upfront space is given to the palm rest and the 20% larger force-touch trackpad, which adds to the overall level of comfort while typing. The trackpad is huge compared to most laptops, but we found it doesn't get in the way while typing. It's precise and Apple's Force Touch technology gives you pressure sensitivity equally across the entire trackpad.
If you're not a MacBook user, Force Touch takes some getting used to in order to be effective with it. But it works well with the trackpad's support for multi-touch gestures such as various swipes, pinch and zoom. Apple claims this gives quicker navigation and removes the need for a touch display screen, and most Mac users would probably agree.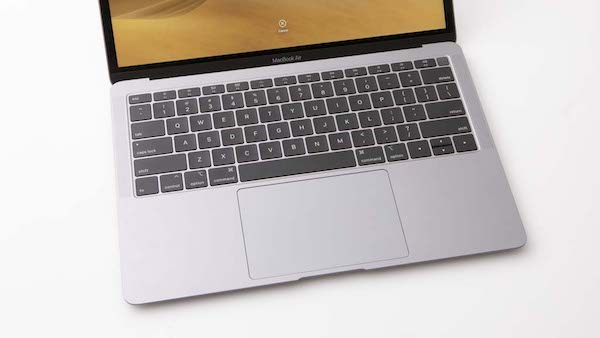 Processor and RAM
Processor speed is increased noticeably over the previous model, thanks to the 8th-gen Intel Core i5 processor. It's a 1.6GHz Dual-Core processor with Turbo Boost up to 3.6GHz, which is quite respectable.
The processing power is fine for all general tasks and even some tougher ones such as transcoding video files, but it's not on par with the faster 13-inch MacBook Pro, which comes with a 2.3GHz Dual-Core 7th-gen CPU in the cheaper (non-Touchbar) models, and 2.3GHz 8th-gen Quad-Core CPU at the high end.
The MacBook Air has Intel UHD graphics and the memory gets a speed boost too (8GB RAM is standard but you can option it up to 16GB).
Speedy storage
As you'd expect in a super-slim notebook, the internal storage is SSD (solid-state drive) starting at 128GB, but we feel the 256GB (as on our test model) is the sweet spot for capacity versus cost. If you need more, 512Gb and 1.5TB (but not 1TB) are an option also.
We found the 256GB SSD on our test unit commendably fast. It returned average read and write rates of 2028MBps (megabytes per second) and 971MBps respectively in our tests. Not the fastest ultraportable storage we have tested but still very quick, and zippy storage is important for loading and saving apps and data files, which adds up to a lot of the laptop's overall responsiveness in everyday tasks.
When the Air is processing at full pelt, its fan kicks in and can be heard noticeably as it squeezes air through tiny vents on the right side, but the base only became slightly warm during our testing.
Facetime friendly
Video chatting gets a boost from the 720p FaceTime HD camera and three-microphone array, which also gives better voice recognition when using Siri. This pairs nicely with macOS Mojave's upgraded multi-person Facetime video chat capability which lets you interact with up to 32 people in the same call. The speakers are louder, with booming bass, so no need to plug in external speakers for personal listening.
Battery life
Apple likes to deliver "all-day battery life" with all its laptops and tablets and claims the MacBook Air will give you 12 hours on-the-go with a combination of wireless web browsing and HD video viewing, with screen brightness set at 75%.
Our own heavy duty battery test had the brightness set to 100% with Wi-Fi on and continuous HD movie playing. The MacBook Air achieved six hours, which puts it a bit behind the results of Dell's XPS 13 and HP's Spectre x360 under the same conditions. With display brightness set lower to suit normal indoor conditions, getting a full work day out of the Air should be no problem.
Connections
Missing from the new MacBook Air is the USB 3.0 and SD card slot of the old model, but two Thunderbolt 3 ports give you far more speed and greater versatility as long as you have the right adapters. You can even plug in external 4K or 5K displays or an external GPU for a professional-level processing boost.
Width and weight
As the name still implies, the Air is light – just 1237g on our scales without the power supply (an extra 177g) so it's a great option for those regularly on-the-go. Replacing USB 3.0 with the slimmer USB-C style ports makes the Air even thinner than its predecessor.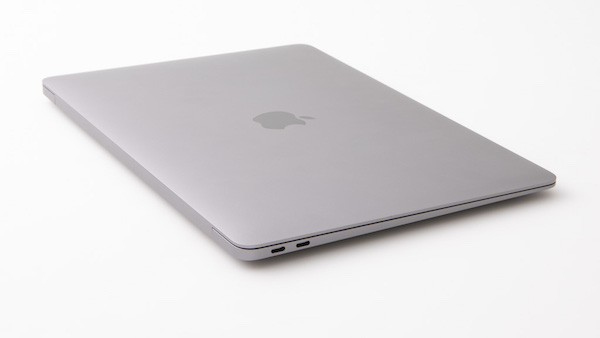 Related
---
Join the conversation

To share your thoughts or ask a question, visit the CHOICE Community forum.