Apple Mac Mini review
Apple's smallest Mac is back with a long-awaited upgrade that makes it a mighty compact desktop machine.
Mini to the max
---
It's been four years since the Mac Mini has received a major revamp, and it doesn't disappoint. We tried out the entry-level model courtesy of Apple to see how it has improved, and found it packs huge potential.
CHOICE verdict
There's a lot to be said for a very compact desktop computer and the Mac Mini has the built-in potential and right connections to be all the desktop computer you need.
It's a very capable little workhorse that's easily portable (and stackable) without the compromises that come with a laptop computer.
Price: From $1249
Contact: apple.com.au
Specs
What's new?
The Mac Mini's compact square casing (less than 20cm square and 4cm high) houses four-core or six-core 8th-generation Intel processors, faster RAM (memory) and much speedier solid-state storage.
It has four Thunderbolt 3 connections, two USB 3 ports, 4K-capable HDMI 2 video and gigabit ethernet. There's also the option of 10-gigabit ethernet for an extra $160 which, when used with a suitable router, can theoretically supply network transfer rates over 1GBps (gigabyte per second).
The Mini also includes Apple's new T2 security chip that looks after on-the-fly full disk encryption; voice recognition for the Siri virtual assistant; and up to 30-times faster video encoding.
Memory options
Our entry-level review model included the quad-core 3.6GHz Intel Core i3 processor, with Intel UHD Graphics 630 graphics. This puts in the same real-world class as a mid-range laptop with a Core i5 or Core i7. You can option this up on order, with up to a six-core i7 processor.
The standard 8GB RAM (memory) can be boosted to 16, 32, or 64GB.
Our review model had 128GB of storage, but 256GB (an extra $320) or 512GB (an extra $640) would be better options for most people.
You can also opt for a 1TB or 2TB SSD, but that pushes the price up steeply.
Should you buy more memory?
As usual, add as much RAM as you can afford to start with (it takes up to 64GB but there are only two slots and it's a trip to a dealer to upgrade). But you don't have to go overboard on internal storage initially if you don't want to.
In addition to whatever amount of internal storage you specify, you can later add heaps of super-fast capacity by plugging in external SSDs via the Thunderbolt 3 ports. And for serious professional processing speed you can attach an external GPU via the same method.
Speed and performance
Apple says the new all-flash PCIe-based storage is up to four times faster and our tests turned in impressive results, with 2.5GBps read speed and 626MBps (megabytes per second) for writing data.
The internal cooling has been redesigned to double airflow for the heftier processors and we found the fan runs quietly, even under heavy processor load.
The revamped Mac Mini represents a big step up in performance for its size, going from the previous dual-core to a much more potent 4-core or 6-core processing unit and despite its diminutive size it has enormous potential.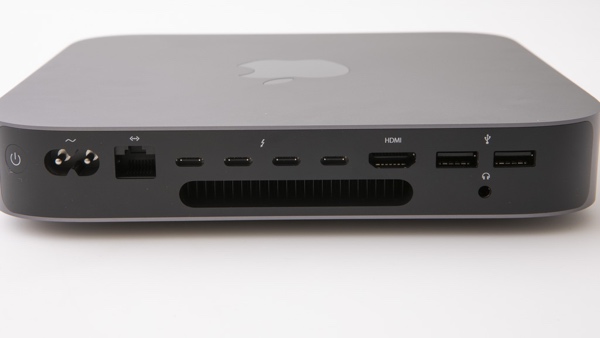 Connections
The Mac Mini is ideal if you have limited desktop space, though some cable management will be required if you connect up all the ports. You'll need to supply your own keyboard, mouse, and display.
You can hook up a 5K display or, if you're really keen, you could even hook up three displays – one via the HDMI 2 port, and two 4K displays through the Thunderbolt 3 ports.
To minimise cable clutter, you could opt for wireless – it has Bluetooth 5.0, or you could plug in a USB-based transceiver, and also take advantage of the built-in 802.11ac Wi-Fi adapter which produced good transfer speeds of 38KBps (kilobytes per second) in our transfer tests.
Related
---
Join the conversation

To share your thoughts or ask a question, visit the CHOICE Community forum.