Duty-free shopping traps
Don't assume because it's duty free, it's cheaper. As always, do your research.
Tempted by duty-free?
---
It's hard not to be tempted by a gleaming hallway of big-brand products when you're travelling internationally. But deals in airport duty-free stores can sometimes be less generous than what's on offer in the regular retail world, especially when you look beyond the stacks of liquor.
Who's running the duty-free shops?
Duty-free shops have an official air about them, perhaps because you need to have your passport on hand and make your way through customs to gain access to the cut-rate goods. But the only thing official is that you buy without paying tax or import duty. The businesses themselves are non-government operations licensed by the Australian Tax Office.
The main duty-free retailers at the international terminals in Sydney, Perth, Melbourne, and Brisbane airports are run by a company called The Nuance Group, whose shops often come under the First Duty Free banner. The company generated $570m in revenue in 2012 and has proven to be creative in finding ways to integrate its services into the wider traveller experience. Last year, Nuance offered passengers flying out of Sydney a $10 discount on purchases over $100 if they used one of the airport's car parks.
How good are the deals?
For returning Australians or overseas visitors, it's a good idea to do a quick price comparison via your smartphone before plunking down your dollars. On the same day we compared some of the available duty-free "bargains" at Sydney and Melbourne airports with prices at other retailers.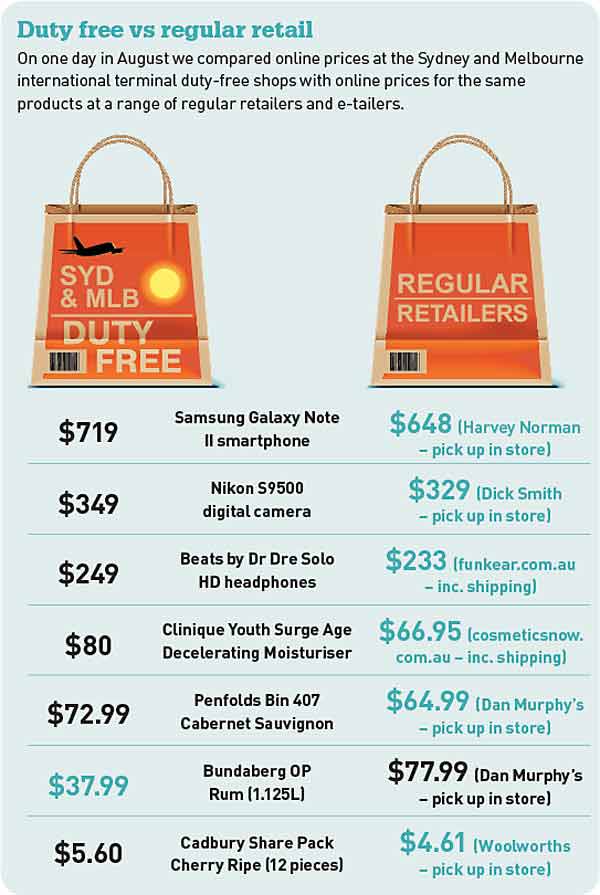 Duty-free deals can also vary widely from day to day. For instance, a Nikon L820 digital camera cost $249 at the Sydney and Melbourne duty free shops the first time we checked, but had dropped to $199 a few days later.
We ran some of our price comparison findings by The Nuance Group's retail sales director, Neil Johnson, who rejected the exercise on the basis that using store websites to make price comparisons isn't a valid approach. "We believe there are genuine savings to be made across our products," Johnson said. "The issue with price comparisons of products advertised on the internet is that they may be counterfeit goods or products that have been purchased through the grey market of parallel importing. All products that Nuance stocks are genuine and sourced directly from the vendors. We cannot comment on the sourcing of other retailers."
Tourist refund scheme
If you're travelling abroad, the government's tourist refund scheme (TRS) can be a better shopping option than airport duty free, since it allows you to get the best price at a regular retail store and then claim a GST refund at the airport. But the refund only applies to things you wear or carry on the plane and excludes liquor (except wine). Changes to the scheme in April this year extended (from 30 to 60 days) the time frame during which you can shop before travelling and still qualify for a tax rebate. Here's how it works:
Spend $300 or more in a single store up to 60 days before leaving Australia and make sure you get a tax invoice.
Bring the goods and services tax invoice to a TRS facility along with your passport and boarding pass up to 30 minutes before your flight departs. The facilities are located beyond Customs and Immigration at the international terminals in Sydney, Brisbane, Melbourne, Perth, Cairns, Adelaide, Darwin and the Gold Coast.
The GST rebate is calculated by dividing the GST-inclusive price by 11. (You'll get $60 back from a $660 purchase). For wine, you'll get a 14.5% refund.
You can't drink the wine before you claim the refund (obviously), but you can wear or use most other goods beforehand. Only the person who actually bought the goods can make a claim.
Duty free product warranties
For one CHOICE member who got in touch with us, Vicki Vincent, adherence to Australian Consumer Law was spotty when she bought duty free.
Vicki told us the Airport Tax & Duty Free shop at Sydney Airport gave her the run-around when she tried to return a Sony camera, eventually claiming the manufacturer had ruled that Vicki had voided her warranty. Yet when she took the matter up with Sony directly, her camera was picked up by a courier, repaired and returned in short order.
"I wonder if they have a bad after-sales service because a large number of their customers are heading home and not planning to return?" Vicki speculates. "It's not a good last impression to give tourists."
If you're tossing up between buying electronic goods in Australia — either duty-free or retail — or in duty-free outlets overseas, consider the following:
Because warranties are administered via retailers, if you buy an item and it breaks down your first port of call is meant to be the shop that sold it to you. This is a problem if you bought it overseas and are now back home.
Some companies do offer a worldwide warranty service, which means a broker or retailer here may honour a warranty for something bought overseas, but you should check this carefully with the manufacturer - preferably before you travel.
The shop may well assure you that the warranty will be honoured back in Australia, but remember, you're getting advice from a shop that probably makes the bulk of its sales to transiting, rather than repeat, customers.
At the very least, make sure what you purchase comes with a written guarantee of the worldwide warranty and that there are written contact details for the company's service arrangements in Australia.
Check the voltage
Buyers of electronic goods like computers may also be hit with another problem. Although you may be able to buy the goods cheaper overseas, they may not be designed to run on the voltage used in Australia. This might mean you have to buy a potentially bulky transformer to make it work, which could eat into any savings you make.
If you do want to buy electronic goods, make sure you read the specifications very carefully.
---