Cheap flights and variable pricing
Why are airfares on airline websites so fleeting? CHOICE shows you how to avoid the airline flimflam.
Why are airline prices constantly in flux?
---
How much you end up paying for something can depend on exactly when you finalise the purchase. This is especially true when you're shopping for cheap flights on the internet.
Time-of-day pricing has long been applied to services such as electricity and road tolls, but in those cases you generally know what the price is going to be at a given time. And if you're looking for cheap flights around holiday time, it's no secret the price hikes are coming. But airfares can change at any time according to a formula known only to the airline. So why can cheap flights be so fleeting?
Sneaky tactics?
One theory is that the airline increases the airfares if you perform multiple searches on the same flight. An airline industry expert we spoke to claims there is anecdotal evidence to support this, and recommends clearing your cookies before purchasing a flight on the internet. However, Qantas, Virgin and Expedia Australia all deny this happens.
Price fixing by online booking sites could also be a factor, at least in isolated cases. In December last year, a Federal Court found Flight Centre had attempted to strike deals with Singapore Airlines, Malaysia Airlines and Emirates to make their international airfares on Flight Centre's website the same.
Following a guilty verdict in March 2014, the court fined the travel agency $11m. However, the case, brought by the ACCC, was overturned on appeal, and Flight Centre was found not liable.
The likely goal for Flight Centre was to avoid having to honour its "Price Beat" guarantee, which promised to price match any cheaper flights. (The airlines were not accused of any wrongdoing in this case.)
A recent CHOICE check on the websites of Virgin, Qantas and Expedia confirmed that prices can change dramatically in a short period of time. We also found that airfare listings such as "two seats left!" shouldn't be taken literally.
The airlines respond
We asked Qantas, Virgin and Expedia to explain the continual price changes on their websites and provide some traveller tips on how to avoid overpaying.
Virgin Australia
A Virgin spokesperson told us there are too many variables at play to predict when flights will be cheapest. These include supply and demand, time of year, the size of the aircraft and how many other carriers are flying that route at a given time. According to Virgin, the only reliable strategy is to buy early.
"The earlier a customer buys a seat the better, since prices are at their lowest when seats first become available. But there will always be factors that can mean cheaper seats will become available later, including a change in fuel prices, seasonal and special event demand, weather events, or a switch to a larger plane.";
Notices such as "two seats left" are strictly true, the spokesperson said, but what they really mean is that there are that many seats left at that price at that time. He acknowledged that cheaper seats on the same flight and in the same class could become available five minutes later.
Qantas
Qantas told us airfares are "dependent on the route, time of day, day of week and time of year" and that prices fluctuate more as the departure date nears. The earlier you book, the cheaper the flight, the spokesperson said, but added that there is no optimum time between booking and flying.
Qantas also said the "five or fewer seats" notice posted next to airfares means "number of seats currently available at the price point indicated" – not that there's only five seats left on the plane in that class.
On the day we checked, eight out of nine flights from Sydney to Los Angeles had "five or fewer seats" from 11.38am to 3.18pm. By 3.35pm, the warning has disappeared from four of the flights but the prices stayed the same.
Expedia
Expedia Australia's managing director, Georg Ruebensal, offered an insider's view of how airlines control seating. "While all seats in economy might look the same, they are not. Airlines have multiple ticket code types within a single flight and cabin – seat 25F may be a T class, seat 25A may be a W class, and seat 25D may be an X class. And they release new tickets to the public on an ongoing basis, depending on demand."
Ruebensal also recommends buying early. "From about 15 days out, we start to see prices jump up 10 to 15 per cent, and then jump again from about 10 days out. Closer to the flight date, when there are only a few seats left, the airline will tend to increase prices as more seats are sold. Customers who really want to be on that flight will be happy to pay a premium price."
Travellers who booked a flight from Sydney to Fiji more than 60 days in advance in 2013 paid 20% less than those who booked less than a week in advance, Ruebensal said.
Finding the cheapest flights
Variable pricing on websites appears to be mostly a supply and demand model. Fewer cheap flights will be available when more people are trying to buy them. But they can also become much cheaper without warning if, for instance, an airline wants to fill the last few seats on a flight. We watched a Virgin flight from Sydney to Los Angeles drop from $3682 to $2707 in less than three hours (departure was 18 days away).
For Australians, the ability to travel overseas is closely tied to economic circumstances. According to one recent study, a 10% increase in average weekly income will mean a 12% rise in overseas air travel from Australia in the short term and a 40% increase over the long run. When unemployment is high and consumer confidence low, overseas flights should face lower demand and therefore be cheaper.
But it's a different story on the other side of the equation – airfare increases don't have much of an impact on the volume of travellers. A 10% increase in airfares only decreases air travel by 0.6% in the short run and 2% if the prices stay high, suggesting that Australian travellers view flights as a fixed cost despite the price variations.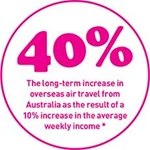 How to find the cheapest flights
Book as far in advance as possible – last-minute deals may crop up, but not reliably enough to plan a trip. Note: flights generally can't be booked more than 12 months in advance.
Avoid peak business traveller days, such as Sunday nights, Monday mornings and Friday afternoons.
Avoid peak traveller hours, generally between 6.30am and 9.30am and 4-7pm.
Avoid surcharges! Pay through BPay or the POLi system.
Use flight comparison sites to compare ticket prices, but be sure to check the airline's own site before making a purchase. The price may be the same, and the booking fees less.
Clear your cookies before purchasing a ticket so the airline or booking site can't track your searches.
Tracking the price changes
During a spot check in March we found airfares can vary widely for the same flight if you check at different times of the day. They can also vary widely depending on where you book, but that's another story.
We looked at airfares for a direct flight leaving Sydney on 31 March 2014 and returning on 7 April 2014, across a 24-hour period. The prices we found don't include any credit card surcharges. In this instance, only Virgin's website showed radical price variation, but all ticket sellers seemed to engage in dubious messaging about available seats.
* Peak times are generally summer and Christmas, but special events can also drive up airfares. I Source: Seetaram N, "Estimating Demand Elasticities for Australia's International Outbound Tourism", Tourism Economics 2012
---
Join the conversation

To share your thoughts or ask a question, visit the CHOICE Community forum.