Top seven travel troubles and how to avoid them
Here's a few tips that might reduce the number of troubles on your next trip.
Travel easy
---
Ah, travel. It can be the most wonderful experience – embracing different cultures and seeing iconic sights. But it can be testing too. Around 70% of Australian travellers face troubles when travelling, according to a recent survey conducted by CHOICE. And if you're going to run into trouble, it's more likely to happen when travelling abroad, with nearly 60% of travellers experiencing problems internationally compared with 46% on domestic trips.
So, what are the most common dramas people having when travelling? And more importantly, what can you do to avoid them?
Top travel problems
Booking online (26%)
Flights (24%)
Transport (taxis, buses, trains) (19%)
Booking with a travel agent (18%)
Mobile phones (17%)
Car hire (14%)
Accommodation (14%)
The research was based on responses from a nationally representative sample of 1100 Australian travellers aged 18–75 who had travelled for leisure domestically (ever) and internationally (in the past 12 months).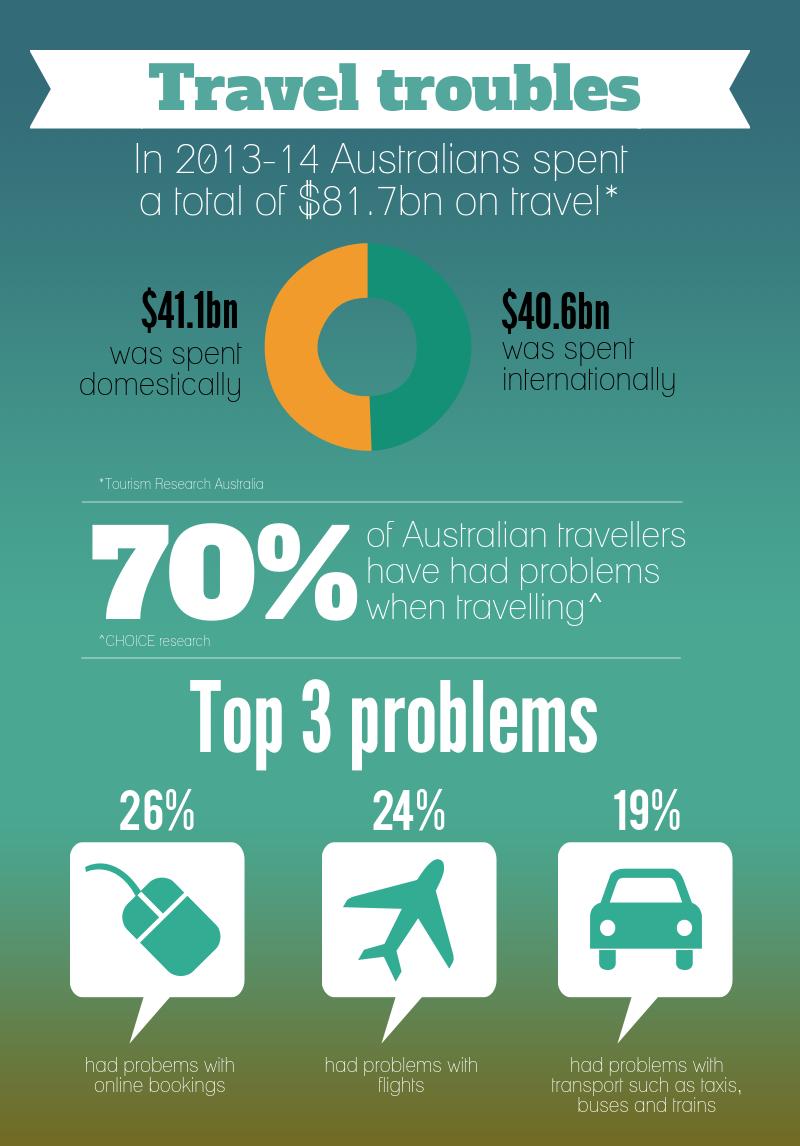 Click here for an accessible text-only version of this infographic.
Avoid travel troubles
Booking online
Just about everything – from flights and accommodation to car hire and adventure activities – can now be booked online. So it's perhaps not surprising that online bookings top the list of travel troubles in our survey, with more than a quarter of travellers saying they had problems with this aspect of travel.
For those with issues booking online, hidden fees were far and away the biggest cause for concern with 57% saying it was a problem. Nearly 30% also had difficulty rectifying mistakes and/or had technical website issues.
One of the hidden costs of booking online can be the credit card surcharges tacked on at the end. Our research found that 91% of people paid for their flight online using a credit card, while alternatives which avoid the fee such as POLi and BPay were only used by 20%. But it's not because people don't know about surcharges, as 86% said they were aware of the extra fees associated with paying by credit card. So why do people pay with their credit card? The main reasons given were that it was either too much hassle to use the alternative, people needed to pay by credit card to be covered by travel insurance, or they got frequent flyer points if they used their card. Some also felt it was safer paying by card because of the chargeback rights it offers. While credit card surcharges should be limited to the "reasonable cost of acceptance" associated with processing the transaction, as we've pointed out before, that's not always the case.
TIP: Do your research on the booking site before you book to make sure it's legit. That way, if your booking is not right, you can use your rights under Australian Consumer Law.
Flights
If you're travelling anywhere far from home it's likely you'll be travelling by plane. And our research found a quarter of travellers experienced some sort of problem with their flight. Of those, 51% had problems with either their flight being either delayed or cancelled. Following that, 24% had a poor in-flight experience and 20% didn't have their preferences delivered.
If you're delayed or your flight is cancelled most airlines will either give you a refund or carry you on another scheduled service as soon as space is available without additional charge. But they won't necessarily take responsibility if you fail to make a connecting flight as a result. CHOICE thinks clearer guidance on what compensation consumers are entitled to is needed. For example, the European Union says if your flight arrives more than three hours late you'll generally be entitled to compensation of €250–600 depending on the distance of the flight.
If it's critical you arrive to meet with a connecting flight or other travel arrangement, make sure you leave enough time. For example, in Qantas' conditions of carriage it reads: "we do not guarantee the flight times and they do not form part of your contract of carriage with us". The best way to protect yourself against any flow-on effects of a delayed or cancelled flight is to get travel insurance.
TIP: Get travel insurance that covers delays and cancellations.
Transport
Our research found that nearly two in 10 people have problems with transportation, such as taxis, buses and trains, making it the third most common travel trouble. The main problems in relation to transport cited by consumers were being overcharged for trips or being taken the wrong route, their service being delayed or getting poor service from drivers.
Alternatives to taxis such as the ride-sharing service Uber can be a cheaper option and also a way of dodging credit card surcharges. You can also track the route the driver takes as well as see when they're picking you up. You can also use it internationally. But wherever you use it, be careful not to get caught out by surge pricing.
TIP: A taxi alternative like Uber can be a cheaper way to get around and can also track your route.
Booking with a travel agent
The fourth most common problem for travellers was booking with a travel agent – a problem affecting nearly two in 10 travellers. Of those having travel agent troubles, 34% had difficulty rectifying mistakes. Hidden fees weren't far behind, affecting 29%, and preferences not being delivered, such as not getting the right room type, affected 19%.
The compulsory licensing scheme for travel agents was abolished and replaced with a voluntary accreditation scheme called ATAS on 1 July 2014. The voluntary scheme provides some protections and a dispute resolution process which may result in a full or partial refund if you are wronged.
TIP: Do your research in order to find a reputable agent. Agents with accreditation, such as ATAS accreditation, are required to meet minimal professional standards family and friends can also be a great source for recommendations.
Mobile phones
Just under two in 10 respondents to our survey have troubles with mobile phones when travelling. It's much more of a problem if you're travelling internationally, when it jumps to be the third biggest travel trouble. The main problems with phones? The cost of calls with data roaming, poor coverage at the destination and having troubles getting SIM cards to work at the destination or in their phone.
The high costs of global roaming have been a big problem in the past, with stories of $9000 shock bills reported. Fortunately the situation has improved somewhat since the telcos have had to start sending SMSs outlining usage costs within 10 minutes of turning on your device in the new country. They also need to give you instructions on how to turn off roaming.
Optus, Telstra and Vodafone also have various packages to reduce the cost of using your phone overseas. But if you're travelling for a while this can get pricey.
| | | |
| --- | --- | --- |
| | Price | What's included? |
| Optus | $10 per day with Optus Travel Pack for countries in zone 1 | Unlimited calls and SMS and 50MB data each day which can be accumulated |
| Telstra | $5 or $10 a day with an international travel pass depending on your destination | Unlimited SMS and calls, limited amounts of data |
| Vodafone | $5 extra per day on eligible plans | All the data, SMS and call inclusions on your plan |
TIP: Turn off global roaming and buy a prepaid global-roaming SIM or a local SIM at your destination which can be used in unlocked phones. Alternatively, get one of the telcos roaming packs. Use Wi-Fi where possible.
Car hire
Over one in 10 people have troubles with car hire when travelling, with the biggest reason being hidden costs. We recently took a deeper look at some of the fees as well as alternatives to reducing your excess – a sure way for the price of car hire to sky rocket. Although the big car hire companies charge between $19 and $35 per day, you can purchase a domestic travel insurance policy to cover the excess for five days at just $35.
TIP: Save money on your car hire by finding excess coverage elsewhere.
Accommodation
Over one in 10 travellers also have troubles with accommodation. The main problems being that the provider cancelled the booking, overbooked or had no record of the booking, or the room was sub-standard or different to what was booked or advertised.
You do have rights under Australian Consumer Law that entitle you to get a room that matches what was advertised to you. If the hotel cancels your booking or can't provide the room, you're entitled to a refund, or the option of an alternative room with compensation for any loss in value compared with what you've booked.
TIP: If your room doesn't match the advertisement, use your rights under Australian Consumer Law.
---
Join the conversation

To share your thoughts or ask a question, visit the CHOICE Community forum.