ACCC targets dodgy chemist discounts
25 November 2015 | Online pharmacies' dubious savings claims are in the spotlight.
Bitter pill to swallow
---
The discount chemist Epharmacy Group has been slapped with a $32,400 penalty by the ACCC in relation to false or misleading representations about price "savings" on its websites.
The company, which is owned by My Chemist Group, operates the Chemist Warehouse, My Chemist and Epharmacy online stores. These sites stock products by the private-label brand Healthy Care, which are sold only in My Chemist Group businesses.
The websites promoted the Healthy Care products, offering what seemed to be significant discounts when compared to the recommended retail price (RRP). But because of the exclusive distribution deal with Epharmacy, shoppers would never find these items sold anywhere else at "full price", rendering the RRP meaningless.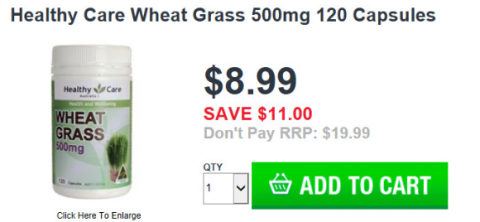 Source: ACCC/Chemist Warehouse website
Because the supposed RRP didn't reflect the price of the items in any store where they were available, the ACCC found that consumers were potentially being misled about the "savings" were getting.
In some cases, the supposed saving was more than the item's sale price.
"Businesses using statements such as 'savings' or 'discounts' when comparing a sale price to the RRP of goods and services suggest to potential customers that they are getting a good deal because the sale price is less than the RRP," ACCC Commissioner Sarah Court said. "But if the product has never been previously sold at the RRP, or the RRP does not reflect a current market price, then this type of comparison misrepresents the savings that may be achieved."
"Consumers rely on comparative pricing to find the best deal available. If in fact there are no genuine savings, businesses are misleading consumers and risk enforcement action by the ACCC."
The penalties relate to three infringement notices, each related to a different online store. While the issuing of a penalty does not necessarily mean Epharmacy has broken the Australian Consumer Law, the penalty sends a warning to retailers about making misleading claims about the discounts they are offering to consumers.
---
Join the conversation

To share your thoughts or ask a question, visit the CHOICE Community forum.