Consumers call for transparency over Gorman's ethical practices
Customers are questioning the label's standards after the parent company chose to not participate in a standards report.
Murky manufacturing?
---
Australian fashion label Gorman, known for its strong social and ethical values, says consumers have been "misled" by an ethical clothing standards report from which it received an "F" for not participating. Gorman has come under attack after posting a photo of a Chinese factory worker days after the report was released.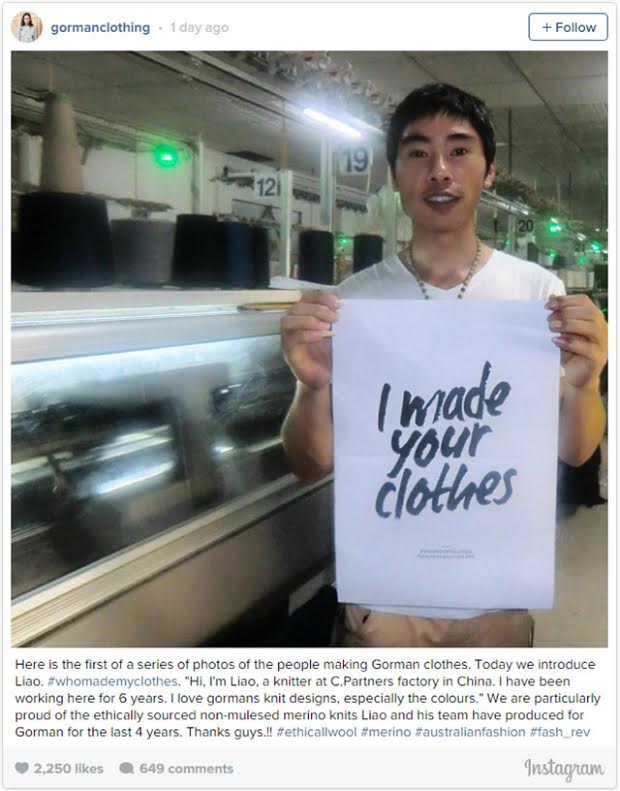 The caption reads: "Here is the first of a series of photos of the people making Gorman clothes. Today we introduce Liao. #whomademyclothes. 'Hi, I'm Liao, a knitter at C.Partners factory in China. I have been working here for 6 years. I love gormans knit designs, especially the colours.' We are particularly proud of the ethically sourced non-mulesed merino knits Liao and his team have produced for Gorman for the last 4 years. Thanks guys.!"
The post sparked debate about the transparency of the brand's factory working conditions.
Gorman told CHOICE: "As a business we continue to address our social and ethical responsibility and take it very seriously."
Making the grade
Baptist World Aid released the 2016 Australian Fashion report "The Truth Behind the Barcode". It grades labels from A to F based on the strength of their labour rights management systems to diminish the risk of exploitation in their supply chains.
Factory X, Gorman's parent company, received an F grade because it chose to not participate in the survey and no information on its supply chain was readily available to customers.
Geshon Nimbalker, advocacy manager at Baptist World Aid Australia, told CHOICE some companies received D and F grades because there was little public disclosure to ensure workers were not exploited. They also chose not to provide additional insights and evidence of their labour rights management systems.
"If companies do not disclose, or are unwilling to disclose, what they are doing to ensure that workers are not exploited in their supply chains, then there is virtually no way for consumers and the public to know if these brands are investing sufficiently to mitigate these risks, " said Nimbalker.
Gorman has joined the fashion campaign #whomademyclothes, aiming to create social and ethical transparency in the clothing and textile industry.
The brand told CHOICE it did not want to be affiliated with the Baptist World Aid organisation, not knowing their real processes.
"The F grading was a failure to reply not a failure to comply. Our customers have been misled," a spokesperson said.

"We have a social and ethical policy in place which must be adhered to by the factories that manufacture Gorman. In the coming months we will be publishing our audits online. It is clear that this is what our customer wants most and we are happy to provide this," said founder Lisa Gorman.

For more on how to ethically buy clothes, read our guide.
---
Join the conversation

To share your thoughts or ask a question, visit the CHOICE Community forum.