How we test lawnmowers
What makes our real-world lawnmower reviews cutting edge.
Lawn goals
---
Every August in tropical north Queensland, a patch of grass has been patiently growing on the grounds of a turf farm in preparation for our expert lawnmower tester's annual pilgrimage. There, we put a number of petrol, electric and cordless (battery) mowers through their paces and ensures the results are ready in time for summer in more temperate southern states.
Our expert testers
At CHOICE, the vast majority of our product testing is done by our qualified in-house testers, including Peter from our small appliances lab. Our testers are highly experienced in testing a wide range of products, and many sit on Standards committees and belong to other professional bodies. Our lawnmowers test method is based on Peter's experience testing hundreds of lawnmowers in real-life conditions over the years.
How we choose what we review
Most of the time, our priority is to test what you'll see in the retailers. Our selection typically comes from brands you'll see in independent lawnmower outlets or major hardware stores – so long as they are targeted to the domestic market.
To come up with our list, we survey manufacturers to find out about their range of models. Our lawnmowers are bought at retail price from a store in north Queensland, ready to be used on our patch of test grass. We buy the exact same products a consumer would to ensure that they have not been 'tweaked' in any way.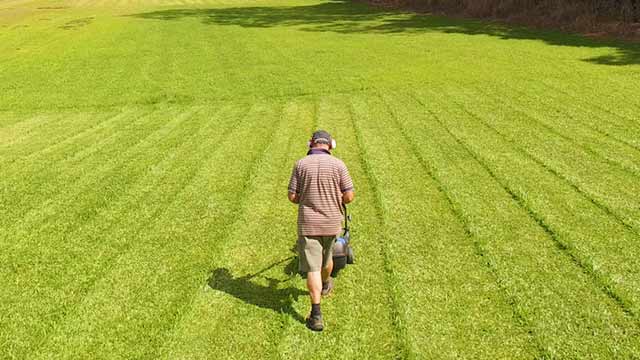 Peter Horvath reviewing lawnmowers
How does CHOICE tests lawnmowers?
A patch of approximately one hectare of grass is reserved for our use on a turf farm (Tropical Lawns in Gordonvale, Qld). Lawn is prepared to short (30mm) and medium (70-100mm) lengths, and an area of grass has been left to grow long (300mm+). Tropical Buffalo (Broadleaf Carpetgrass) is the type of grass we use for cutting.
Performance
After adjusting the lawnmower settings to give them their best chance, Peter assesses how well the mowers cut the grass down to various lengths. He'll use both catcher and mulcher mode (if available) for the short and medium cutting tests.
When judging the results for short and medium catcher and mulcher tests, he'll look at whether the lawn surface is even or clean, and if there is any uncut grass or areas left in clumps.
Mulchers should cut and blow small clippings neatly back into the lawn. If they don't, they'll get points deducted from the performance score.
We also check how well the mowers can handle long grass (it may get this way after a long holiday, for instance). We don't attach the catcher or use mulcher mode. Instead, we see whether the mower engine can handle the job without slowing down too much.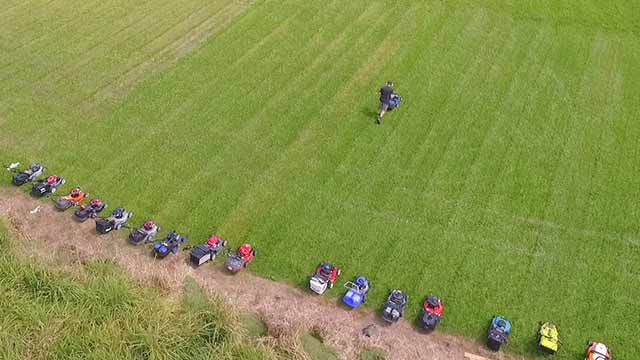 Peter Horvath at work on the turf farm
Ease of use
Peter reviews:
pushing and manoeuvring
handle comfort
easy to operate, convenient controls
ease of cutting height adjustment
noticeable vibration (usually more pronounced on petrol models)
ease of fitting the catcher
ease of starting (petrol models)
Noise is also assessed at operator level and from a short distance away.
Other measurements
Peter brings a steel ruler with him when he's on the turf farm, and measures how much grass is left on the sides and front of the mower after cutting.
For mowers that are battery operated, Peter will time the mower's actual battery life as opposed to the manufacturer's claimed battery life. All of this comprehensive information is available in our report.
Test criteria explained
The overall score is made up of:
catcher cutting score (25%)
mulcher cutting score (25%)
ease of use (50%)
For models without a mulcher mode, the catcher score makes up 50%.
Our test lab
We maintain climate-controlled labs that are up to date with the latest reference machines and calibrated measurement tools for our testers to bring you the right results. For tests of outdoor equipment such as ride-on mowers, most of the actual testing is done "in the field".
Ready to buy?
Check out our latest lawnmower reviews, and see our buying guide for information on the different types and features to look for.
---