Diet clinic shadow shop
Diet clinics advertise amazing weight-loss programs, so we sent three shadow shoppers into popular companies to see how they stack up against their claims.
Companies like Weight Watchers and Jenny Craig attract a huge portion of the market, but we wanted to know how they compared. To find out, in 2012 we sent three shadow shoppers into the field and asked our panel of experts to weigh in on how these programs measure up in terms of advice, cost and suitability. We also asked them to respond to some of the more bizarre weight-loss advice they received.
We visited:
Cohen's Lifestyle Clinic,
Jenny Craig,
Weight Control Doctor, and
Weight Watchers.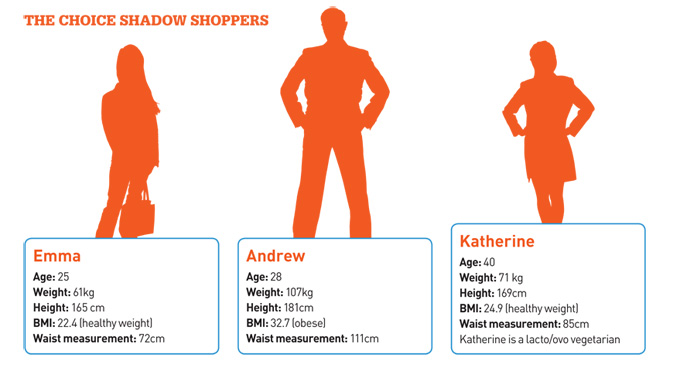 Meet the experts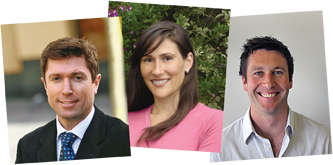 (From left to right):
Dr Alan Barclay is spokesperson for the Dietitians Association of Australia. He has a PhD from the University of Sydney on the association between glycemic carbohydrate and the risk of developing lifestyle-related diseases such as type-2 diabetes.
Melanie McGrice is a registered practising dietician from Victoria who specialises in weight control. She's also director of Health Kick, a consultancy specialising in weight management and metabolic diseases.
Dr Sam Hay is a Sydney GP who regularly sees patients with weight control issues. He also has postgraduate training in sports medicine, with a particular interest in lifestyle-modifiable conditions such as obesity and diabetes. Recently, he has appeared as a presenter on Embarrassing Bodies Down Under.
Cohen's Lifestyle Clinic
The Cohen's program is described as a rapid fat and weight-loss diet. According to the US-based Dr Cohen, re-balancing hormones via the correct nutrition for each individual is critical to weight loss. After a blood test, each client "follows a diet precisely calibrated to meet their body's needs".
The CHOICE shadow shoppers visited a clinic to make enquiries about joining up and attended a one-on-one information session with a Cohen's consultant.
Emma was told:
that according to her height and shoe size, she ideally should weigh between 54-57kg
that she could expect to lose up to seven kilos in two weeks
that she displayed symptoms of "obesity syndrome" such as bloating and low energy
not to bother with exercise as it doesn't cause weight loss.
Katherine was told:
that the process of working out her personalised diet couldn't be divulged
if she didn't follow the right "doses" of food she wouldn't lose weight.
The consultant checked if she was on medication and told her about vegetarian options for the program.
In terms of how much weight would be lost, Katherine was told that her body would "know" when it was at the right weight because "that's when you start to feel hungry".
Andrew was not weighed, measured, asked what he weighed or asked if he was on medication. He also says there was a lot of talk in the presentation about human-growth hormones and obesity syndromes that didn't seem to make sense.
The experts' opinions
Our experts were unhappy with the advice from the Cohen Clinic. "This advice borders on irresponsible, misleading, and negligent, particularly when recommending such rapid and dramatic weight loss - especially in the case of someone (Emma) with an otherwise healthy weight," says Hay.
Barclay and Melanie McGrice say there is no such thing as "obesity syndrome" and are concerned by the statements about avoiding exercise. "Discouraging physical activity is not the type of recommendations a health professional should be making, and I can't believe she's using scare tactics [on] someone who is healthy into thinking that she has an 'obesity syndrome'," says McGrice.
Barclay says the amount and rate of weight loss on this program are of concern, and that this kind of diet regime will lead to a loss of water and lean muscle mass, which can ultimately slow the metabolism.
Jenny Craig
Jenny Craig is a well-known international weight-loss organisation, famous for its use of celebrity dieters such Australian actor Magda Szubanski. The program's philosophy is based on a calorie-controlled, balanced diet using pre-packaged food. Once the participants are halfway to their goal weight, they can then go on a program to shop for and cook their own food.
The CHOICE shadow shoppers visited a variety of Jenny Craig outlets in Sydney. All three found that the initial consultation was thorough, and provided free of charge.
All three shadow shoppers were:
measured
weighed
asked in detail about medication and health issues.
Each outlet also provided an extensive vegetarian menu for Katherine when she asked about it.
The program and the fee structure were explained clearly, and the importance of exercise discussed. All three shoppers felt there was no pressure to sign up on the spot, with the consultants happy to provide information so our shoppers could think about it.
On the downside, our shoppers believe the program can be a little restrictive if you like to cook your own food or, for someone like Andrew who works as a chef, unsuitable if you're tasting dishes in the kitchen.
For Emma, already at the low end of the healthy weight range, the consultant told her it's quite normal for young women to want to shed a couple of kilos but advised she shouldn't lose more than three to five.
The experts' opinions
Our experts were happy with the approach of Jenny Craig, particularly in terms of addressing health concerns, advice, options, and a clear discussion of commitment and cost.
However Barclay says while the weight-loss suggestion for Emma is still just within the parameters of what's healthy, one could argue it's unnecessary.
Weight Control Doctor (Dr Sandra Cabot)
Weight Control Doctor (now under the umbrella of The Dr Cabot Clinics) is headed up by Dr Sandra Cabot, well known for the best-selling book The Liver Cleansing Diet. A number of naturopaths, doctors and herbalists have been trained by Dr Cabot and claim to take a holistic approach to weight control.
All three shoppers attended a paid hour-long consultation at the Sydney clinic with a naturopath/weight loss consultant. While all three were asked extensive questions about their health and wellbeing, none were weighed or measured despite the consultation being focused on weight control.
Emma was asked her weight and told by the consultant that while she didn't need to lose weight, she could follow a healthy eating plan. She was advised to avoid all grains and most fruit and to take protein supplements.
Andrew was advised to lose weight. He was told:
to cut out grains completely
to eat five small meals a day
to drink coconut milk for energy.
Despite not being diagnosed with any specific health issues, the consultant was keen to sell him thyroid and liver supplements.
Andrew says he was given a diet program that didn't include any portion guidance. "I was told to eat nuts, but what if I eat 10 kilos' worth?" he asks.
Katherine was given dietary advice such as avoiding dairy and eating more protein, but no portions were suggested. The consultant told her that as a vegetarian she'd find it difficult to lose weight, and suggested eating kangaroo. Additionally, she diagnosed Katherine with hormonal, thyroid and adrenal problems and suggested these were contributing to weight gain. The consultant was also keen to sell Katherine more than $100 worth of supplements.
After the consultation, Katherine visited a GP who ran extensive blood tests that found none of the conditions diagnosed were present.
The experts' opinions
Overall, our experts were alarmed by the dietary and health advice given to our shoppers. "This is factually incorrect, poor clinical assessments and misleading diagnoses have been made," says Hay. "This advice borders on being irresponsible, misleading, and negligent."
"It's no wonder there's so much confusion about what a healthy diet is when there are people providing dietary advice that's not evidence-based and can compromise people's health," adds McGrice.
Barclay says the kind of dietary changes suggested to our shoppers is not only inappropriate but also unsustainable. Avoidance of wheat (and other gluten-containing grains) and dairy is typical advice from naturopaths. This kind of dietary pattern will not be sustainable in the long term, leading to rebound weight gain and potential yo-yo dieting.
The sale of proprietary supplements to make up for inherent nutrient deficiencies (due to the poor overall diet quality) is a common scam – an easy way to extract more money from vulnerable and unwary customers.
Weight Watchers
Based on the ProPoints Plan, Weight Watchers participants eat to an allocated number of points a day. Members can attend weekly meetings in person or join online. There are also several Weight Watchers Lifestyle centres in selected department stores.
Our shadow shoppers visited two Lifestyle centres to ask about joining up.
Katherine was weighed, measured and talked through the program without being charged (although the consultant was very abrupt with her when she didn't join up on the spot).
Andrew visited two centres, was charged for both consultations and felt pressured to sign up.
Emma, who is only five kilos away from being close to the cut-off for underweight, was refused any information about the program, nor weighed or measured, until she agreed to commit and pay on the spot.
At no time did any of the consultants ask our shoppers about their medical history or check if they were on medication. For Andrew, who works as a chef, the ProPoints system seemed too rigid for his lifestyle as the consultant was not able to provide much information about how he would manage tasting dishes as part of his job in terms of measuring daily points.
The experts' opinions
Our experts were disappointed at the hard sell our shadow shoppers received, and concerned that Emma was pressured to sign up without being assessed as a suitable candidate.
The lack of emphasis on exercise was a concern for Dr Hay, as was not checking on medication or medical issues. "While it's reasonable that these organisations don't comment on general health issues, I would expect a screen for them," he says. "If they're present, a request for the patient to consult their doctor to ensure they are all managed appropriately is recommended."
"The overall sales orientation of the program appears to be an issue," says Dr Barclay.
CHOICE verdict
In most cases our experts were unhappy with the dietary advice and sales-like nature of these weight loss companies. If you're keen to shed some kilos, check out these practical first steps before signing up to any weight loss program.
Speak with your GP: Many offer weight-loss and healthy lifestyle advice, and refer you to a suitable health professional such as a dietitian or exercise physiologist. They can also do a health assessment and run any necessary tests.
Consult a dietitian: Trained at university, all accredited practising dietitians can provide sound dietary advice and many specialise in weight loss. If you have a chronic health problem - such as diabetes or arthritis - you may be eligible for a government rebate. Check for a dietitian in your area at Dietitians Association of Australia.
Check the credentials: If you're keen on a program, check it's a member of the Weight Management Council of Australia. Membership requires a rigorous assessment, including of the program or product, advertising material, consumer affairs processes, staff training and compliance. Weight Watchers Australia and Jenny Craig are members of the council.
Experts respond to bad advice
Here's a sample of just some of the stranger dietary advice our shadow shoppers were given out in the field. Our experts provide their counter-opinions.
"You should eat according to your blood type."
"There's no convincing scientific evidence to support the blood type diet." – Dr Alan Barclay
"Exercise will not help you lose weight (even on a calorie-controlled diet)."
"Absurd. Body weight (or fat deposits) is a balance of energy in and energy out of the body. If more energy comes in, the body will store it as fat. If we burn more energy through exercise than we take in, the body uses the fat to meet the energy requirements." – Dr Sam Hay
"Cow's milk is designed to turn little cows into big cows. If you don't want to turn into a big cow, don't have dairy."
"Milk – especially skim milk – is low in fat, low in kilojoules, rich in protein and very rich in a wide variety of nutrients." – Melanie McGrice
"Don't eat fruit – it's full of carbs. Eat a protein bar instead."
"The brand of protein bar suggested has double the carbs of an average (150g) piece of fruit and three times the kilojoules." – Melanie McGrice
"All weight loss occurs when you are sleeping."
"Although sleeping disorders have been shown to contribute to weight gain, there's no evidence to suggest all weight loss occurs at night." – Melanie McGrice
---
Join the conversation

To share your thoughts or ask a question, visit the CHOICE Community forum.