Government releases new country of origin labelling
Here's what you need to know about the new label designs.
New labels are better, but you may still be left wondering
---
Today the government released the designs for the new country of origin labels – an issue CHOICE has campaigned on and consumers have wanted clarity over for many years.
The new labels are a big step towards ending the confusion around country of origin labelling, especially for consumers who want to know how much of a product was manufactured or grown locally.
The updated system makes it more easy to identify if the product is manufactured in Australia or what the proportion of Australian ingredients in the product is (if any), which is great if you make it a priority to support Australian products.
Unfortunately, the new system is less useful for consumers who are interested in the source of non-Australian ingredients. For example, claims such as 'Made in Australia from more than 50% Australian ingredients' still leaves you in the dark as to where the other less-than-50% comes from; maybe the ice cream is made from local milk and sugar, but you still don't know if the berries swirled through it are from Canada, Chile or China.
A step in the right direction
The new labels feature nine mandatory label options, covering 'Made in', 'Grown in' and 'Packed in' country-of-origin claims. The 'Made in' claims feature a gold kangaroo in a green triangle, supported by a ruler indicating the percentage of Australian ingredients in the whole product.
The federal government is also encouraging food manufacturers to provide more information on the origin of significant ingredients. To help consumers know where their food comes from, we urge food manufacturers to be more transparent about the origin of their ingredients and take on board the option to list the main ingredients of their products.
What do you think of the new labelling? Does it still leave you confused?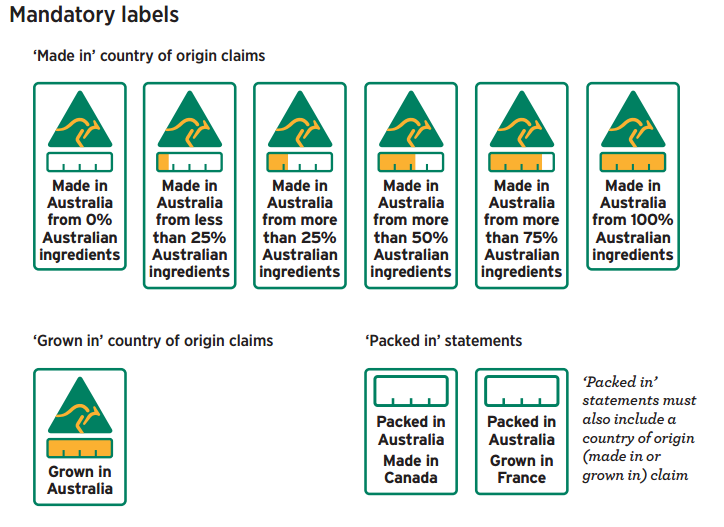 ---
Join the conversation

To share your thoughts or ask a question, visit the CHOICE Community forum.