Dishonest health star ratings on Milo and Kellogg's cereals
CHOICE reveals 'health washing' by global food brands.
Food giants sugar-coating the truth
---
CHOICE has uncovered 'health washing' on the popular Nestle powdered drink Milo and on a number of cereals from Kellogg's. These food giants are trying to manipulate the federal government's Health Star Rating (HSR) scheme rather than help consumers make an informed choice.
Milo uses skim milk for 'health halo'
Nestle calculates the HSR of Milo by assuming that Australians add three teaspoons of the mix to 200mL of skim milk. This isn't helpful to consumers, especially for Aussies who drink their Milo with full cream milk, or even eat it straight out of the can or on ice-cream.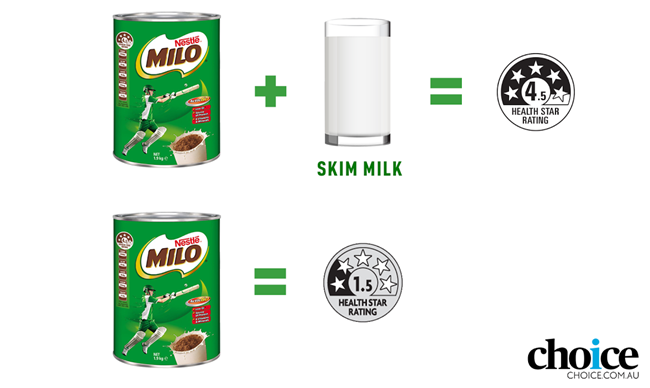 Milo with skim milk might have 4.5 health stars, but Milo only has 1.5 health stars.
Kellogg's, a cereal offender
We found that Kellogg's was also sugar-coating the truth with their low-rating breakfast cereals by including a prominent display of an 'example Health Star Rating' of 3.5 stars on the side of their boxes.
For example, Crunchy Nut Corn Flakes Clusters, which only scores 2 out of 5 stars, has an 'example Health Star Rating' of 3.5 stars on the side of their boxes. Interestingly, their All Bran cereal, which scores 5 stars, has an 'example health star rating' of 5 stars.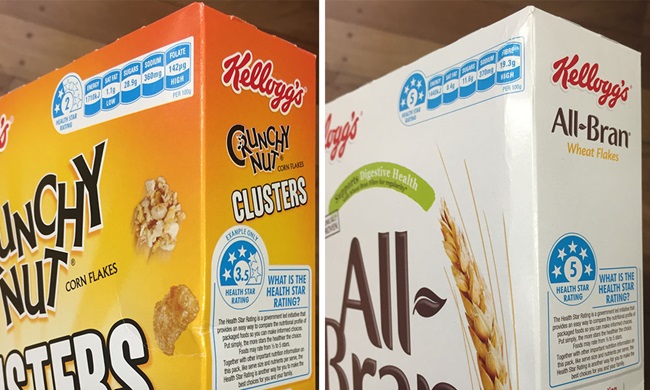 Kellogg's is using 'example' health stars on their cereal boxes, which might mislead consumers.
In response, Kellogg's has said "it is amending all its cereal packaging so the actual health star rating of the product will match with the health star fact box, which should be completed soon."
Food companies should be honest with their labelling
Health stars were introduced to help consumers make healthier choices. We're disappointed that food manufacturers are abusing the system to promote nutrient-poor foods as a healthier option.
We congratulate these companies for getting on board with health stars, but it's not useful to consumers when they game the system to make their products seem healthier.
---
Join the conversation

To share your thoughts or ask a question, visit the CHOICE Community forum.