Health claim halos
Wholesome marketing helps packaged-food makers fudge the nutritional numbers.
It's in the Stars
---
A CHOICE investigation has found food companies such as McCain, Weight Watchers, Naturally Good and Mother Earth are serving up health-related marketing messages designed to give their products a healthy 'halo', even though they perform poorly in the Health Star Rating system.
CHOICE looked at 117 products, from frozen meals to muesli bars; when it came to how health-related marketing messages on packaging and labels lined up with the products' Health Star performance, the outcome was decidedly mixed.
"Consumers are often bombarded with lifestyle- and health-related marketing messages on packs and in stores. However, relying on these messages to make informed choices about how healthy a product is can be highly problematic and see consumers paying a price premium unnecessarily," says CHOICE Policy and Campaigns Adviser Katinka Day.
"Unfortunately, some of the biggest and most-loved brands use marketing messages to confuse and mislead consumers about what they are eating."
Grainy truth
CHOICE compared two McCain frozen meals to see if the marketing messages on pack helped you make an informed choice about which product was healthier.
Calculating the products' Health Star Ratings reveals a surprising result: both products receive 3.5 stars.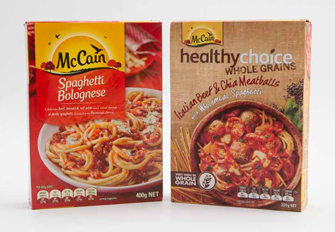 "Not only does the McCain Healthy Choice meal contain more sugars and more sodium per 100g than the standard McCain spaghetti bolognese, but it also comes with a price premium: $1.85 per 100g, compared to $1.50 per 100g," says Day.
"With its 'healthy' branding, images of herbs, and emphasis on whole grains and chia seeds, consumers would be forgiven for thinking the meal on the right is the better option.
"Manufacturers use an array of terms on their product packaging to confuse and distract consumers about what's really in their food."
"This is a perfect example of why we need more manufacturers to get on board and roll out Health Stars. It's all about making your food choices more transparent by cutting through marketing spin," Day says.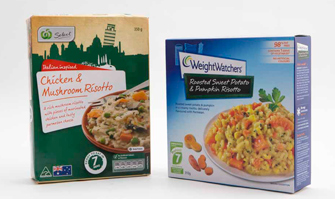 A comparison of Woolworths Select chicken and mushroom risotto with Weight Watchers sweet potato and pumpkin risotto saw both products score 3.5 stars, but the Weight Watchers meal comes at an 87% price markup per 100g.
Health Stars are a ratings system based on energy (kJ), sugar, saturated fat, and sodium. The scheme ranks food products on a scale from 0.5 stars to five stars, allowing you to make healthier choices within a given product category at a glance.
Underneath the health halo
Food manufacturers use claims such as "natural", "organic" and "gluten free" to persuade consumers that their product is healthier or better than other similar products. This is called the health halo effect, and is often used as a marketing tool to entice consumers into paying a premium.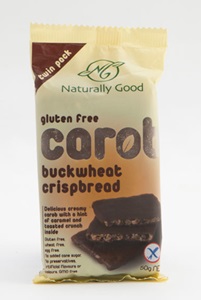 To assess the extent of this deception, we took to the health food section of the supermarket to look at what claims were being made. And if you tend to rely on branding and marketing messages to make informed choices about how healthy a product is, what we uncovered might come as a shock.
While claims on Naturally Good Carob Buckwheat Crispbread include gluten free, no added cane sugar, no preservatives, artificial flavours or colours, and GMO free, the product only receives half a star!
Similarly, Mother Earth Baked Oaty Slices Golden Oats only scores a rating of 1.5 stars, with claims on the packaging including wholegrain cereals and no artificial colours or flavours. And despite the wholesome brand name and 'gluten free' claim, the Sun Health Macadamia and Honey Bars only managed one star.
In the crackers category, Tuckers Natural Gourmet Rosemary and Rock Salt Crackers are littered with claims including 'naturally better for you!', 'yeast free', '100% natural' and 'no artificial preservatives, colours or flavours' yet only score 1.5 stars.
Shooting for the stars
CHOICE has long campaigned for better food labelling and continues to put pressure on major companies to place Health Star Ratings on their products.
When the scheme was announced by the federal government in June last year, Coles, Woolworths, Sanitarium, Uncle Tobys and Monster Health Food Company were quick to embrace it. CHOICE then put pressure on Kellogg's, who after a sustained campaign agreed to act in consumers' interests and roll out the HSR scheme.
The focus now is on other major food brands such as McCain.
If you want to cut through the marketing hype and see health stars on more products, including McCain's, you can join our campaign.
---
Join the conversation

To share your thoughts or ask a question, visit the CHOICE Community forum.